Wes Vernon
Part 8--2012: America's last free election?

McCarthy: four issues where Obama flunks the test

By
Wes Vernon
September 24, 2012
We have tried to make the point in this series: The 2012 race for the White House is not just another presidential election wherein our two-party system presents us with two fairly mainstream citizens (with varying worldviews
,
and some attractive qualities, albeit with human chinks in their armor, accompanied at times by various forms of rascality), but who are basically pro-American, and respectful of our nation's values. With those suppositions for starters, we have had very good presidents, some very bad ones, others mediocre or "OK but...").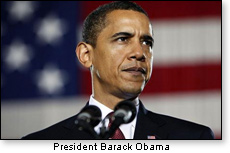 That has been the norm. It has worked reasonably well in our previous 56 presidential elections (or maybe 55 if we don't count 1788-1789 when George Washington ran unopposed for his first term). Until now, no major party candidates awoke each morning with a chip on his shoulder that would encourage him to dream up one more way to take this nation down.
Not this time
2012 presents us with a scenario quite different from all the others. This time, there is reason to consider that an incumbent whom few of us had heard of prior to his candidacy in 2008 was mentored by a Communist, in addition to being raised by pro-Communist parents; made it a point to seek out Marxist professors on campus; befriended and was supported by terrorists, including one credibly accused of being a cop-killer and another who lamented not having terror-bombed "enough"; a candidate whose education included considerable time in a Muslim school; whose extreme and persistent class hatred is right out of the playbook of Karl Marx; who routinely reaches for powers not granted him either by law or the Constitution; who caters to the Muslim community with no distinction between those on the one hand who are trying to get away from the anti-American Shariah law, and those on the other hand who intend to take control of this country by jihad — whether by stealth, violence, or a combination thereof.
Adding up the foregoing prompts the logical question as to whether our White House — and it is ours, not his — is occupied by someone whose very loyalty to the nation that accorded its highest honor — is suspect. Judging by his conduct in office, it is reasonable to wonder if he has read either the Federalist Papers or even the entire Constitution.
Bear in mind all this is symbolic of respect (or lack thereof) for the values of America on the part of the President of the United States. And since this is his record
before
the voters decide whether to renew his contract, one can be excused for any pessimism as to what he will do once that hurdle is behind him.
For example
Andrew McCarthy, veteran prosecutor whose court assignments have included the case of the first World Trade Center terrorist bombing in 1993, spoke Friday at an all-day forum sponsored by
Accuracy in Media.
At that event, Mr. McCarthy, author of several books on Islamist terror, including the just-released
Spring Fever
(soon to be reviewed by this writer in
The Washington Times
), outlined four basic American freedoms for which President Obama has shown scant regard.
Equal justice under the law
Almost as soon as this administration assumed office, its Justice Department (DOJ) boss Attorney General Eric Holder described his fellow countrymen as "a nation of cowards" on racial matters. He soon exhibited with that personal obsession a visceral disdain for color-blind
in
justice.
The case involved members of the New Black Panthers who stood at the entrance to a Philadelphia polling place in November of 2008. There and then they threatened and intimidated their fellow citizens whose offense was showing up to exercise their right to vote for the candidates of their choice.
The Panther behavior was clearly a violation of the law. DOJ, under the Bush administration prosecuted the case. A judge was about to rule and mete out a sentence. But the newly-minted Obama DOJ intervened, and ended up imposing nothing more than a slap on the wrist to one of the offenders and dismissed charges against another member, as well as the New Black Panther Party itself. The miscarriage of justice resulted in the protest resignation of one DOJ attorney, who accused his supervisor of mishandling the case. At least one Obama DOJ official has acknowledged that the Department of Justice's idea of pursuing "justice" is a racially-centric exercise — i.e., only whites can ever be considered as offenders.
Federalism/states rights
The Department of Justice has been suing states — mainly Arizona — for pursuing violators of
federal
laws that the president and his attorney general don't like and therefore will not enforce, and will furthermore sue any state that tries to enforce federal laws duly passed by Congress and signed into law but with which the administration disagrees.
Federal failure to enforce its own laws is bad enough, a dereliction of duty. Suing a state that wants to protect itself (as for example, a border state that enforces federal laws against illegal aliens who crash its borders) is one of many arguably impeachable offenses imposed by the Obama administration.
As Andrew McCarthy put it Friday, "We don't have a United States as we know it."
Security
The administration has shown little regard for the security and safety of Americans from attacks by this nation's enemies. It has undermined efforts by the previous administration to treat terrorist attacks as war. Court decisions as early as 2004 did begin to rule that such attacks constituted a crime wave, subject to the same laws that apply to burglars and jewel thieves. Clearly, they should have been categorized as enemy combatants in a war.
The Obama administration has doubled down on that policy, for example by defining the 2009 Fort Hood murder of 13 military people and the injuries of others as "workplace violence," rather than a terrorist attack by an enemy of the United States.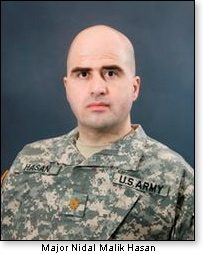 Never mind that the gunman, Major Nidal Malik Hasan, an Islamist, shouted Allahu Akbar [God is great]" as he fired away. Other silly administration avoidances of reality in the War on Terror include Homeland Security Secretary Janet Napolitano's insistence on defining terrorist attacks as "man-made disasters."
Such a tin-ear refusal to define war as war, according to McCarthy, leads to the administration's fourth egregious slap in the face to a cherished right spelled out in the Constitution. And that is.....
Freedom of expression
The Obama regime looks the other way as pressure mounts to insert Shariah Law into our jurisprudence. Shariah Law — dominant in Muslim societies — including our "friend" Saudi Arabia — forbids free expression on penalty of death.
The rest of us are threatened with all kinds of opprobrium if we don't support same-sex marriage (witness the recent Chick-fil-A controversy). But under Shariah Law, homosexuals have been put to death.
You and I are warned to observe the politically-correct jargon of feminism, but under Shariah Law, a woman is accorded no "equal rights" if she refuses to obey her husband.
For example, McCarthy cited a case in his own state of New Jersey where a Muslim woman sought refuge in the law when her husband had repeatedly beat her. The judge dismissed her case. Why? American law did not apply in this case because the couple was Muslim, and Shariah Law applied in this case, as the husband had argued. An American judge ruled on American soil that a wife-beating husband could not be held accountable for his violent attack on his wife. Equal protection under the law?"
Today, the seeds of the active Obama support for the "Arab spring" are on display in the flames across the Middle East and North Africa. Only after days of blaming it all on an obscure anti-Muslim video has the administration acknowledged that the murder of our ambassador to Libya and three others was in fact a pre-planned terrorist attack on 9/11.
And if you think all this is bad now — wait until he's re-elected and won't have to worry anymore about your vote.
© Wes Vernon
---
The views expressed by RenewAmerica columnists are their own and do not necessarily reflect the position of RenewAmerica or its affiliates.
---