Michael Victory
Crooked creeds and due diligence

By
Michael Victory
March 15, 2011
Democrac-archy
In an oligarchy, or a government run by only a few, often the wealthy, decisions about education reflect the interests of the wealthy. In a democracy, ultimate decision about education lies in the hands of the citizens. What subsists today?
Too Much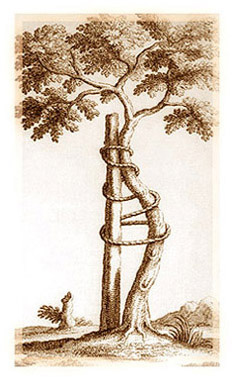 There is increasing intervention by the state in economic affairs, including the economics of education. According to Friedman (1955), education is largely paid for and almost entirely administered by governmental bodies or non-profit institutions, and the result has been an indiscriminate extension of governmental responsibility. Not much has changed since Friedman wrote, as government funding is a major source of higher education revenues.
A few weeks ago
I was surprised to read that Stanford University, a private institution, received around $1 billion for the 2010-11 school year (Stanford University, 2011). It turns out Stanford is not so private after all.
It seems to me politics and big business should play less of a role in education decision-making, as our democracy increasingly seems more like oligarchy. Charles Ferguson is the producer, writer and director of the recent Academy Awarding winning documentary
Inside Job,
the story of the global financial crisis of 2008, that cost tens of millions of people their savings, their jobs and their homes. Ferguson (2010) writes,
Over the past 30 years, the economics discipline has been systematically subverted, in much the same way as American politics — by money, especially from the financial services industry. Many of the most prominent economists in America are now paid to testify in Congress, to serve on boards of directors, testify in antitrust cases and regulatory proceedings, and to give speeches to the companies and industries they study and write about with supposed objectivity. This is not a marginal activity; it is now an industry, run by a half dozen large companies. Some prominent academics have close ties to financial services yet neither their university employers nor the journals in which they publish require them to disclose their conflicts of interest, their financial positions, or the relationship between their financial interests and the policy positions they take.


This practice is unfair, biased and unjust. Should educational institutions have better policy regarding conflicts of interest? I agree with Ferguson (2010), "At minimum federal law should require public disclosure of all outside income that is in any way related to professors' publishing and policy advocacy. It may be desirable to go even further, and to limit the total size of outside income that potentially generates conflicts of interest."
Information Mastery
Are you and those you are close to information literate?
Information prepackaging in schools and through broadcast and print news media encourages people to accept the opinions of others without much thought. To be information literate, a person must be able to recognize when information is desirable and have the ability to locate, evaluate, and use effectively the desirable information. The information literate among us, are truth seekers who never stop asking questions. Information literate citizens are able to spot and expose chicanery, disinformation and lies (ALA, 1989).
Do Your Own Due Diligence
Has our democracy transmuted into an oligarchy that serves the wealthy rather than the common citizen? In an effort to think more critically, it is my belief more folks should begin the journey towards achieving greater information literacy, a process that begins with question asking.
American Library Association. (1989, January 10). Residential committee on information literacy: Final report. Retrieved April 15, 2010, from http://news.ala.org/ala/mgrps/divs/acrl/publications/whitepapers/presidential.cfm
Ferguson, C.M. (2010, October 14). The director of 'Inside Job' replies.
Financial Times
. Retrieved from
http://blogs.ft.com/economistsforum/2010/10/the-director-of-inside-job-replies/
Friedman, M. (1955). The role of government in education.
Economics and the Public Interest
.
Stanford University. (2011). stanford.edu. Retrieved from
http://www.stanford.edu/
© Michael Victory
---
The views expressed by RenewAmerica columnists are their own and do not necessarily reflect the position of RenewAmerica or its affiliates.
---