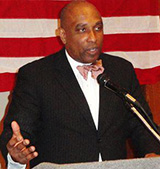 Ellis Washington
Trump + we the people = peace & victory

By
Ellis Washington
March 15, 2016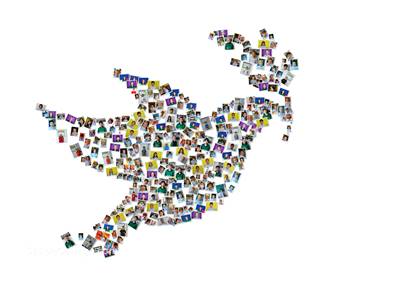 We the People (with Trump) can bring Peace
They are not angry about what I said: I'm just the messenger.
~ Trump, interview with Chuck Todd of MSNBC
[Trump is] not articulate. He's not poised. He's not informed. All he has going for him is a lot of votes.
~ Ed Rogers, Reagan & Bush-41 Advisor
Trump will Triumph
One of my Facebook friends posted an interesting article by writer,
Joe Newby
printed in the ConservativeFiringLine.com regarding the Democrat Socialist Party Alinsky tactics to shut down a peaceful political rally by Trump held at the sports arena at the University of Illinois. The question the author asks was interesting from both a tactical and a political perspective:
Did left-wing loons in Chicago just hand Trump the GOP nomination?
I believe that the Left (and Establishment Right) have such a venal hatred and fear of Trump that their irrational hatred has only galvanized more followers to vote for the embattled Trump.
"
On Friday, a ragtag motley collection of Black Lives Matter activists, Communists and MoveOn.org types, many carrying signs supporting socialist Bernie Sanders, rioted in Chicago to stop a campaign rally for GOP front-runner Donald Trump," writes Newby. This Soros sponsored rent-a-mob of thugs are Democrat Socialist Brownshirts of Socialist candidate Bernie Sanders (I-VT). Talk about the Left's "war on women" some of these barbarians took the occasion of the social chaos they created to grope female Trump supporters because they're "
white racist b**ches
." Notice that the propaganda press said not a word regarding this misogyny because they couldn't use their favorite Leftist tactics of
Freudian Psychological Projection, Transference and Displacement
to link this vile behavior to Trump... yet.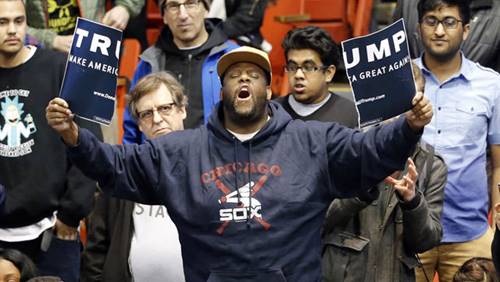 Soros MoveOn.org thugs practicing anarchy Alinsky race tactics at Trump rally (Chicago: University of Illinois)
Increasingly more and more of the media are realizing the political genius of Donald J. Trump – that whatever Machiavellian tactics the Democrat Socialist Party throw at Trump, he always seems to triumph in the end. In other words, as Newby queried in his essay, "But one has to wonder: Did these violent leftists just hand Trump the GOP nomination? And did they just help him possibly secure the White House in November?" I answer an emphatic YES!
"Consider: The GOP establishment has tried to take Trump down, and they failed. They even trotted out twice-failed candidate Mitt Romney. Every attempt to stop Trump using conventional means has failed. Moreover, every attempt has only managed to rally even more support for Trump," Newby wrote. "Now, leftists have reverted to their age-old tactic: violence. And no doubt, it's only going to get worse, if one believes what MoveOn.org told its supporters" –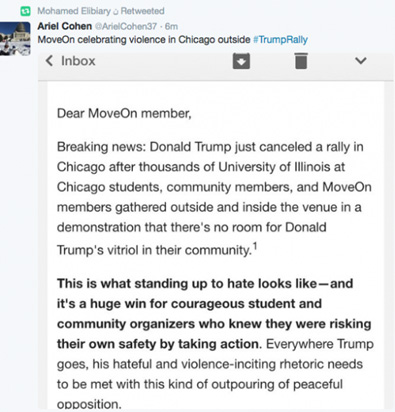 If this letter is to be believed, we can expect more of what happened in Chicago. Or worse. Who knows, maybe they'll actually try to murder someone the next time," Newby postulates. There are even open calls by the Democrat Socialist Party for blood in the streets. (Reminiscent of the riots at the Democrat Convention in 1968 in Chicago which handed the presidential election to Richard Nixon on a silver platter for then like now America will chose Trump Peace over Democrat Chaos.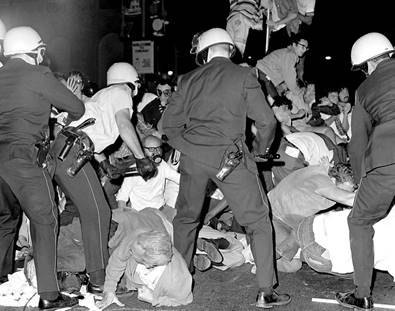 Repeating History: Before MoveOn.org, Socialist thugs riot at Chicago Democrat Convention (1968) – handing Republican Richard Nixon a victory on a silver platter.
"But the effort won't work. Liberal violence will not be tolerated and could, at some point, be met with equal violence. And that certainly won't help matters. Incidents like this, however, make me think there are some on the left who really do want a
second, bloody civil war in America
," Newby theorizes. This prompted two particularly fascinating comments, one by Dentist
Fred Chittenden
: "It's the far left's political bigotry on open display. It's really just the rewritten racial bigotry playbook from the Democrat party's past – with a global search and replace of all racial references with "conservative." In private left wing circles, this sort of political bigotry is part of the normal discussion patterns..."
The second comment by
Craig Buckingham
expresses the violent tactics favored by the Democrat Socialist Party since the Loyalists who sided with King George III and the hated English to stop America's Revolution in the 1770s and 80s. "The left's political bigotry occasionally spills out into the public view, but is usually spun by the left wing media to look like something more palatable or quickly hidden from view by misdirection to other issues and events," Buckingham writes. "It's the lefts suicide note. They are showing America what Clinton and Obama and the rest of the desperate fascist[s]... will resort to if they don't get their way."
The Soros-Sanders Socialist Oligarchy
Brietbart writer Neil Munro
noted how Trump's political rivals – Marco Rubio, Ted Cruz, John Kasich repeatedly using the vilest, demagogue tactics didn't blame the Soros/Sanders Democrat Socialist Party thugs for creating an atmosphere of violence, but following the Rule 12 Alinsky tactics of
Rules for Radicals
, put the blame of violence squarely on the shoulders of Donald Trump. All 3 GOP rivals blamed Trump for Chicago Mob Hit Friday night that Donald Trump was partly responsible for the left-wing mob shutdown of his own rally in Chicago.
"I wouldn't say Mr. Trump is responsible for the events of tonight, but he most certainly, in other events ... bears some responsibility for the general tone of the things that have [been] happening before," said Rubio, as he tried to blame Trump for prior protests – and clashes – at his rallies.
"I think it's the job of leaders not to stoke that anger, but to use that anger, and channel it in a way that allows us to reach solutions, as opposed to stoke that anger in a way that drives us to a political victory on a given election year," Rubio told CNN shortly after he declared he was "very sad for our country."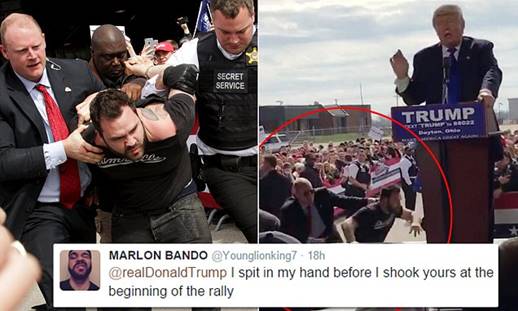 Thomas Dimassimo has a long anti-American history chronicled on
Google images
. Shame on Cruz, Rubio, Kasich for demagogue attacks on Trump's life! (Pictured: Trump Rally just outside of Dayton, Ohio)
Cruz packed his criticism of Trump in the same hypocritical, self-righteous tone he uses all the time – "This is a sad day. Political discourse should occur in this country without a threat of violence, without anger and rage and hatred directed at each other," he said in Rolling Meadows, Illinois, just north of downtown Chicago.
Cruz continued, "Earlier today, over 30 people were arrested in one rally, and then tonight, as violence broke out, the rally was cancelled altogether. Now the responsibility for that lies with protestors who took violence into their own hands, but in any campaign, responsibility starts at the top. Any candidate is responsible for the culture of the campaign and when you have a campaign that disrespects the voters, when you have a campaign that affirmatively encourages violence, when you have a campaign that is facing allegations of physical violence against members of the press, you create an environment that only encourages this sort of nasty discourse."
The prior rally, where people were arrested, was a Trump rally in St. Louis, Missouri. Ohio Gov. John Kasich released a similar statement:
Tonight the seeds of division that Donald Trump has been sowing this whole campaign finally bore fruit, and it was ugly. Some let their opposition to his views slip beyond protest into violence, but we can never let that happen. I urge people to resist that temptation and rise to a higher level. Now is the time for Americans to come together and stand firm for what we know is true: we are great because we are a peaceful people who live by the rule of law. We are stronger together, we will reject those who try to divide us for personal gain and we will do it the right way – at the ballot box.

Trump ignored the self-righteous criticism from his rivals, and pointed towards the mob of diverse radicals who waved Mexican and communist flags, carried pro-amnesty slogans, wore Islamic headgear, Bernie Sanders t-shirts, and desecrated American flags.
"It's a little bit sad when you can't have a rally in a major city in this country ... What ever happened to freedom of speech? What ever happened to the right to get together?" Trump told MSNBC. "Our nation is totally divided," Trump told Fox. "We have so many different sets of divisions and hopefully we'll be able to bring it together. I'm a unifier. President Obama has not been a unifier; he's been a divider. I'm a unifier, I'll bring people together."
Chris Rhodes, one of my former law student and Facebook friend posted the Newby article to which I replied in conclusion: "No doubt, Chris. This has all of the fingerprints of Saul Alinsky's How-to Book of Political Chaos,
Rules for Radicals
– Rule 12 = "Pick the target, freeze it, personalize it and polarize it." Trump is the 'Target' of the Democrat Socialist Party. Why? He is the only man with the brains and the guts to bring the entire Democrat/Republican Socialist Establishment down and grind it into ashes."
Trump + We the People = PEACE & VICTORY
Ed Rogers, a Reagan and Bush-41 Advisor shows his utter irrational hatred of Trump and contempt of We the People when he confessed at a recent secret meeting of Republican Establishment elites on an island near Georgia –
He's not articulate. He's not poised. He's not informed. All he has going for him is a lot of votes.
I disagree with Rogers and the cowardly Conservatives he secretly met with on that Georgia island for the surreptitious, Machiavellian purpose of
How to Stop Trump
. Trump is a Uniter, a Man of Peace who together with We the People is the only present figure in the United States who can defeat the Democrat Socialists and Republican Socialists and will 'Make America Great Again' ...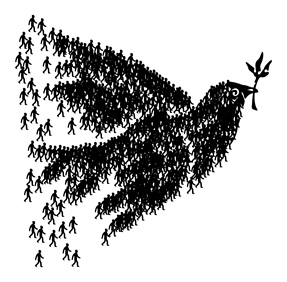 Trump + We the People = PEACE & VICTORY!
---
Book Notice
Please purchase my latest opus dedicated to that Conservative Colossus, Supreme Court Justice Clarence Thomas. Here are the latest two new volumes from my ongoing historical series –
THE PROGRESSIVE REVOLUTION: History of Liberal Fascism through the Ages
(University Press of America, 2015):
Please circulate
this flyer
to all your email contacts & Facebook/Twitter followers who may be interested in purchasing this opus which will serve as a ready apologetic against the rampant Marxist-Progressive propaganda taught in America's public schools, colleges, universities, graduate schools, and law schools. Thanks in advance to all my friends, associates and colleagues for your invaluable support! Law and History Blog:
www.EllisWashingtonReport.com
---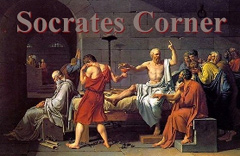 Invitation for manuscripts
I am starting a new a program on
my blog
dedicated to giving young conservatives (ages 14-35) a regular place to display and publish their ideas called
Socrates Corner.
If you know of any young person who wants to publish their ideas on any subject, have them send their essay manuscripts to my email at ewashington@wnd.com.
© Ellis Washington
---
The views expressed by RenewAmerica columnists are their own and do not necessarily reflect the position of RenewAmerica or its affiliates.
---