Stanley Zir
There is no plan B!

By
Stanley Zir
August 6, 2015
We cannot exclusively count on Congress to act on our behalf; they will only be forced to honor our demands through a popular out cry.
To end the Iranian Nuclear Terrorist Threat, we must inundate Congress with millions of calls with one demand: "Destroy the Iranian Nuclear Holocaust War Machine" and her strike back capabilities. Then Congress will be forced to act for fear of not being re- elected. This is the only way to stop Obama's veto, and stop Iran.
Up to this date not one of the leaders shown in the picture above has demanded a military strike on Iran. When asked each circumvents this question claiming there is a better deal .
Since the election will not take place for another 15 months, whatever the candidates say they would do to stop Iran would be too little too late. The Presidential candidates must act as if he or she is already the President
They must stop tip toeing around the elephant in the room, the elephant being Iran with Nuclear Terrorist Powers. Say what needs to be said! Do what needs to be done.
There is only one deal:,to deal the Iranian leadership a fatal blow
Only an emergency procedure that delivers a payload of destruction directly into the heart of Iran's nuclear facilities and her strike back capacity can eliminate the hub in the wheel of an emerging Nuclear Terrorist Empire, whose success would have the free world do the bidding of a madman armed with nuclear weapon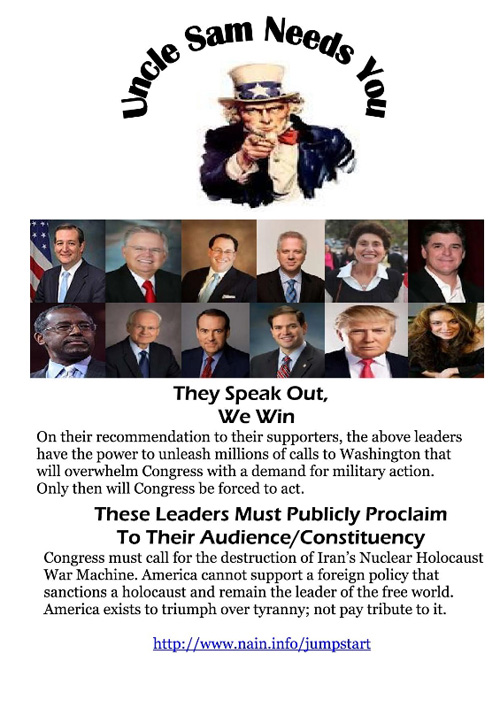 © Stanley Zir
---
The views expressed by RenewAmerica columnists are their own and do not necessarily reflect the position of RenewAmerica or its affiliates.
---