Stanley Zir
Star of David over Jerusalem

By
Stanley Zir
June 2, 2017
Foreign Affairs and Defense Committee Chair Avi Dichter calls on President Trump, "Don't touch that pen! Don't sign. Postpone the movement for another six months." When do you say
"enough is enough
?"
'Take placards out against President Trump's Policy'- Itamar Ben Gvir calls on the public to protest the delay in the transfer of the US Embassy from Tel Aviv to Jerusalem, in violation of Trump's election promise. Then on Wednesday, the Czech parliament approved the recognition of Jerusalem as the capital of Israel.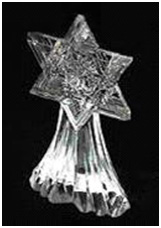 Star of David over Jerusalem
That I will surely bless you, and I will greatly multiply your seed as the stars of the heavens. (Genesis 22:17)
Until we see the Star of David touching the Heavens above Israel's skyline, we cannot truly claim Jerusalem as the capital of Israel in King David's name.
The monument will appear as a 800-foot high, 300-foot wide GOLD TOWER with the Star of David on top. In the middle of the tower, holding up the star, will be a circular steel pole. Every night, at sunset, the outer walls of the monument will recede into the ground.
A beam of light will be emitted from the base of the blackened steel pole all the way to the Star of David, at the top making it appear to be floating in the heavens. At sunrise, the monument will once again be raised, bringing the names of heroes who gave their lives to save and protect Israel and the Holocaust Martyrs back into the sunlight as witness to G-d's heavenly decree. (Conceived Stanley Zir January 2009 )
The concept for project started in 2005, culminating in the design years four years later. Imagine a giant Star of David beaming brightly high above Jerusalem for all to see. The ultimate proclamation that this historical and sacred city belongs to the sons and daughters of Israel, today, yesterday and forever. Opponents and enemies want to deny our ancestral homeland, claiming Jews occupy their lands, but they cannot claim ownership of the heavens
While we are constructing this monument to King David, I think we must immediately move to temporarily put an image of the Star of David in the heavens over Jerusalem similar to the technology that put two beams of light of into the heavens where the Twin Towers stood before the attack on 911 in New York City.
Enough is not Enough. We need action now. Please contact me immediately.
I am asking your assistance in getting this project "off the ground and up in the sky!"
© Stanley Zir
---
The views expressed by RenewAmerica columnists are their own and do not necessarily reflect the position of RenewAmerica or its affiliates.
---