Matt C. Abbott
A productive decade for pro-life law firm

By
Matt C. Abbott
December 31, 2009
The
Thomas More Society
had quite a productive decade. Founded in 1997, the Chicago-based pro-life law firm has been working quietly but diligently to defend those of us who oppose the pervasive culture of death.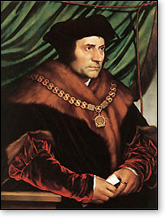 The firm's most notable case is
NOW v. Scheidler
, which technically began over two decades ago. From the firm's Web site:
'In 1986, the National Organization for Women and two abortion clinics filed a complaint in Federal Court alleging violations of the Sherman-Clayton anti-trust laws against Joseph Scheidler, the Pro-Life Action League and several other defendants. Thus began the landmark NOW v. Scheidler case, which ultimately was won by the pro-life defendants.

'NOW v. Scheidler is a significant case not only because it involves the issue of freedom of protest but because it involves the thorny Racketeering Influenced and Corrupt Organizations (RICO) Act, the scope of which has extended far beyond the Congress' original target of organized crime.

'The case has been to the Supreme Court three times. In 1994, a 9-0 decision allowed the case to go forward to trial as a civil RICO action. In 2003, the Supreme Court ruled 8-1 to overturn the District Court jury's 1998 guilty finding against Scheidler and his co-defendants. And in 2006, the Supreme Court unanimously ruled again in favor of Scheidler, putting to rest an effort by NOW to keep the case alive in the Seventh Circuit. In May 2007, over a year after the Supreme Court ruling, District Judge David Coar signed the final judgment, reversing his 1999 Judgment and vacating the nationwide injunction in effect since July 16, 1999....'


Even in 2009, the Thomas More Society accomplished much.
From the firm's recent fundraising letter:
'We've been blessed in having been able to fight so many important cases over this last year. Here is a short 'laundry list' that highlights some of the many battles that we've fought, so many of which culminated in victories for pro-lifers:



We pressed Illinois' pro-choice Attorney General to argue aggressively on appeal to defeat the ACLU's attack against the Illinois Parental Notice Law of 1995, which has been barred from going into effect ever since then! We joined the appeal ourselves on a side issue (intervention by downstate county prosecutors) to make sure the appeal was pressed. And the appeal was won in the U.S. Court of Appeals! The ACLU decided not to appeal to the U.S. Supreme Court!


Before Parental Notice could go into effect in Illinois, however, the medical disciplinary agency, dominated by a Planned Parenthood director, ordered another 60-day suspension of the law to give abortionists more time (after 14 years!) to prepare to comply with the law. We filed an 'extraordinary' lawsuit directly in the Illinois Supreme Court to void this blatantly illicit agency action; the Justices told us to take our suit down to the trial court, with two strong dissents, and the hullabaloo dissuaded agency board members from approving the director's request for a second six-month extension.


The ACLU then filed a lawsuit in Cook County state court arguing that Illinois' Constitution mandated stronger abortion rights than did Roe v. Wade — a preposterous claim, belied by the explicit remarks of the delegates to our 1970 constitutional convention, which left the abortion issue to be decided by the legislature. All this is detailed in the 2008 book published by our Special Counsel, Paul Linton, Abortion Under State Constitutions. Once again, we're intervening as the Attorney General's office is not even contesting this basic point, that there is no abortion right in Illinois. We won't have Roe v. Wade here!


We're filing suit to contest Chicago's new 'bubble zone' law, prohibiting sidewalk counseling within 50 feet of any abortion clinic entrance — clearly prohibited under Illinois law, which guarantees such access to labor picketers and renders Chicago's ordinance discriminatory and, therefore, unconstitutional!


We prevailed in the New York Court of Appeals, that state's highest court, in fending off a challenge to the Defense of Marriage Act as unconstitutional, after which the state legislature voted down same sex marriage again!


We fought against same sex marriage in the California and Iowa Supreme Courts, and we're gearing up to argue in defense of Proposition 8 in California — against the lawsuit brought by Ted Olson and David Boies — on behalf of the Family Research Council.


We brought suit against the network of abortionists and abortion providers in Dade County, Florida, after we hired an expert pathologist to review an autopsy report that whitewashed the killing of a baby born alive as a death from 'extreme prematurity.' Our expert accurately blamed clinic workers for killing the baby — who was put into a medical waste bag while struggling for breath and whose corpse was then hidden on the clinic roof when police came with a search warrant. We hired a former president of the Dade County Bar, an expert trial lawyer, to bring this lawsuit to obtain at least some measure of civil justice and to uncover all the facts about this sleazy abortion business.


We sent our counsel and client from Miami up to the Florida medical disciplinary agency hearing in Tampa to testify and argue — successfully! — for permanent revocation of the license of that abortionist (Dr. Pierre Renelique) to practice medicine.


We pressed the Dade County prosecutors to bring criminal charges against the baby's killer, arguing it was homicide under Florida law. Lesser charges were brought, over our objections, but they are felony charges which could put her in jail up to 15 years. We are now working with Florida legislators to toughen Florida's laws, and we intend to use this case as an example to win support for baby born alive laws — with teeth — in all 50 states.


We pressed multiple lawsuits — three of which are now on appeal — arising out of Planned Parenthood's violating every zoning law in the book to open the nation's largest abortion facility in Aurora, Illinois. We're on the verge of a successful settlement of our federal suit charging Aurora with egregious violations of the First Amendment in suppressing protest!


We pressed our lawsuit against the city of Rockford, Illinois, for violating protesters' First Amendment rights, and now Rockford, too, is asking to settle the case on terms that will guarantee protesters' and sidewalk counselors' First Amendment rights.


We're also suing the owner of the abortion provider's premises in Rockford for obstructing justice and aiding and abetting a thug who assaults sidewalk counselors with his pit bull and berates them with racist and bigoted epithets. Yes, this is a 'hate crime'!


We've advised and counseled numerous 40 Days for Life participants who call us from all over the U.S.


We've advised and counseled Lila Rose, the UCLA student, whose undercover videos have subjected Planned Parenthood to official scrutiny and jeopardized its subsidies all over the U.S.


We've filed suit in Maryland after appearing at a press conference in front of the state capitol in Annapolis to decry police misconduct in arresting, strip-searching and jailing nearly a score of peaceful pro-life 'truth tour' participants exercising their First Amendment rights on the public way.


We're defending Dan Holman, an activist arrested and jailed for more than 90 days on felony charges for defending himself and his wife against harassing anti-lifers in Michigan, and who also was prosecuted for defending his friend's 'truth truck' when it was vandalized.


We're working with and supporting Indiana lawyers, led by Tom Dixon, who volunteered to help the 'ND 88' when Notre Dame had them arrested and jailed when they went onto Notre Dame's campus while praying the rosary and bearing pro-life signs, symbols, and — in the case of Father Norman Weslin — a heavy wooden cross. Obama supporters were welcomed. We're now on appeal to the Indiana Appellate Court.


We're defending a pro-lifer charged three times with trespass in Atlanta, Georgia, for holding pro-life signs on public sidewalks near the state capitol, after which we intend to file a federal civil rights lawsuit for this egregious violation of First Amendment rights.


We're defending a religious home school association near Indianapolis which has been unjustly hauled before Indiana's human rights commission on bogus discrimination charges, and we're helping another national home school association to reorganize.


We're underwriting efforts of pro-lifers in two Midwestern states to set up fundraising vehicles to buy out abortion providers whose premises are for sale, and to shut them down!


We repulsed rogue IRS agents who tried to deny a tax exemption to a new Iowa pro-life group unless and until they promised not to picket Planned Parenthood. The pro-lifers got their exemption!


We defended a pro-lifer prosecuted in Livonia, Michigan. The upshot: charges dropped!


We put up a Nativity Scene in the Rotunda of the Illinois State Capitol and persuaded the ACLU to support our right to do so! We also put up a Good Friday cross on Daley Plaza in Chicago and had religious services held there on Easter morning. A Catholic Mass was also celebrated on Chicago's Federal Plaza in honor of Our Lady of Guadalupe, revered by Catholic Mexicans and pro-lifers generally.


We traveled to Colorado Springs to defend valiant pro-lifers there and pledged to support them as needed.


We represented the national office of the Knights of Columbus in defense of marriage in contested states and filed a 'friend of the court' brief in the Montana Supreme Court in opposition to euthanasia on behalf of Physicians for Compassionate Care.


We sued Granite City, Illinois, across the Mississippi from St. Louis and won a federal injunction against their ordinance limiting pro-lifers' parade signs to 8 ½ x 11 inches.


We sued Bridgeview, Illinois, and forced them to repeal ordinances they used to try to suppress a 'Truth Tour' by the Pro-Life Action League.



'On top of all these engagements, we fought and won many other battles. Some others we lost, as when the U.S. Supreme Court turned down our appeal to win the right to obtain 'choose life' specialty license plates for Illinois pro-lifers. Even The New York Times had predicted that the Court would hear our appeal. But the odds — 120 to 1 against us — proved too great. We live to fight another day, and we have new strategies for fighting that battle and winning it next time around.'


Bravo to the Thomas More Society — and bravo to
all
the dedicated pro-lifers here in the U.S. and around the world! Happy New Year, dear readers. Please pray for my loved ones and me.
© Matt C. Abbott
---
The views expressed by RenewAmerica columnists are their own and do not necessarily reflect the position of RenewAmerica or its affiliates.
---