Matt C. Abbott
Illinois politics: a sign of hope in Palatine; PersonhoodMississippi.com

By
Matt C. Abbott
February 4, 2010
Sometimes the pro-life candidate does win, even in the blue State of Illinois.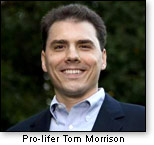 On Feb. 2, in the Chicago suburb of Palatine, staunch pro-lifer
Tom Morrison
defeated 11-year incumbent Suzie Bassi. Both are Republicans, but Bassi is, sad to say, a pro-abortion Catholic. She even supported tax-dollars for abortion-on-demand.
Catholic, mind you. Catholic.
Sickening, but all too common in this "seamless garment," "spirit of Vatican II" political and moral climate.
Morrison ran a strong campaign, and he had help from members of ICE PAC — Illinois Citizens for Ethics Political Action Committee — who spent the better part of two recent Saturdays going door-to-door throughout Palatine in support of Morrison.
"When Bassi voted against parental notification two years ago and then voiced support for the Illinois Reproductive Health and Access Act last year — the Illinois FOCA bill — we knew it was time for her to go," said J. Kevin Costello, chairman and founder of ICE PAC.
Morrison still has to win the general election in November, but I think it's safe to assert that he and his supporters are optimistic.
ICE PAC's mission, according to its
Web site
, "is to influence public decisions made at the state level by supporting candidates and issues that value human life, advance family stability, and uphold the dignity of all people."
I say: Kudos to Morrison, his staff, the members of ICE PAC, and the pro-lifers who, according to a
Feb. 3 story
in the
Daily Herald
, "descended on Holy Family Catholic Church in Inverness to pass out leaflets highlighting Bassi's support for abortion rights."
---
Pro-life activist Chet Gallagher wrote:
'We need volunteers to get us 'over the top' in our Personhood Mississippi effort. Please have them visit the Web site PersonhoodMississippi.com and then contact us to volunteer to help get Mississippi voters to sign the petition in these final two weeks. Thanks.'


© Matt C. Abbott
---
The views expressed by RenewAmerica columnists are their own and do not necessarily reflect the position of RenewAmerica or its affiliates.
---