Matt C. Abbott
Vatican statement on Legion of Christ leaves unanswered questions, says ex-Legionary priest

By
Matt C. Abbott
May 5, 2010
Father James Farfaglia, a priest of the Diocese of Corpus Christi for nine years, was formerly with the Legion of Christ for 21 years.
His response to the Vatican's
recent statement
on the scandal-plagued order?
"When I read it, my first response was that of hurt and anger. I don't see how the Legion of Christ can reform itself by leaving in place the present leadership," Father Farfaglia said in an e-mail.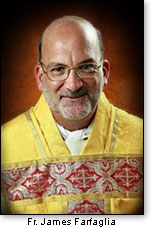 Citing an
article
by Italian journalist Sandro Magister, who speculates that Mexican Cardinal Juan Sandoval Íñiguez, archbishop of Guadalajara, will be the special envoy appointed by Pope Benedict, Father Farfaglia said:
"With all due respect to Cardinal Sandoval, if Magister's speculation turns out to be true, it would be a fatal mistake. Authentic reform will take place only if the Legion separates itself from its Mexican roots. I don't see how the cardinal can be objective.
"A member of the clergy who has
no connection
to the ecclesiastical, political and social structures of Mexico should be the one to direct the reform of the Legion. It has to be someone untouched by favors. And this is why, for the good of the order, Fathers Alvaro, Luis and Evaristo should resign immediately and a new, untarnished set of superiors should take over."
If the present leadership does remain, Father Farfaglia believes the Legionaries in the United States would do well to split off and start a new order. He also was struck by the following portion of the Vatican's statement:
'The Church is firmly resolved to accompany [members of the Legion] and help them on the path of purification that awaits them. It will also mean dealing sincerely with all of those who, within and outside the Legion, were victims of sexual abuse and of the power system devised by the founder: They are in the Holy Father's thoughts and prayers at this time, along with his gratitude to those of them who, even in the midst of great difficulties, had the courage and constancy to demand the truth.'


Father Farfaglia wonders:
"Does this mean that those seminarians who were sexually abused by Maciel will be compensated monetarily? That Maciel's 'wives' and children will be compensated monetarily? That those Legionaries who were screwed over when they left the order, with little or no money and without their papers and degrees, will be compensated monetarily? That members of the clergy who knew about Maciel's double life will be sanctioned in some way? That the church culture which allowed Maciel to flourish will be reformed?
"I'd feel a lot better if someone in the hierarchy would answer these questions. Or are we in for more smoke and mirrors?"
Related links:
Father Farfaglia's website
Father Farfaglia's blog
Exlcblog
ReGAIN
© Matt C. Abbott
---
The views expressed by RenewAmerica columnists are their own and do not necessarily reflect the position of RenewAmerica or its affiliates.
---