Matt C. Abbott
Praying for Gary Harvey

By
Matt C. Abbott
October 2, 2011
In an article in the fall 2010 issue of American Life League's
Celebrate Life
magazine, Bobby Schindler, brother of the late Terri Schiavo and co-executive director of the Terri Schiavo Life and Hope Network, wrote (excerpted;
click here
to read the article in its entirety):
'In January 2006, Gary fell down his basement steps and was left with profound cognitive disabilities. He had no advance directive and had only his wife, Sara, to protect him. Gary was admitted to the Chemung County Nursing Facility in May 2006. Sara soon found herself in conflict with the facility over his care, which she describes as seriously negligent.

'In February 2007, Chemung County stripped Sara of her rights as guardian of her husband, and Gary has remained a ward of the County ever since. In May 2009, he was transferred to St. Joseph's Hospital in Elmira, where he remains. About two weeks later, the hospital's ethics committee recommended the removal of Gary's nutrition and hydration tube, and the issuance of a do-not-resuscitate order. This was done without the direction of Gary's family and would have ensured his death.

'In June 2009, Chemung County asked the state supreme court to authorize the removal of Gary's feeding tube, but fortunately, Justice Judith O'Shea denied the request. Inexplicably, however, the DNR is still in effect and he remains under the control of Chemung County, despite the fact that it tried to end his life....'


More information on the Gary Harvey case can be found by visiting
www.HelpBringGaryHome.com
.
Ron Panzer, founder and president of the staunchly pro-life Hospice Patients Alliance, said in an email: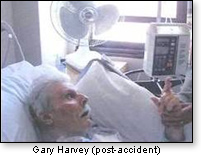 "It's a case that demonstrates the bias of the courts in favor of the culture of death. That the court chose to name someone other than Gary's wife Sara as guardian is despicable and disgraceful. Sara, who loves her husband, has been treated miserably by the court. Yet, it is only through her efforts that Gary's life has been spared.
"Gary's case is a prime example of the battle between the culture that reveres life and loves unconditionally, and the culture of death that would kill Gary were it not for Sara and others who have supported her and placed a public spotlight on Gary's plight."
Pray for Gary and his loved ones — and for those who are in very similar situations worldwide.
---
Pertinent links:
Terri Schiavo Life and Hope Network
American Life League
Hospice Patients Alliance
© Matt C. Abbott
---
The views expressed by RenewAmerica columnists are their own and do not necessarily reflect the position of RenewAmerica or its affiliates.
---