Matt C. Abbott
A priest's light-hearted reflection

By
Matt C. Abbott
July 2, 2012
With all the depressing news and events of recent days (and years, for that matter), I thought it might be nice to reprint the following light-hearted reflection written by Father Charles DiMascola for the latest issue of
Catholic Men's Quarterly
. Thanks to John Moorehouse for allowing me to reprint Father DiMascola's commentary. For more information about
Catholic Men's Quarterly
, visit
www.cifundraiser.com
.
---
The Best Pancakes Ever!

by Father Charles DiMascola
Six-year-old Brandon had gotten up very early one Saturday. Mom and Dad were still asleep and so Brandon decided to surprise his parents and fix them some pancakes for breakfast before everyone woke up. He found a big bowl and spoon, pulled a chair to the counter, opened the cupboard, and pulled out the heavy flour canister, spilling it on the floor. He scooped some of the flour from the floor into the bowl with his hands, mixed in most of a cup of milk and added some sugar, leaving a floury trail on the floor which by now also had a few tracks left by his kitten. He added a few eggs to the mix without getting too many shells into the mix.
Brandon was covered with flour and getting frustrated. He wanted this to be something very good for Mom and Dad, but it was getting very bad. He didn't know what to do next, whether to put it all into the oven or on top of the stove (and he wasn't even sure just how the stove worked!). Suddenly he saw his kitten licking from the bowl of mix and reached to push her away, knocking the egg carton to the floor. Frantically he tried to clean up this monumental mess but slipped on the eggs, getting his pajamas dirty.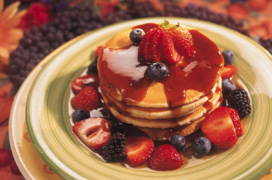 And just then he saw Dad standing at the door. Big crocodile tears welled up in Brandon's eyes. All he wanted to do was something good, but he'd made a terrible mess. He was sure a scolding was coming, maybe even a spanking. But his father just watched him. Then, walking right through the mess, Dad picked up his crying son, hugged him and loved him, getting his own pajamas dirty in the process. Then together they cleaned up the mess and together they made some pancakes for Mom. They were the best pancakes Brandon had ever tasted.
That's
how God deals with us. We try to do something good in life, but sometimes it turns into a mess. Our marriage gets all sticky, or we insult a friend, or we can't stand our job, or our health goes sour. Sometimes we just stand there in tears because we can't think of anything else to do. That's when God picks us up and loves us and forgives us, even though some of our mess gets all over Him. His love and forgiveness are total. With God we make things beautiful and good.
When Our Lord appeared to St. Faustina, He told her to remind everyone of His complete love and to tell them that we have only to trust in Him, that we have to put all our faith in Him, and that we have to totally depend on Him. Jesus wants us to understand that only in His love and mercy will we be safe and at peace. Only then will we be able to direct our lives joyfully here and now with a goal to our perfect Heavenly life.
The vision of the Divine Mercy was a reminder that God is love, that He is Mercy, and that we should not fear Him but trust Him. Trust Him so completely as to put our lives in His control totally! By surrendering to the will of God we surrender to His total love. By surrendering to the will of God we surrender to His total freedom and happiness. By surrendering to the will of God we literally give ourselves up to the control of His law of love!
Just because we might mess up, we can't give up or stop trying to "make pancakes" for God or for others. His total love and mercy will support us, and sooner than later we'll get it right. It will be beautiful and good, and then they'll be glad we tried.
(
Father Charles DiMascola is the beloved pastor of Our Lady of Czestochowa parish in Turners Falls, Mass., known the world over as "The Gem of Franklin County."
)
© Matt C. Abbott
---
The views expressed by RenewAmerica columnists are their own and do not necessarily reflect the position of RenewAmerica or its affiliates.
---