Matt C. Abbott
'The Emotions God Gave You'

By
Matt C. Abbott
August 17, 2012
A priest I met with recently for spiritual direction recommended I read
The Emotions God Gave You: A Guide for Catholics to Healthy and Holy Living
, a book by Art and Laraine Bennett. I did and found it informative and helpful. Below is the book's foreword, written by Father Emmerich Vogt, and the introduction, written by the Bennetts. Thanks to Patricia Mitchell, editorial director of
The Word Among Us Press
, for allowing me to reprint the excerpts in this column.
Click here
to order the book.
---
Foreword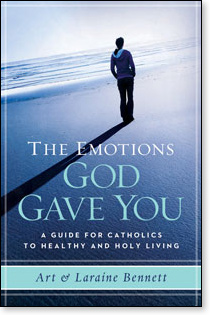 It is not uncommon for people to confess their feelings and emotions as if they were sinful in and of themselves. The
Catechism of the Catholic Church
explains that the passions — feelings and emotions — have no moral value in themselves (1767). They are not morally good, nor are they morally bad. What gives them a moral component is what we do about them. All sin lies in the will — in what a person freely chooses to do. By exercising free will, a person can sanctify his feelings in acting virtuously or pervert them with vice. This is a crucial truth to embrace in order for a Christian to know and understand himself. And this is what makes Art and Laraine Bennett's latest book so important.
Since the will is dependent on the intellect to make its decisions, it is important to know the truth. As St. Thomas Aquinas explains, sin darkens the intellect. We are born with a wound that keeps us in darkness unless we are enlightened. So we say that Christ is the light that came into the darkness to help us see the truth (John 8:12). He tells us of the man born blind (John 9:1-41) as a way of referring to the fallen state of all the wounded children of Eve. "Know the truth," says Christ, "and the truth will set you free" (John 8:32). By knowing the truth about ourselves and our emotions, we can discover ways to mature and, as Art and Laraine write, "gain the emotional equilibrium and healthy balance we need to take charge of our lives, grow closer to Christ, and share in the joy of his love."
The relevance of
The Emotions God Gave You
is evident. Without a proper understanding of the important role played by our passions, a person is truly left in the dark. When people are afraid of owning their emotions, they wear a mask. And if a person denies his feelings, he acts them out. When a person neglects to understand how emotional responses are affected by his background and temperament, he is often left feeling hopeless and even despairing because of unwanted feelings. The Bennetts do a great service to the Christian community — indeed to any person of good will — by explicating the role of emotions and pointing the way to emotional equilibrium.
Emotions are part of our human existence whereby "man intuits the good and suspects evil" (CCC, 1771). But our emotions need to mature because, as the Bennetts show, a person's temperament, his inner wounds, and his life experiences profoundly influence his emotional responses. A person in his spiritual journey needs to learn how to mature his emotions and achieve an emotional equilibrium such that his emotions do not make his decisions for him. Rather, he is in control of his responses no matter what emotions come into play.
With common examples from everyday living, the Bennetts offer us a deepened understanding of this most important aspect of human living. Ignoring or denying how we feel has serious side effects. The Bennetts show how adequate self-understanding enables us to recognize when we are acting out of an emotional bias. We only have to look at the daily news to see how so many adults are controlled by their emotions and respond in inappropriate ways to threatening situations because they have never learned to mature their emotions.
As a person who grew up in a family with addiction and mental illness — and therefore has learned of the need for effective healing of the emotions — I have great admiration for this work by Art and Laraine Bennett. This book could not have come at a better time given our current lack of a lucid study on the emotions in light of Christian theology. All who avail themselves of this straightforward presentation of the role of emotions in the moral life of the Christian will greatly benefit from the wealth of understanding it presents. It enlightens the way to Christian health and holiness. Their book brings clear insights into human behavior vis-à-vis the emotions. It is a relief to learn, for example, and as the Church teaches (CCC, 1768), that "strong feelings are not decisive for the morality or the holiness of persons." Good holy people have a wide expanse of emotions. For example, a saintly and morally chaste person can have deep sexual feelings. The feelings themselves say nothing about the holiness of the person. As the Bennetts so cogently demonstrates, we are not to suppress our emotions, but guide them by reason and will. Because emotions are a fundamental part of human life, they need to be directed by grace.
It is surprising that many modern manuals of spiritual direction tend to neglect the role of emotions in human life. This neglect can defeat a person's desire for wholeness. St. Thomas Aquinas knew this well when he taught, "Being insensitive to our feelings and emotions is a vice" (IIa IIæ, Q. 92 A1). As a result, his study on the moral life includes a section on the emotions. The emotional life, which forms a part of our being, has a place in moral reflection, for man does not work out his destiny solely by acts of his free will. Rather, it is with the power of his whole being, body and soul, that he attains his salvation. The Bennetts' serious reflection on the role of the emotions makes this evident. Those who immerse themselves in
The Emotions God Gave You
will find a necessary guide to healthy and holy living.
— Father Emmerich Vogt, OP
Founder,
The Twelve-Step Review
---
Introduction
We have all had the experience of being overcome with emotion. We may have wept over a loved one's death, been swept away by an uplifting tide of joy, felt shock at an unusual or startling event, or experienced rage that seemed nearly uncontrollable. We may have been suddenly enveloped by bone-chilling dread or fear. And, of course, we have all experienced love — especially love for a spouse, parent, or child.
Less intense emotions also accompany our daily thoughts and activities. Perhaps we were pleasantly surprised upon finding a letter from a friend in the mailbox. We may have been disappointed by a missed opportunity. A feeling of calmness may have settled over us as we entered a church. In fact, it is likely that every action, thought, and decision we have is accompanied by some emotion — whether or not we are consciously aware of it!
The Church has traditionally called emotions like anger, fear, or love the "passions," from the Latin
passio
(to undergo, to suffer), because we undergo a change as we experience them. It almost seems as though we are the passive recipients of emotions, that we can't help ourselves when we are overcome by fear, anger, anxiety, happiness, sadness, or love. We say "I fell in love" or "He was engulfed by rage" or "I was overcome with sadness," as though we had no control over our feelings.
It is quite true that most often our emotions arise in us spontaneously — at times, even unconsciously. We may snipe at someone without even fully realizing that we are angry, or we feel inexplicably drawn to someone without realizing why. The immediacy and spontaneity of our emotions is one of the ways in which emotions ensure our survival. For example, the fear that triggers our jumping out of the way of a speeding car — before we even have time to think through the best course of action — can save our life. Sexual desire is likely built into us so that we will reproduce. An intense feeling of revulsion when we smell a foul odor is a built-in warning signal. There are also psychic emotional responses that are beneficial: anger when we see an injustice, for example, or tender love for a new baby.
Yet even though these emotions seem to arise in us unbidden, without our directly willing them (and sometimes even against our will), we are nonetheless capable of managing or regulating our emotions. For example, a soldier appropriately experiences fear because he is in danger. But because he is well-trained, he maintains his post, despite his feelings. Or, although a mother might feel her anger rising when her child interrupts her, she refrains from unleashing her anger in harsh words. Though feelings of anger or sadness or desire arise in us spontaneously, we are free to respond in any number of ways. The Catholic Church teaches that passions (or emotions) are neither good nor evil in themselves, but they can become so when our
will
is engaged. That is, the way I
choose
to behave can be considered to be moral or immoral. If the soldier left his post out of fear or the mother lashed out with angry and hurtful words, they may be morally culpable. If the mother stops to think before yelling at the child who interrupts her, then she is acting rationally. Our reason should govern our passions (
Catechism of the Catholic Church
[CCC], 1767).
However, reason alone is not always sufficient to change our emotional patterns, especially if they are deeply engrained or the product of past emotional wounds. We may need help from counselors and confessors. When we feel stymied or paralyzed by unwanted or debilitating emotions that may have arisen due to a past trauma, or perhaps simply because of a pattern or habit we have fallen into, we are
less free
to act in a healthy way and we are less capable of having fulfilling relationships. We may feel oppressed by our own moods, fears, and anxieties, or we may push people away through our anger and resentment. These are obstacles to happy, healthy, and holy living. We hope this book will offer some insight into the ways that our emotions can help (or hinder) healthy living as well as some new ways of managing them.
The Emotions God Gave You
is not meant to outline a definitive theory of emotion or to choose sides in a competition of therapies or strategies to deal with our sometimes unruly emotions. Rather, with each chapter we hope to help paint a picture of the richness of the emotional life, each chapter adding a layer of color to the portrait. In the following pages, we will look at how emotions affect us and how our thoughts, attitudes, and behavior can affect our emotions. We'll also examine the difference between emotion and mood and explore the consequences of anger and resentment. What are the effects of temperament and our past experiences on our emotional health? Can we trust our feelings? When do our emotions become destructive? How do past emotional wounds affect our present-day emotional balance? What does it mean, practically speaking, for our reason to govern our passions? Finally, we will discuss ways to have a healthy emotional life, gain self-mastery, and grow in virtue and holiness. After all, God gave us our emotions. He wants us to manage them for our own good — and for his glory!
— Art and Laraine Bennett
(Reprinted from
The Emotions God Gave You
by Art and Laraine Bennett, copyright © 2011, published by The Word Among Us Press, Frederick, Maryland, 21704.
www.wau.org
. Used with permission.)
© Matt C. Abbott
---
The views expressed by RenewAmerica columnists are their own and do not necessarily reflect the position of RenewAmerica or its affiliates.
---