Matt C. Abbott
'Prayers, Promises, and Devotions for the Holy Souls in Purgatory'

By
Matt C. Abbott
October 20, 2012
The following is the preface (written by Cardinal Ivan Dias) to the book
Prayers, Promises, and Devotions for the Holy Souls in Purgatory
, by Susan Tassone. Thanks to Susan and Our Sunday Visitor for allowing me to reprint this excerpt in my column.
Click here
to order a copy of the book.
---
Preface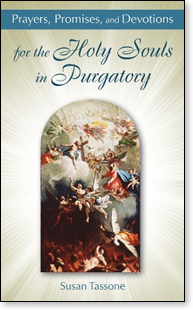 There is a small passage written by the monk, Cuthbert, describing the death of St. Bede the Venerable, a disciple of St. Benedict and a Doctor of the Church who died in A.D. 735. Cuthbert writes,
When the priests arrived [at Bede's bedside] he spoke to them and asked each one to offer Masses and prayers for him regularly [after his death]. They gladly promised to do so.
Written only about a century after the death of St. Gregory the Great, who taught so eloquently about praying for the holy souls in purgatory and popularizing a new pious practice at that time of offering thirty consecutive Masses for a deceased person, we see how even saintly people considered it important to have prayers offered for them at the time of their death.
This book, the latest contribution of Susan Tassone to devotions for the holy souls in purgatory, comes at a time when new generations of young Catholics hunger to be catechized in this ancient devotion that is often overlooked both in preaching and in parochial teaching, especially among children and young adults, but also among many others.
Following her previously published books on devotions to the holy souls in purgatory, this latest volume takes a new and creative approach to devotions, beginning with novenas with reflections and prayers that are easily ­accessible for anyone who has ten or fifteen minutes to give in the course of a day for prayerful reflection, beginning with some enriched quotes from various sources and leading to practical suggestions to direct our prayer.
The second novena proposed centers on meditations taken from the
Catechism of the Catholic Church
's reflections on purgatory and offers an opportunity to not only pray but also to nourish our knowledge and understanding of purgatory today in a very accessible manner.
Added to these two novenas Susan has gathered a series of prayers of intercession which can be used at any time of the day or made part of family prayer, personal prayer, prayer before or after Mass and other times, all directed for the holy souls. There is also a thoughtful reflection and series of prayers compiled for the faithful departed that bring together both old and new sources of prayer, carefully presenting each prayer with its background and touching on so many facets of the mystery of dying and death.
Special sections are offered both for Marian devotions for the holy souls as well as recommendations for those participating in a Holy Hour of prayer before the Blessed Sacrament, where the prayers would be specially offered for the holy souls or for a particular deceased relative, friend, mentor, or even one who is anonymous or unknown to us — a true act of charity praying for any and all holy souls in purgatory, but most especially remembering those who have no one to pray for them. And building upon the foundation of her last book,
Praying with the Saints for the Holy Souls in Purgatory
, she offers prayers inspired by saints, as well as prayers for specific groups of people, which offer a veritable treasure trove of prayers for so many.
A special contribution that Susan provides in this volume is a chapter on "Prayers for Eternal Life," which are prayers that family and friends can use when staying by the side of a loved one who is dying. These are prayers of comfort, encouragement, commitment, accompaniment and consolation, prayers whose cadence should be familiar to many of an older generation, and be also a source of catechetical teaching to young members of the Church who should become familiar with these prayers. This chapter alone would make it worthwhile as being part of the devotional books any Catholic family should have in each household, especially in households where they care for a grandparent or for someone who is terminally ill.
Not only has the author brought together in one volume so many rich prayers, but she also provides an excellent series of pious practices to draw upon when staying at the side of one who is dying. These recommendations are offered both for the dying person as well as for those caring for them, reminding us also of the value of calling a priest to accompany the dying with the Sacraments of Penance, the Anointing of the Sick, Viaticum, and the Apostolic Pardon. It is an ideal pastoral companion also for those who visit the terminally ill.
In a unique way, Susan offers a wonderful suggestion of "adopting a priest or religious" and having Gregorian Masses offered for them (in the style of the prayerful request of St. Bede the Venerable), priests who had an impact on our life: those who baptized us, those who celebrated our First Communion, the bishop who confirmed us, the priest who presided at your marriage, the priest who absolved your sins, the priest who offered you counsel and consolation when troubled, the priest who presided at the death of a loved one, a priest whose preaching touched you.
Or taking the suggestion further, what of offering such Gregorian Masses for those religious women who had such an important impact in our formative years: who taught us in school, often at great personal sacrifice; who visited our families; who comforted us and counseled us; who taught us about our faith and our Catholic heritage; who were our confidants when we had difficulties; and who encouraged us on our vocational choices.
This latest work of Susan Tassone is both a compendium of prayers and devotions for the holy souls in purgatory as well as an excellent new and inventive pastoral guide for those who care for the sick and dying. It is also highly commendable for teaching about the need to honor the souls in purgatory, and showing ways to do this, both through private or communal devotions as well as through requesting Masses be said on their behalf.
In taking up this latest work by Susan, the reader is offered a great opportunity to study anew, or for the first time,
Prayers, Promises, and Devotions for the Holy Souls in Purgatory
, reminding us of what Blessed John XXIII wrote, "The devotion to the memory of the dead is one of the most beautiful expressions of the Catholic spirit," recalling also Pope Benedict XVI's admonition of "the importance of prayers for the dead, especially the offering of the Mass for them, so that, once purified, they can come to the beatific vision of God."
It is with great pleasure that I present this work of Susan Tassone, thanking her for her singular devotion to the holy souls, reminding us of this very ancient devotion and making it fresh and alive for new generations of the faithful.
Cardinal Ivan Dias
Rome
© Matt C. Abbott
---
The views expressed by RenewAmerica columnists are their own and do not necessarily reflect the position of RenewAmerica or its affiliates.
---