Matt C. Abbott
Remembering Mary Stachowicz, modern-day martyr

By
Matt C. Abbott
November 13, 2012
Ten years ago, on Nov. 13, 2002, Mary Stachowicz was martyred.
In 2006, Bishop Thomas Paprocki, now bishop of Springfield, Ill., gave a presentation titled "The Constitutional and Legal Issues Presented by Same-Sex Relationships" at the Loyola University Chicago Law Journal Conference. Bishop Paprocki's presentation began as follows:
A recent Google search on the Internet for the name 'Matthew Shepard' produced 11,900,000 results. Matthew Shepard was a 21-year-old college student who was savagely beaten to death in 1998 in Wyoming. His murder has been called a hate crime because Shepard was gay.

A similar search on the Internet for the name 'Mary Stachowicz' yielded 26,800 results. In 2002, Mary Stachowicz was also brutally murdered, but the circumstances were quite different. Mary, the gentle, devout, 51-year-old Catholic mother of four, urged her coworker, Nicholas Gutierrez, 19, to change his gay lifestyle. Infuriated by this, as he later told police, he allegedly beat, stabbed, and strangled her to death and then stuffed her mangled body into a crawl space in his apartment, which was located above a Chicago funeral home where they both worked.

I know about Mary Stachowicz, not from the Internet, but personally, because Mary was my secretary at the parish where I was pastor before I was named a bishop. She worked part-time at the funeral home and part-time at the parish. One afternoon, she did not show up at her normal starting time. This was unusual because she was always on time. A call to the funeral home disclosed that her car was still in the parking lot, her purse, with her car keys, was still at her desk, but there was no sign of Mary. As Mary's family and friends prayed and worried about her disappearance, Gutierrez prayed with them. Three days later, her mutilated body was discovered in a crawl space in his apartment.

Both murders were senseless and brutal, and I condemn them both unequivocally. However, the fact that there are over eleven-and-a-half million more Internet stories about Matthew Shepard than Mary Stachowicz indicates where popular sentiment lies today on the question of same-sex relationships. Shepard's story has received such widespread attention because his homosexuality was the chief motive for his murder. Mary's murder has been widely ignored by the media, despite the fact that she died as a martyr for her faith....

(
Click here
to read Bishop Paprocki's presentation in its entirety.)
Thanks to pro-life, pro-family activists Jim Finnegan and Susan J. for reminding me about the anniversary of this brutal and tragic murder. Susan J. wrote:
"[In] the book
A Mother's Plea
, written by Father Anthony Bus, pastor of St. Stanislaus Kostka ... chapter 16 is titled 'Murdered or Martyred? The Death of Mary Stachowicz.' Father Bus knew Mary very well — she was helping him with the book. Another interesting detail: Mary's murder took place on Nov. 13, the feast day of St. Stanislaus Kostka."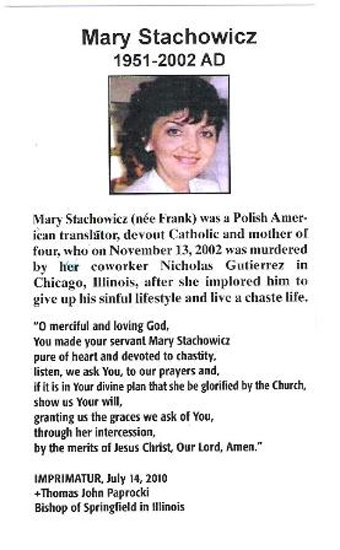 © Matt C. Abbott
---
The views expressed by RenewAmerica columnists are their own and do not necessarily reflect the position of RenewAmerica or its affiliates.
---