Matt C. Abbott
James Bond: heroic spy or womanizing killer?

By
Matt C. Abbott
November 25, 2012
Yes, there are far more pressing matters in the world than the escapades of the fictional 007, but, hey, if the Vatican's official newspaper can devote five articles to the latest James Bond flick, I don't feel too guilty devoting one measly column to it.
I've always had an aversion to the James Bond character, and I suppose it has more to do with the fact that he's a glorified womanizing/fornicating spy who will kill at the drop of a hat versus a chaste spy who will "merely injure" at the drop of a hat.
To me, the Bond movies' villains are only slightly less moral than the supposed protagonist: Bond...James Bond. Thus, I feel no sympathy for 007; I don't root for him. I don't care if he gets hurt. I know he's not going to die at the end; there is, after all, too much money invested in the Bond franchise for that to happen.
I haven't seen all the Bond movies; only four (I think) in their entirety, including the latest,
Skyfall
, plus scenes from a couple of others. Mostly forgettable for me. But
L'Osservatore Romano
, the Vatican's official newspaper, loves
Skyfall
.
From
Reuters
:
If anyone thinks the Vatican newspaper is still a staid broadsheet that publishes only religious news and harsh papal edicts, consider this ... it ran not one but five articles about the new James Bond film.

Skyfall gets a rave review in L'Osservatore Romano, which calls it one of the best of the 23 James Bond films made over the past 50 years. In the main article, titled '007 License to Cry,' the newspaper says the latest incarnation of the world's most famous spy is a rather good one because it makes him less of a cliché, and 'more human, capable of being moved and of crying: in a word, more real.'

How nice. Yeah, he does cry, but he also fornicates with two women and kills a bunch of "bad guys" in the interim. Heroic? I think not. "[M]ore real?" Well, certainly not more virtuous.
Now, if he resisted the urge to flirt and fornicate with seductive, pretty women — the so-called Bond girls (no word, by the way, on whether they practice the intrinsic evil of contraception or procure abortions if impregnated by 007 or some other guy) — and killed only when absolutely necessary to defend his own life or that of another person (given his professional skills, he could temporarily incapacitate most of the baddies instead of killing them), I would consider the James Bond character worthy of at least
some
admiration.
I sought comment on the subject from movie critic
Steven D. Greydanus
, whose reviews I greatly respect. Greydanus wrote:
I share your reservations about the Bond character, certainly as he's been portrayed in the vast majority of film adaptations. For what it's worth, I think the first Daniel Craig Bond film, Casino Royale, is in a completely different category. It's the best Bond film ever made, and the one that offers psychological and perhaps moral perspective on all the others. It's an unsentimental, uncampy origin story that frankly acknowledges Bond as a 'fornicating killer' — a damaged, unromantic man rather than a romantic fantasy superman. He's still a superhero in his physical prowess, but Judi Dench's 'M' rightly calls him a 'blunt instrument'; he repeatedly expresses a preference for affairs with married women because it keeps things uncomplicated — and in the end he's offered a hope of saving what's left of his shredded soul, only to have it ground underfoot, leaving him a hollower shell of a man than before.

My impression is that this is more in keeping with Ian Fleming's original vision than any of the previous Bond films. (Fleming reported borrowing the name 'James Bond' from the author of a book on ornithology because it was 'brief, unromantic, Anglo-Saxon and yet very masculine.') The mythologizing of James Bond as a romantic figure is, as far as I know, the stuff of Hollywood fantasy.

Fleming's portrayal of Bond is in keeping with a sensibility of British spy fiction that espionage is a dehumanizing, nasty business, even when dressed in evening clothes and appointed with martinis, luxurious accommodations and beautiful women. Of course Fleming may be only paying lip service to this sensibility while indulging male (and perhaps female) fantasies on other levels; but Casino Royale takes the sensibility seriously and gives it a hard-edged, post-Jason Bourne spin. (Craig's Bond is not the elegant connoisseur that Connery played for Cold War era fans who vicariously enjoyed all the fine things at Bond's disposal. When someone asks him how he'd like his martini prepared, Craig snaps, 'Do I look like I give a damn?')

Your suggestion of a spy with a conscience could be somewhat at odds with this sensibility of the dehumanizing effects of espionage; although I can imagine a story about a virtuous hero struggling to resist the corrosive character of his world.

A somewhat humorous side note: Daniel Craig was asked if there will ever be a gay James Bond, considering a scene in
Skyfall
that hints Bond might be, um, bisexual.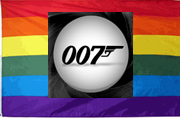 "No. Because he's not gay," he said. "And I don't think Javier's character is either — I think he'd [expletive] anything." (
Source
)
The scene in question involves the latest Bond villain, Silva (played by Javier Bardem), groping Bond while talking suggestively and threateningly to him. Despite what Craig supposedly thinks about the character's sexual inclination, Silva is portrayed as a violent, flaming homosexual.
Could it be that Hollywood is actually becoming less politically correct? Will Hollywood start promoting positive portrayals of men and women who struggle with same-sex attraction but strive to live chaste lives; or who live as ex-gays?
Nah...wishful thinking on my part.
© Matt C. Abbott
---
The views expressed by RenewAmerica columnists are their own and do not necessarily reflect the position of RenewAmerica or its affiliates.
---