Matt C. Abbott
'Loved, Lost, Found'; Surfer-priest's latest book

By
Matt C. Abbott
April 6, 2013
As we approach Divine Mercy Sunday (April 7), I think it's fitting to feature two recently-released books by Marian Press.
The first is
Loved, Lost, Found: 17 Divine Mercy Conversions
, by Felix Carroll. Below is the preface in its entirety. (The words in brackets are my own.)
The second is
Under the Mantle
, by Father Donald Calloway. (I featured Father's book
No Turning Back
in a past
column
.) Below is the introduction in its entirety.
Click here
to order one or both books from the publisher. Thanks to Robin Parow of Marian Press for this material.
---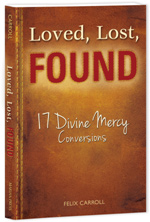 Spoiler alert: The 17 people we profile here all find God in the end. So the question is, why read stories if you already know their ending? The answer is simple: Because you don't know the beginning.
Between points A and B – between a person being "lost" and then "found" – are infinite permutations, boundless possibilities through the gift and subsequent hazards of free will, that only go to show how much God loves us. Probably the best way to appreciate His boundless love is to take a look at the facts – the brokenness and despair between points A to B – that lead to the conversion of hearts. In other words, we offer this book to illustrate that no matter what we've done, no matter how much we've made a mess of our lives, no matter how we've abandoned Him in our fruitless searches for salvation in the material things of this world, God will embrace us when we turn to Him with repentance, trust, and love. He will embrace us just as the father embraces the wayward son who returns home in the parable of the Prodigal Son (see Lk 15:11-32).
In that light, consider this book a pilgrimage in reverse – from the foot of the cross backwards and into the broken lives lived far away from Him. In fact, "pilgrimage" seems the most appropriate term because this book was written at a popular pilgrimage destination: Eden Hill, home of the National Shrine of The Divine Mercy, in Stockbridge, Massachusetts, which is administered by the Marian Fathers of the Immaculate Conception. Indeed, this book is inspired by my experiences during the past eight years here, meeting and writing about many of these pilgrims in my role as a member of the Marians' Editorial Department. They all have stories to tell of their extraordinary journeys from A to B. Many of them visit the Shrine in order to encounter God, to learn more about who He is, and to give Him thanks for the graces He's given them. Certainly, the work of salvation is the greatest story to be told. To that point, what my colleagues and I here on Eden Hill have discovered is that the most popular stories we publish for our magazine, Marian Helper, or post on our websites,
thedivinemercy.org
and
marian.org
, are not of the deep theological variety (though such work is important). Rather, they are the stories of everyday people who discover God's extraordinary mercy.
This book features 17 such people. We met them either through their connections with the Shrine and the Marian Fathers or through people with a connection to the Shrine and the Marian Fathers. For readers of Marian Helper, the names Scot Bateman, Bryan Thatcher, Valdemar Welz, Fred Berretta, and Kellie Ross may sound familiar. We've previously written about them in some fashion. But in this book, we take the opportunity to get to know them better – in most cases to join them in their ministries on the road and/or to spend time with them in their hometowns. We learn a lot more about them than we knew before. But you probably have never heard of most of the people we feature here. I wrote their stories in 2012-13 after quite a bit of traveling: to Texas, Florida, Virginia, Washington, D.C., New Mexico, New York, Ohio, Illinois, and points throughout my home state of Massachusetts. The story on Kellie Ross is based on my time with her in Africa, Virginia, and Washington, D.C., during a several-year span beginning in 2009.
The people you will read about include two prisoners, a blind man [Wayne Smith, founder of the Chicago-based Not By Sight Media], a former "workaholic," an unfaithful husband, a former cult member, a rape victim, a former abortionist, a survivor of a plane crash [Fred Berretta of Flight 1549, the "Miracle on the Hudson"], and a former professional football player [Eric Mahl], among others.
Appropriately, the book begins with Maureen Digan whose miracle healing in 1981 led to the beatification of Sr. Maria Faustina Kowalska. As to Sr. Faustina (now a saint), her revelations in the 1930s – what we know today as the message of Divine Mercy – play a major role in each one of these conversion stories. Through St. Faustina, Jesus reiterates for our times the Gospel message that He is Love and Mercy itself, and that He calls us to turn to Him in trust, receive His mercy, and extend His mercy to others. In case you have never read St. Faustina's Diary, I highly recommend it.
I humbly thank the 17 people featured in the following pages. They opened their homes to me, and they opened their hearts. Some shared intimate, often painful, experiences – things they hadn't talked about before to anyone. They did so courageously and prayerfully with the single hope that other souls could be saved through their witness. I am honored to call these 17 people my new friends. I am honored to tell their stories.
These are love stories.
Felix Carroll
February 2013
Stockbridge, Massachusetts

---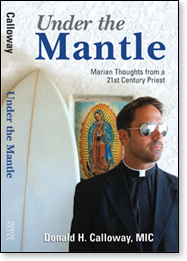 Those forgiven much, love much (cf. Lk 7: 36-48). Well, anyone who has heard my conversion story knows that I've been forgiven very much! And the way I've been trying to show my love and gratitude to God is by following Jesus' command to prodigals like me, namely, to go out and tell the whole world how much he has done for us in his mercy (cf. Mk 5:19).
"Tell the whole world." I mean that literally. Since I was ordained a priest on May 31, 2003, I haven't stopped travelling the whole world, telling my story to hundreds of thousands of people. As great as this has been, I have to admit that life on the road isn't easy! And it's simply been impossible to accept all the gracious invitations from people who have asked me to speak. Well, love finds a way, so I had the opportunity in 2010 to write my conversion story down in a book called
No Turning Back: A Witness to Mercy
, which enabled me to tell even more people of the wondrous workings of God's great love and mercy in my life.
I have to admit, I like this book thing. It's certainly an easier way to spread the word of God's love than simply by living out of a suitcase, eating Pop Tarts and trail mix for my meals. Now, don't get me wrong. I'm still going to keep getting out there to give my witness, "The love of Christ impels me" (2 Cor 5:14). And if you want me to come speak at your parish or event, feel free to ask! (See the last pages of this book for more information.) But I'm excited to offer even more of the message I've been spreading for the last 10 years, especially for those people whose invitations I've had to turn down due to being overbooked.
Here's what I mean by "more of the message." As I've been going around telling my story, I found that the organizers of the events where I've been invited to speak would often ask me to give more than one talk. In fact, sometimes they'd ask for as many as five talks! Obviously, I couldn't just say, "No." So, over the years, I've developed about nine talks that people have really seemed to be blessed by, thanks be to God. And that brings me to what this book is all about.
The nine chapters of this book are a compilation of my favorite talks from the road. Of course, the person of Jesus Christ is the most important topic. But sadly, many people today don't believe in him, think he's a myth, and consider the religion he founded to be the cause of all the world's troubles. I once believed that myself! But nothing could be further from the truth. That's why, as a 21st century priest, I want to help those who are living in these crazy times rediscover the awesome truths of the Catholic faith – the Eucharist, the Church, the papacy, confession, the priesthood, and the Cross. These topics, and others, are the themes of this book.
And as a Marian priest, I firmly believe that there is a tried and true method, taught by God himself, for bringing people back into a belief in Jesus Christ, and back into a love for the truthfulness of his teachings and the Church he founded. That method is Mary. Lovely, beautiful, crown of creation, masterpiece of beauty, demon-crushing, heresy-conquering, humble, handmaid of the Lord, Mary!
Like so many in our times, and in times past, I came to know and love Jesus through Mary. I am a 21st century priest because God has placed me under the mantle. There, I find my strength, my purpose, my life, my sweetness, and my hope. And God is placing many more under this most loving maternal mantle. Jesus is raising up a new generation of Catholics today. Ask almost anyone who has experienced a conversion or reversion to the Catholic faith today, and you will almost inevitably hear that the Virgin Mary played a major role in bringing them home. And how could she not? She is the mother of God's children, the heart of the mystery of salvation, and the nexus of the mysteries of Christianity.
Without Mary, we would not have Jesus. Without Mary, we would not have the Church. Without Mary, we would not have the Sacraments. Without Mary, we would not have the New Testament. Without Mary, we would have absolutely zilch! Seriously. I mean every word of that. And this is why every theme that is presented in the nine chapters of this book has as its guiding principle, Mary. Pure and simple. There is no better way to rediscover Jesus and his Church than through Our Lady.
Each chapter in this book is divided into three subsections, so as to bring to light various aspects of the topic at hand. Importantly, this is also why you will discover at the end of each subsection powerful quotes about Our Lady from Saints, Blesseds, Venerables, Servants of God, and Popes. I refer to these amazing quotes as Marian Gems. These quotes will blow you away! It has taken me years to acquire them all, and I know that you will benefit from them greatly.
In addition, many of the analogies I present in
Under the Mantle
may not be familiar to you. Perhaps you have never heard Our Lady described as the "Woman of Our Dreams" (chapter 1), or the Catholic Church as "God's Rehabilitation Center" (chapter 3), or Confession as a "Spiritual Diaper Change" (chapter 4). Yet, as limited as analogies always are, they, nonetheless, help make the point that is being conveyed. Therefore, please read this book slowly. If you read it too fast you are going to miss very important points.
What you're about to read are fundamental, unchanging, beautiful truths communicated in the language of a 20th century man who has become a 21st century priest. I have the degrees to go all academic and technical, and I have done that in some of my other books. But this book seeks to present deep theological truth to Joe-six-pack in the pew. It's simple, yet life-changing truth – logical and reasonable truth that will give you a spiritual kick in the pants. And we could all use a spiritual kick in the pants today.
The purpose of this book is to bring readers into a greater love for Jesus, through Mary, and to rediscover and fall in love with Catholicism anew and afresh. Catholicism is about being in love and accepting an invitation to the eternal wedding with the bridegroom, Jesus Christ, the lover of your soul. And Mary's role in all this is of paramount importance. She shows us the way and helps us keep our romance with God alive.
Mary made the Heart of God for us, and God has given Mary, as our spiritual mother, the role of making sure that her children come to know and love his divine Heart. This is why I am absolutely convinced that it is only through Our Lady that we are going to rediscover what it means to be a true follower of Christ, a true Catholic, in the 21st century. Mary is an absolutely necessary part of the new evangelization.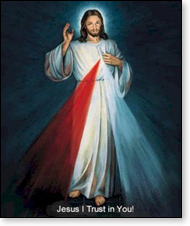 God is doing something amazing in our times, but so many don't understand it or see it. I want to help you see it. It's happening through Mary, and Jesus desires all of his disciples to live under the mantle and experience it. That's where we find our safety, our refuge, and our protection – under the mantle of the Blessed Virgin.
Satan does not want you to live under the mantle of Our Lady. This is why he and his diabolical cohorts have been deviously trying to dismantle Christianity, seeking to snatch souls away from Mary, luring them out from under her mantle, and depriving them of the fullness of the message of Jesus Christ. But if you remain securely under the mantle of Our Lady, not even Satan can touch you.
I sincerely hope that as you read this book, you come to understand what living under the mantle means and how God desires this for you. My ardent prayer is that you fall madly in love with Jesus and his Church – all through Mary.
Fr. Donald H. Calloway, MIC, STL
Vicar Provincial
The Blessed Virgin Mary, Mother of Mercy Province

© Matt C. Abbott
---
The views expressed by RenewAmerica columnists are their own and do not necessarily reflect the position of RenewAmerica or its affiliates.
---