Matt C. Abbott
'Lord, increase my hope'

By
Matt C. Abbott
July 27, 2013
In the second reading, Saint Paul speaks of Abraham, who, "hoping against hope, believed" (Rom 4:18). Hoping against hope! Today too, amid so much darkness, we need to see the light of hope and to be men and women who bring hope to others. To protect creation, to protect every man and every woman, to look upon them with tenderness and love, is to open up a horizon of hope; it is to let a shaft of light break through the heavy clouds; it is to bring the warmth of hope! For believers, for us Christians, like Abraham, like Saint Joseph, the hope that we bring is set against the horizon of God, which has opened up before us in Christ. It is a hope built on the rock which is God....
– Pope Francis, from his
homily
of March 19, 2013
---
I found the following excerpt of
The Catholic Guide to Depression: How the Saints, the Sacraments, and Psychiatry Can Help You Break Its Grip and Find Happiness Again
, authored by Aaron Kheriaty, M.D. (with Monsignor John R. Cihak, S.T.D.), to be timely and edifying.
Thanks to Sophia Institute Press for allowing me to publish this excerpt in my column.
Click here
to order a copy of the book in paperback or electronic format.
---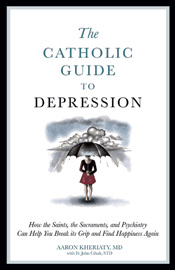 To say that hope is a "theological" or "supernatural" virtue is to say that it is fundamentally a gift, the result of grace. To possess this hope, we must be in a state of sanctifying grace, which we can be sure of when we have confessed grave sins we are aware of. But for this hope to grow in our hearts and operate powerfully in our lives, we should pray that our hope will be increased; we should ask God to increase our hope. Our will and our effort do play a role here, since God wants us to cooperate freely with the graces he grants. "Lord, increase my hope" should be an aspiration that comes to us often, especially in times of difficulty.
Let us now try to bring these theological considerations down to a practical level. How does hope help us to manage the stress of life? As suggested by our earlier discussion of cognitive therapy, often it is not so much the external circumstances of life that cause stress but, rather, our distorted and unrealistic thoughts about those circumstances. If you want to overcome daily difficulties, contradictions, and setbacks, cultivate this virtue of hope.
For it will make everything that happens to you appear in a more realistic light. You will see all things not from your limited, earthly perspective, but from the perspective of eternity. If this life is all we have to live for, then a financial difficulty, a personal loss, or a professional setback can send us into a tailspin. Without hope, we are tempted to reach for inadequate compensation – for the bottle, a sexual fling, a dishonest transaction to pad our pocketbook, and so on. Hope sustains us not just in dealing with major difficulties, but also in the little things that beset us each day. In his encyclical on the virtue of hope, Benedict XVI offers some very sound practical advice about the age-old practice of "offering up" the little difficulties that come to us daily:
There used to be a form of devotion – perhaps less practiced today but quite widespread not long ago – that included the idea of 'offering up' the minor daily hardships that continually strike at us like irritating 'jabs,' thereby giving them a meaning. Of course, there were some exaggerations and perhaps unhealthy applications of this devotion, but we need to ask ourselves whether there may not after all have been something essential and helpful contained within it.

He goes on to explain how this practice unites us in a deeper way to Jesus Christ, allowing us to participate in his redemptive mission. This suffering, in union with Christ on the Cross, can have sanctifying value:
What does it mean to offer something up? Those who did so were convinced that they could insert these little annoyances into Christ's great 'com-passion' so that they somehow became part of the treasury of compassion so greatly needed by the human race. In this way, even the small inconveniences of daily life could acquire meaning and contribute to the economy of good and of human love. Maybe we should consider whether it might be judicious to revive this practice ourselves.

The virtue of hope can be cultivated in the context of our work, our family life, our leisure, in any honest human activity – and even, mysteriously, in our brokenness. We may sometimes wonder whether our efforts to be a better employee, a better husband or wife, father or mother, priest or religious, friend or colleague are doing any good. Are these efforts worthwhile? Am I contributing anything meaningful to the world or to the Church?
St. Josemaría Escrivá compared us to the donkeys that used to be harnessed to turn waterwheels. Round and round the donkey would go, churning the pump that watered a distant field. This humble beast of burden, with its head down and blinders on, labored in this routine work day after day. He never saw the flowers of the field that bloomed as a result of his efforts. But these flowers were no less real for being hidden from his sight. St. Paul put it this way, "For you have died, and your life is hidden with Christ in God" (Col. 3:3). Our life, our work, the fruits of our labors, our sufferings and pain – all these things are hidden with Christ in God. We persevere whatever the apparent results, whatever the outward successes and failures, because living and working for God is always fruitful.
Christian hope is never individualistic. We hope not just for ourselves, but also for others, for their happiness and salvation. So hope has an apostolic dimension. John Donne wrote the famous line, "No man is an island, sufficient unto himself." Donne, who in his bouts of serious depression was tempted to despair and at times seriously contemplated suicide, understood that to resist despair we cannot struggle alone. Because our life is hidden with Christ in God, we do not know the effects of our smallest acts of love. A few years ago, a man in his thirties committed suicide by jumping off the Golden Gate Bridge. Afterward, his psychiatrist went with the medical examiner to the dead man's apartment, where they
found his diary. The last entry, written just hours before his death, said: "I'm going to walk to the bridge. If one person smiles at me on the way, I will not jump." We do not know all that we can be to another person. That smile, that small act of kindness, is hidden with Christ in God.
Sometimes hope may seem like an unrealistic attitude, a luxury of those who do not realize "how bad things are." A cheerful or optimistic outlook may seem ludicrous to the person suffering from depression. But such a person can in fact live in the objective joy, although perhaps at times unfelt, of a life of theological hope. The cheerfulness, the joy, of a Christian is not a naïve and easygoing optimism. It does not involve putting on blinders and ignoring evil in the world. Our joy and peace are rooted in the virtue of hope.
And our hope is grounded in the conviction that the ultimate victory belongs to Christ, a victory that he has already won on the Cross. And he says to us now what he said to his Apostles, "Truly, truly, I say to you, you will weep and lament but the world will rejoice; you will be sorrowful, but your sorrow will turn into joy" (John 16:20), and he assures us, "In the world you will have tribulation, but take courage, for I have overcome the world"
(John 16:33).
© Matt C. Abbott
---
The views expressed by RenewAmerica columnists are their own and do not necessarily reflect the position of RenewAmerica or its affiliates.
---