Matt C. Abbott
Philly priest's conviction overturned; Priest defends 'Duck Dynasty' patriarch

By
Matt C. Abbott
December 28, 2013
There's been a significant development in the Archdiocese of Philadelphia.
From Catholic News Service:
A panel of judges for a Pennsylvania Superior Court reversed the decision on a priest's conviction in handling a clerical abuse case and ordered his release from prison.

The decision, announced Dec. 26, involves Monsignor William Lynn, former secretary for clergy in the Philadelphia Archdiocese. Monsignor Lynn has served 18 months of a 2012 prison sentence of three to six years after being found guilty of endangering the welfare of a child, a felony.

Prosecutors had argued that the priest had reassigned abusive priests to new parishes in the Philadelphia Archdiocese in his diocesan role as clergy secretary. However, Monsignor Lynn's attorneys argued that Pennsylvania's child-endangerment law at the time applied only to parents and caregivers, not to supervisors, which was Monsignor Lynn's role.... (Click here to read the CNS article in its entirety.)

The archdiocese issued the following
statement
in response to the court's ruling:
When Monsignor Lynn's sentence was announced last summer, the archdiocese reemphasized that it has changed dramatically since the events over ten years ago that were at the center of the trial and reaffirmed that dramatic steps have been taken to ensure that all young people in our care find a safe and nurturing environment. It also expressed a hope that the nature of the sentence imposed on Monsignor Lynn would be objectively reviewed. That has happened.

The decision by the Superior Court to overturn this conviction does not and will not alter the Church's commitment to assist and support the survivors of sexual abuse on their journey toward healing or our dedicated efforts to ensure that all young people in our care are safe.

Our path forward is to remain vigilant in our efforts now and in the years to come. This path includes providing resources and support to survivors, our commitment to immediately report any allegation of sexual abuse involving a minor to law enforcement, and restoring the trust of the faithful and all those who look to the Church as a beacon of God's promise and love. The reputation of the Church can only be rebuilt through transparency, honesty and a fulfillment of our responsibility to the young people in our care and the victims and survivors who need our support.

We recognize that today's news is especially difficult for survivors and their families. We profoundly regret their pain.

Readers interested in learning more about this latest development should visit TheMediaReport.com.
---
Many people are familiar with the recent
Duck Dynasty
controversy – more specifically, what happened when the popular A&E show's patriarch, Phil Robertson, made some politically incorrect (and admittedly coarse) remarks regarding homosexuality in a magazine interview. The gay activist groups had their proverbial hissy fit, and A&E announced that Robertson would be suspended from the show.
Well, a backlash ensued, and – lo and behold – A&E has reversed its decision to suspend Robertson. Basically, the whole thing has been poorly handled by the network.
I asked Father Richard Perozich, a priest of the Diocese of San Diego who has worked with those who struggle with same-sex attraction, to comment on the
Duck Dynasty
controversy.
Father responded:
"Phil Robertson's biblical comments are accurate. In the spiritual realm, homosexual behavior continues to separate the person from God, Who always receives us back when we repent of our sins.
"People need to stop being homo-hysterical when this behavior is criticized. Biologically, it never has been proper to human creation. Psychologically, it shows compensatory behavior to try to attain masculinity or femininity or an attempt to belong to one's own gender through sexual activity, which it can never accomplish. Behaviorally, one can only attain sexual integration when one abandons this type of behavior and expresses sexuality in a married relationship between one man and one woman."
---
Below is a photo of newlyweds David and Joanna Avignone with Pope Francis. David has been a great pro-life activist, and his wife is a lovely person. Congrats to them!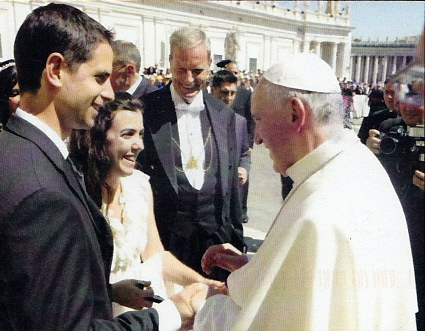 © Matt C. Abbott
---
The views expressed by RenewAmerica columnists are their own and do not necessarily reflect the position of RenewAmerica or its affiliates.
---