Matt C. Abbott
Mother Angelica on the afterlife

By
Matt C. Abbott
July 17, 2016
The following are brief excerpts from the last two chapters of the late Mother Angelica's book
Answers, Not Promises
, recently republished by EWTN. Thanks to Sophia Institute Press and EWTN for permitting me to publish these excerpts in my column. Click here to order a copy of the book.
---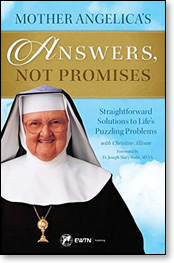 Most of us have this crazy notion that when we die, we will suddenly be confronted with three big doors that lead to Heaven, Hell, or Purgatory, as if eternity were some kind of TV quiz show. Although we feel that a future in Heaven would be nice, most of us figure that it is beyond our reach. Our hopes are pinned on "Door Number 2," the door to Purgatory, and we hope against hope that when the time comes, we'll be able to slide into the back of that "great halfway house in the sky." Now, this is no slight on the "halfway house" – Saint Thomas assures us that the saddest day in Purgatory is a thousand times more joyful than the happiest day on earth – but the truth is that you don't slide into any dimension of your spiritual life .
All of us begin our journey to Heaven, Hell, or Purgatory right here on earth. Our supernatural life is the journey of our soul, and like any journey, the first steps are just as important as the last steps and all the steps in between....
As Christians, we talk a lot about the balance between God's mercy and His justice. And in no area is it more apparent than our pathway to Heaven or Hell. I think a lot of people end up choosing Hell because they are guilty of the sin of presumption. They feel that they can commit any sin because God is so merciful. They lean on the assumption that they can sin left and right and that God will bail them out at the last minute.
This is not only a misreading of God's mercy, but it is also a misunderstanding of how we are saved or not saved. To begin with, God's mercy isn't some endless storehouse of good feelings and hugs for "poor, miserable us." True love, and especially Divine Love, doesn't operate on a "gimme" system. God's mercy is extended to us when we try, fail, repent, and try again; but not when we fail for the fun of it....
More than any other single factor, God requires repentance to enter the Kingdom. He can't forgive a sinner unless the sinner acknowledges his sin. If an impasse is reached, if a devastating contest of wills takes place at the moment of death – then, upon seeing God, the sinner will simply turn his face away. An eternal rejection of God is made at that moment and lasts forever. The suffering that this person has chosen is indescribable and immeasurable.
It is hard to know why some of us end up making this choice. A person in this state is so steeped in his pride, so devoted to his own will, that he cannot accept anything that contradicts it. He does not choose suffering as much as he rejects a love he has found impossible to accept. His suffering in Hell for all eternity is simply the result....
There are many in today's world who deny the existence of Satan and Hell. In
The Screwtape Letters
, C. S. Lewis wrote that the devil's most cunning trick is to persuade us that he does not exist. To dread Hell, to tremble at the thought of it, is to have reached a great spiritual milestone. A lot of people shrug off the idea of Hell in the same way that they shrug off the idea of the devil, as if it were all just a scare tactic invented by some bored theologians. And yet why should we take so lightly a place and a person whom God takes so seriously?...
So to begin with, it is important to realize that Heaven is both a place and a state. If we are with God, and God is in us, then we have Heaven on earth, and the business of Heaven on earth is called holiness....
For one thing, we know that in Heaven – just as on earth – everyone is different. Just as our talents, our beauty, our intellects, and our temperaments vary here on earth, so our positions and personalities in Heaven will also vary. This makes sense because everyone relates to God in a different way. All my nuns are completely different. We've got short ones, tall ones, funny ones, pensive ones, lighthearted ones, and melancholic ones. We don't pray alike. We don't look alike. We don't like the same food or songs or jokes. But when you look into the eyes of each of my nuns, you see God. Their beauty is in their unique love for the Lord, and in Heaven their uniqueness will be valued and preserved....
We doubt that Heaven will be "fun," and we worry that it might not even exist at all. Well, let's erase all the fine robes and harps and jewels from your imagination and give you, instead, a picture you can comprehend. Push aside those fluffy clouds, and imagine how you might think and feel in a state of utter bliss – for that is what Heaven is all about:
We will learn why God permitted the trials and illnesses and heartaches of this life. We will see the justice and mercy of God, as the disadvantages of this life are rewarded by high stations in Heaven. We will see all our faults and weaknesses fall away from our souls like scales from a fish. We will understand the mysteries of nature and of the universe. We will be able to comprehend great truths with ease. Nothing will be difficult. We will see the mysteries of God as they continue to unfold. We will love and be loved by everyone and never have any aversion or antipathy toward anyone. We will always have something new to do and learn in Heaven, something different to be joyful about. We will never feel worthless, lonely, slighted, discouraged, depressed, or stupid. We will never feel anger, resentment, hatred, jealousy, or ambition. We will never experience hunger, thirst, or poverty. We will never again be afraid....
See you in Heaven! (I hope!)
© Matt C. Abbott
---
The views expressed by RenewAmerica columnists are their own and do not necessarily reflect the position of RenewAmerica or its affiliates.
---