Matt C. Abbott
'The Way of Simple Love...'

By
Matt C. Abbott
October 1, 2019
Below is an email interview I conducted with Father Gary Caster, author of
The Way of Simple Love: Inspiring Words from St. Thérèse of Lisieux
, published this year by Franciscan Media. Click here to order a copy of the book. Thanks to Father Caster for taking the time to answer my questions.
––––––––––––––––
What inspired you to write
The Way of Simple Love
?

Caster
: I have been devoted to "
The Little Flower
" since the fourth grade. My friends (publisher) at Franciscan Media know this, and since, I have written two books which are reflections on the Scriptures of Lent and Advent/Christmas through the prism of the spirituality of St. Thérèse. They asked me about putting together something to help people become acquainted with her spirituality through her writing. Of course, I was absolutely interested in such a project. I still remember where I was when I received the email from them asking about such a project.
What can Catholics learn from the spirituality of St. Thérèse of Lisieux?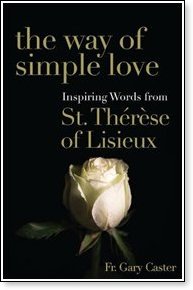 Caster
: I think one of the most important things people can learn from her spirituality is the positivity of her understanding of, and approach to, Christ. She liberated most of France from the suffocating influence of Jansenism and the legal and moralistic "duty/obligation" approach to the faith. I think people will find in her spirituality a refreshing way to see themselves within the context of God's love for us in Christ; and that we don't make ourselves holy; it is something the Lord longs to accomplish in each of us. She is perhaps the influence of the expression: the universal call to holiness.
What are a few of your favorite sayings of St. Thérèse of Lisieux?

Caster
: My all-time favorite saying of St. Thérèse is:
My way is one that is full of confidence and love. Why? Because I met Jesus on a Thursday afternoon in June when I was 9 years old and he told me that He thinks I'm adorable (no, He doesn't worship me). He also told me he would always be with me and that He loves me and will always love me.
Additional sayings of St. Thérèse:
All the most beautiful discourses of the greatest saints would be incapable of making one single act of love come from a heart that Jesus did not possess
.
For a long time I have not belonged to myself since I delivered myself totally to Jesus, and He is therefore free to do with me as He pleases
.
We are greater than the whole universe, and one day we ourselves shall have a divine existence.
How can Catholics strengthen their interior life?

Caster
: It is absolutely impossible to strengthen one's spiritual life without spending time each day speaking heart-to-heart with the Lord. We need each day to carve out a time to simply bring ourselves to Him with wherever we're at, with whatever is going on. But this must be daily. It must be the foundation for all our other devotional and communal prayer practices and obligations. In fact, all our devotional and recreational practices should flow out of our heart-to-heart time with Christ, and they in turn should spill back into the time we spend alone with the Lord heart-to-heart. Eventually, our reflex in every situation and circumstance should be talking with Jesus [examples are as follows]:
"Hey, did You see that? I'm sorry; that was a dumb thing for me to do! That's so incredibly beautiful; how do You come up with such an idea? I don't know what to say to this person. Help me be more patient in the meeting because You know I hate meetings. Come with me to 'x' because You know I have a difficult time with 'x.'"
I could go on and on.
© Matt C. Abbott
---
The views expressed by RenewAmerica columnists are their own and do not necessarily reflect the position of RenewAmerica or its affiliates.
---