Matt C. Abbott
SSPX instituting abuse review board

By
Matt C. Abbott
May 9, 2020
In the wake of several recently-published investigative reports by ChurchMilitant.com, the Society of Saint Pius X is establishing a review board to investigate any and all allegations of sexual abuse within the organization.
From the website of the SSPX:
Among the examples of reported abuse involving the SSPX:
As for the (admittedly confusing) status of the SSPX in regard to the Church, Father John Zuhlsdorf recently wrote a very good explanation on his blog. Click here to read it.
––––––––––––––––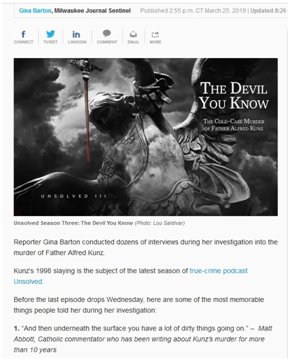 On a related note …
Many of my readers know that, for a number of years, I've been following and writing about the 1998 unsolved murder of Father Alfred Kunz of Dane, Wis.
In 2019, Gina Barton, investigative reporter for the Milwaukee Journal Sentinel, put together a series of podcasts and articles on the Kunz case (for which I, among others, was interviewed). Barton devoted a portion of her audio podcast, along with some lines of text in accompanying articles, to the SSPX and the loose connection it had with Kunz.
Bishop Richard Williamson, expelled from the SSPX in 2012, was the primary focus of the SSPX portion of the podcasts. Although interviewed by the Dane County Sheriff's Office years ago, Williamson was never considered a suspect in the murder, to my knowledge.
Barton wrote:
Barton also wrote:
---
The views expressed by RenewAmerica columnists are their own and do not necessarily reflect the position of RenewAmerica or its affiliates.
---