A.J. Castellitto
A poetic perspective on politics, social media, redemption and the military

By
A.J. Castellitto
February 3, 2014
The Story Ends
Jesus looks down upon you
With fire in His eyes
The blood of the sacrificed Are on your hands
Security breached Navy Seals die
The Future is sold Your vision is bold
So the People are told
Courts and Congress stand idly by
Those who tell truth Have nothing to hide
Fundamental transformation Almost complete
You plot, you position, you sow, you reap
Children and wife are by your side ?
But will you sleep tonight
A change of course A guilty plea
It's not too late to make amends
Cause We the People Already know
You've sealed your fate The story ends...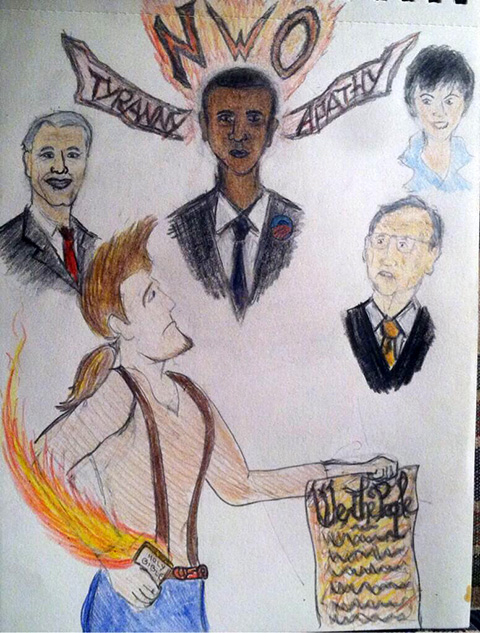 ~A Soldier
I have a friend many miles away
Between stability and disarray
Be certain he will persevere
For the many remembering him in prayer
A great patriot when duty calls
Will not recede, he's standing tall
Let's not forget the sacrifice
The men in green who give their life
Our country owes much gratitude
To those who serve, the proud the few
While trifles small consume our time
The solders life is on the line
So be watchful friend and take great care
Because we are calling, home draws near
~Redemptive Affliction
Broken sensitivity
Obsessing on futility
A cycle so perverse
Conscientious curse
Image of a thorn
Perpetual thy mourn
Awakened by thy grace
A pill has found its place
Acceptance without shame
A means for what remains
Sufficiency abounds
Perfected by thy vow
~Distracted and Addicted
I know you're always there for me
Such comfort you provide
No matter what kinda mood I'm in
To you I can confide
There's always time for you my love
I know you're always near
And when I'm needing to unwind
I'll choose you over beer
The news feed starts to flow
As farmville bides my time
There's chores to do and bills to pay
But my fix is found online
So let this Zuckerberg have his way
As profits fill his sack
I just can't help myself these days
This Facebook's just like crack
© A.J. Castellitto
---
The views expressed by RenewAmerica columnists are their own and do not necessarily reflect the position of RenewAmerica or its affiliates.
---