A.J. Castellitto
James Caan & our future dystopia

By
A.J. Castellitto
March 9, 2014
"I'm an ultra conservative... Hollywood liberal, I'm not."
Back in August of 2010, veteran actor James Caan boldly proclaimed his detestation for politically-inclined, celebrity-activists, when he declared,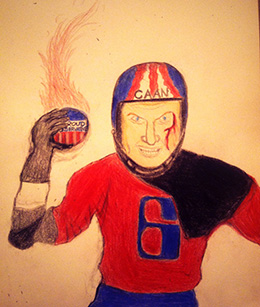 "all those actors...like to find a stage to push their agendas...They don't have political science degrees... I certainly don't."
When Caan was asked about California's Marriage Protection Act-Proposition 8 (which has since been overturned and dismissed) he replied,
"I don't want to comment on that. I'll let those other geniuses do that...I'll leave it to Sean Penn or Barbara Streisand to comment on that."
In his 1975 cult-classic, Rollerball, Caan plays Rollerball Champion, Jonathan E., who represents the hope of a global community dominated and controlled by an absurdly powerful, internationally aligned governmental authority known simply as the 'corporations.' The film basically paints a picture of a dystopian society in which all the needs of the people are determined and administered (food, shelter, medical care, even companionship and recreational drugs) by a global corporate state. The wants and desires of the masses are essentially deduced and facilitated for the sake of maintaining this tyrannical form of repressive order and authority under the guise of comprehensive care and support. As the story unfolds, it is clear, the real agenda is financial and ideological dominance by any means necessary.
Rollerball, a fast paced, uber-violent game, is used to pacify the people's perceived taste for sport and violence – to satisfy their lust and appetite for excitement – as they remain indebted and enslaved (to a pre-determined, mundane existence) by these elite rulers who have dubbed themselves most qualified to make vital decisions on their behalf. But when Jonathan is strongly encouraged to retire, as he has captured the minds and hearts of a people who been led to believe that the way of life they've known is most favorable, he makes a stand....and that's when things really get interesting.
In response to Jonathan's reluctance and resistance to leave the only family he has left (his teammates), the head of the global corporate state, one Mr. John Houseman, exercises his full authority, severely admonishing Jonathan as he declares,
"Why argue about decisions you are not powerful enough to make for yourself."
At the end of the movie, Caan's Jonathan reflects upon the tragedy of a world in which freedom is replaced by 'privilege' (that may also be arbitrarily changed and revoked – like the time one of the corporate executives decided he wanted Jonathan's wife and took her to have as his own).... "Those privileges buy us off," he laments.
California Senator, Diane Feinstein, in proposing legislation regarding Shield Laws for journalists, recently referred to the First Amendment as a 'special privilege.' Art imitates life and vice versa.... as we can clearly see where all this is headed. I don't know about you, but I stand with Jonathan!
My Artistic Interpretation of the "Ultra-Conservative" James Caan based on his freedom fighting character – Jonathan E – from his 1975 cult-classic : RollerBall
© A.J. Castellitto
---
The views expressed by RenewAmerica columnists are their own and do not necessarily reflect the position of RenewAmerica or its affiliates.
---