A.J. Castellitto
The pro-NWO political platform

By
A.J. Castellitto
June 2, 2014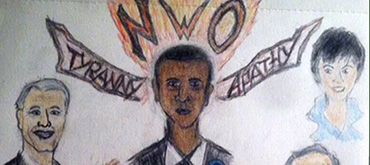 Theirs is not a platform of pragmatic solutions and thoughtful resolutions; rather, it's about power and control by any means necessary.
Lies and propaganda are all just par for the course. Even sketchy and falsified science is not off limits. Whatever advances the greater global agenda will do.
The game plan is and always has been one of divide and conquer. The best defense is a good offense.
With the media and manipulated voters on board, they merely have to turn up the pressure and apply the heat; then they really pour it on. They will attack, without mercy, until the job is done.
The left-leaning, liberty-defeating, two party machine is well oiled and proceeds to take no prisoners. We (the average America citizen) are nothing in their eyes. They prefer us to keep our mouths shut and stay out of the way.
We are the final resistance and the tea party is our only shot. We can go down back peddling and squabbling or we can make one last righteous stand. A stand in which we laugh in the face of compromise.
We know what their bringing. (How composed will we be in our response?)
*Calls for fiscal responsibility and restraint will be characterized as attacks on income equality
*Calls for policy that will enable the much needed (and very long awaited) economic recovery will be deemed an attack on the poor
*Calls for border control and the enforcement of immigration laws will be deemed an insensitive, racist attack on hard working, disenfranchised lovers of the 'America Dream' whose only crime is the hope of a better tomorrow. A hope that will come to fruition at our own expense
*Calls for abortion restrictions will be deemed a war on women (when in reality the procedure has no place in civil society). Let all those in favor observe the procedure themselves so we can truly see where they stand
*Calls for honest elections, ethical (and Constitutional) governing practices, family values, traditional marriage, and untainted school curriculum will be deemed racist, phobic and archaic (by the very people using their repressive and manipulative ideological propaganda to rob America of everything that made it 'America' in the first place)
*Calls for a rediscovery of God, personal morality, common decency and social responsibility will be deemed hate speech (by the very people lacking the character and ethical integrity required to be even slightly pliable to such vital concepts/sustaining foundations)
The warning bell has sound! Acknowledge the twisted game and refuse to participate. Wake up and just stop playing.....
A lesser evil might buy us a little more time but a maintaining of the 'status quo' assures us nothing but a divided culture fast-tracking toward calamity.
© A.J. Castellitto
---
The views expressed by RenewAmerica columnists are their own and do not necessarily reflect the position of RenewAmerica or its affiliates.
---