A.J. Castellitto
The truth and the life in black and white

By
A.J. Castellitto
June 28, 2014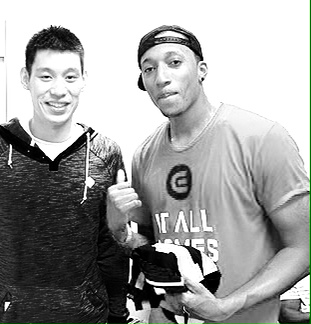 (high profile believers – Jeremy Lin w/ his favorite rapper, Lecrae)
"I
do know that the Christian faith is one that has to be tried and tested consistently. The Bible talks about making your 'calling and election sure.' And so I think you just have to ask those questions: Do I really believe this? Am I really serious about this? To prod and probe to see where you really stand. Hopefully you always end up with that firm foundation." – Lecrae
Race, color, ethnicity, diversity, tolerance, prejudice, bias, and pride ~ these are just some of the natural realities that continue to ignite our racial divide. But in the end, none of it will matter. On the last day, it will all fall away. Who will you grab hold of on that last day of days?
RIP to Medgar Evers
RIP to Doctor King
I ain't tryin' to hate on my own kind
But Al and Jesse don't speak for me
I'm probably gonna catch
Some flack man,
But Im gonna swallow this pill
Like pac man
Some of these folks wont tell the truth,
Too busy tryin' to get them racks man.
These are the fearless words of young Hip-Hop phenom Lecrae, a theologically astute messenger of 'Hope and Encouragement.' He's an artist that does not flea from the 'hard truths.' In fact, hard truth is exactly what he's giving...
Church trying to rob my paycheck,
Choir members probably havin gay sex
Pastor manipulatin, hurtin women,
I wonder what he's gonna say next
Bookstore pimpin them hope books,
Like God dont know how broke looks
They tellin me that I'm gonna reap a meal
If I sow into these low crooks
There's only one way we can overcome our natural differences in appearance, adherence, and cultural allegiance. That is through Christ and He Alone.
It's time to cool the hate, remove the race bait, and respond to our Biblical mandate. May we call upon God with a desire to serve Him. In return, He will certainly enable us to love our neighbor as ourselves. Only then will we look past our differences and become united as Brothers in Christ.
Truthfully Im just doin' me,
And I don't wanna face no scrutiny
As long as the church keep wild'n out,
I can justify all my foolish deeds
Smokin weed, pourin up, keep that liter in my cup
Maybe I can change the world,
But this porn on my laptop got me stuck
They say beauty is only skin deep, but what really matters is the spiritual state of the soul. Only then will the senseless acts of violence and suppression in our diverse nation cease to occur. The best cure for the mistreatment of our fellow man is when we come to the knowledge that we are spiritual beings all made in God's image with souls for all eternity.
It better not be no real God, real hope, that heals hearts
It shows me that I ain't livin up
To all these things he put me here for
It better not be no real church, real saints, who pray hard
Are we our brother's keeper? To hear Lecrae tell it I'd say the answer is a resounding 'Yes!'
It better not be no real folk
Who don't think that they better than you
Straight or gay, drunk and high
They walk through the cold and weather with you
That's what true love is about. True love is unconditional, but it doesn't spare hard truth. Jesus did not promote blind acceptance.
No we don't wanna see that,
Cuz that might mean a life change
That might mean I'm worth more,
Then money, cars, sex and pipe dreams
Better not be no real Jesus,
Real forgiveness, for hurt folks
If God gonna take me as I am
I guess I already got on my church clothes
He wants your complete submission and full obedience. You must die to self. Those who lose their life shall find it at the foot of the cross. This is the radical truth so greatly lost on today's culture.
Pick up your cross and follow!
Traveling the narrow path, we are conformed children of the promise. Come join us on the pilgrimage!
We walk by faith and Jesus is leading the way!
Come as you are.....
http://youtu.be/tlWvx0wdySk
© A.J. Castellitto
---
The views expressed by RenewAmerica columnists are their own and do not necessarily reflect the position of RenewAmerica or its affiliates.
---