A.J. Castellitto
Larry Liberal, Morty Moderate, Len Libertarian & Christian Conservative talk politics...

By
A.J. Castellitto
September 24, 2014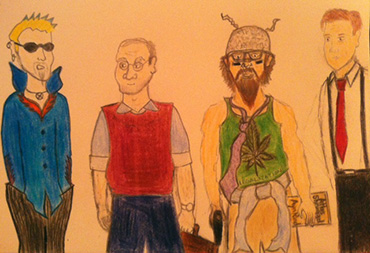 Larry: All you racist pigs can kiss my a@#.... I hope Obama goes for a 3rd... just to piss you guys off! I don't care if he turns the White House into a Mosque... as long as you Christian homophobes keep getting scrre.... *LOUD INTERRUPTION
Christian: HEY! .....that's not necessary!
Len: All I know IS...that commie better not come near my guns...... Anyway, I'm seeing Ted tonight! He's gonna perform after the tractor pull. Remember, you gotta kill it before you can grill it!
Morty: This economy has got to turn around. My investments are worthless. No more Democrats!!! I don't care who the Republicans run....
Len: Both parties are a bunch of evil facists! I've been voting 3rd Party for over a decade.... Ron Paul got totally railroaded last time out.
Morty: Will you stop with the Ron Paul crap! That guys a nut-job! You thought 9/11 was bad.... If Paul was president we'd be sitting ducks....
Len: Wake up old man! 9/11 was an inside job.... If it wasn't for the federal government there wouldn't be any terrorism. We provoke them, than we fund them, then we obliterate them....
Christian: Wait.... I thought you usually say that first, we fund the terrorists, THAN..we provoke em...
Len: Who cares which comes first.... It's a vicious cycle.... The military industrial complex
Morty: You and your darn conspiracy theories.... Oh, by the way.... How's your emergency prep coming along.... Whatcha call it....?
Len: SHTF! I'm locked, loaded and ready to go! I got the storage and the skills to live underground or off the land... I'm Rambo!
Morty: I just hope the GOP don't get screwed up by the Tea Party.... I'm tired of these 'unelectable' candidates stealing the spotlight and killing our chances.
Larry: Freaking racist, wing-nut, whack-jobs! If they were running the country we would all starve.
Morty: Dang social issues.... Cruz and Paul and their grandstanding and shutdowns. In Washington you gotta reach across the aisle.... And stop with the social issues already.... What do you think Christian? You remember what they did to Santorum.... What did they
call him?
Christian: Let's please not go there.... I don't know Morty. Unlike Larry, I'm not about which team wins. If the GOP is not standing firm on any of the important issues... like border security, responsible fiscal policy and....
Morty: Amnesty?
Christian: Exactly....
Larry: Racist!
Christian: I'm just worried about my children and their future.... The financial burdens.... The moral climate.... Political corruption and control.... All the media distortions and manipulations.... Terror threats....
Morty: If you vote 3rd party, you realize you're voting Democrat..... Look how many of you Conservatives stayed home last time.... Look at the mess they're making....
Christian: Hey, I voted Romney.... But ask yourself something else.... if Conservatives are staying home... Why does the GOP keep moving further left? What are they doing to prove to their base that they have come to their senses and will shift back to the right? ...I understand they want my vote so they can have their control back.... But outside of blocking the Democrats, what does a Republican victory even look like?
Are we now living in a day in which we must vote, not because we believe in our candidate or that he will actually do what needs to be done for the good of he country.... but merely to prevent catastrophe?
Larry: You guys are out of your mind!!!! Too much Fox News, fake scandals, and religious fairy tales.... President Clinton better get ready to wear her crown! ...First female president in US History.... Take that!!! ....you sexist clowns and your war on women! The Democrats will ride off to victory once again.... You zealots are living in the dark ages
AJ: I'm curious to hear what the readers think.... What does the political future look like for today's conservative? If conservatism is dead; (not just social conservatism) but responsible fiscal policy and the upholding of our Constitution with regards to international affairs, border security and immigration policy..... There's not much left to fight for it seems.... Except maybe other people's special interests.....
© A.J. Castellitto
---
The views expressed by RenewAmerica columnists are their own and do not necessarily reflect the position of RenewAmerica or its affiliates.
---