A.J. Castellitto
David Limbaugh on trial

By
A.J. Castellitto
October 6, 2014
A rabid consumer of Christian commentary affirms Limbaugh's faithful apologetic.
Political writer, David Limbaugh, makes a big splash in the realm of Christian apologetics, with the release of his new book,
Jesus On Trial
; a superbly methodical defense of the Christian faith. One of the most impressive aspects of Limbaugh's enthusiastic affirmation of the veracity of the gospel witness is his ability to travel the secular road of guarded cynicism and intellectual resistance, where he meets the hardened skeptic head on. It's a road that Mr. Limbaugh had traveled for some time as a skeptic himself, before finally giving into the reasonable and miraculous case for Christianity.
Personally, I was quite taken by Mr. Limbaugh's rich Biblical and theological insights. The author also does a fine job of supplementing his own insights with vital offerings from an array of biblical scholars and impassioned theologians, past and present. One of my favorite quotes from the book comes courtesy of the 19th century "prince of preachers," Charles Spurgeon, who soundly declares,
"If God shall look upon us as we are He must be displeased; but when He sees us in Christ Jesus He is well pleased for His righteousness sake..... He is so pleased with the cover that he forbears to remember the defilement and deformity of those whom it covers.... He cannot but accept His Son, who has become our covering."
I was somewhat surprised to encounter a few references to Mark Driscoll, the fallen founder of Mars Hill Church. Surely those references could have been omitted prior to publishing; however, Limbaugh understands that though our pulpits and platforms may rightly give way to greater graces, we have not wholly disqualified ourselves of the mercy and promises of God.
The most impressive aspect of Limbaugh's work is that he goes to the direct source of
Truth
–
the Holy Bible
– early and often throughout, to build and advance his bold case. The book features so much scriptural exploration, that it feels like one long, extended Bible Study. The various spiritual nuances, intricacies and paradoxes that underlie the bold and direct Biblical proclamations are identified and expounded upon with great care. Limbaugh infuses his commentary with just the right amount of personal wonder and amazement, as he builds upon his well reasoned defense.
Overall,
Jesus On Trial
is an inspiring defense of the Christian faith. With a book length of 337 pages, Limbaugh's well-reasoned analysis is extensive and comprehensive. He gives equal attention to the various natural, sociological, archeological, historical, and experiential realities that validate the uniqueness and special authority (divine revelation) of Christianity among all other natural, philosophical and religious ideology. In a few instances, it felt as if the author was so 'zoned in,' that he was advancing areas of truth that many in the skeptic community have probably failed to even consider.
The New York Times, and much of the modern world, may prefer that books such as these had never
been
written, let alone become best sellers. They may even try to hide the fact that the book is even out there and doing so well. However, Jesus is THE Undeniable Truth that can never be thwarted. Open the Bible and see for yourself!
Upon close examination of the evidence, I hereby find David Limbaugh guilty of grace-inspired wisdom and fearless reporting and hereby sentence him to a lifetime of faithful, joyous and humble service.
Here are a few study questions I have developed (based on the material covered in the book):
What is truth? Is it subjective?

Does our rejection or misunderstanding of revealed truth alter its universality in any way?

Is the Bible historically accurate? Is the reporting reliable? Are the events historically and archeologically verifiable?

Are the spiritual insights as vital and valid as they are presented?

Do the authors merely fabricate and embellish OR do they, in fact, articulate and authenticate, the most amazing story ever experienced, witnessed and recorded?

What does human nature, personal experience, and the overall history of mankind tell us about the human condition?

Do the bold, exclusive claims of Christianity, when given an equal hearing, produce the most plausible existential explanation?

What does the varied natural/pre-empirical verifications noted in scripture tell us about the reliability of the Biblical account?

What does the intricate design complexity and the irreducible, interdependent operations that encompass various biological/developmental systems tell us about teleological considerations in the natural and physical world?

From where is human consciousness and moral good derived?
These are many of the essential areas of consideration that Limbaugh skillfully explores.
At the heart of all these considerations presented by the author is this one vital question-
Is Jesus who He claimed to be?
David Limbaugh, like the many who've come before him, leaves little doubt to the answer of this essential question.
Jesus was, in fact, crucified and in three days rose from the dead.
He is Lord!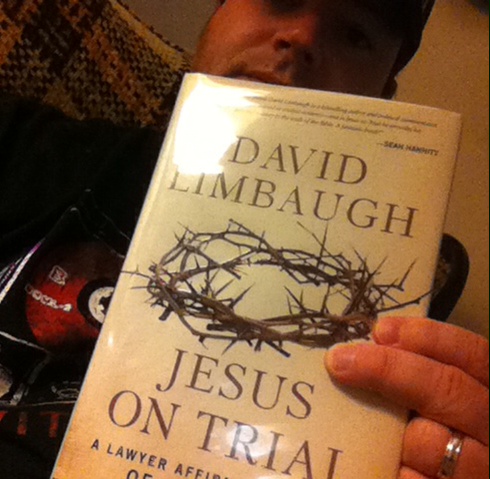 © A.J. Castellitto
---
The views expressed by RenewAmerica columnists are their own and do not necessarily reflect the position of RenewAmerica or its affiliates.
---