A.J. Castellitto
The Roman Centurion: 'I am not worthy'

By
A.J. Castellitto
March 23, 2015
"Now a centurion had a servant who was sick and at the point of death, who was highly valued by him. When the centurion heard about Jesus, he sent to him elders of the Jews, asking him to come and heal his servant. And when they came to Jesus, they pleaded with him earnestly, saying, "He is worthy to have you do this for him, for he loves our nation, and he is the one who built us our synagogue."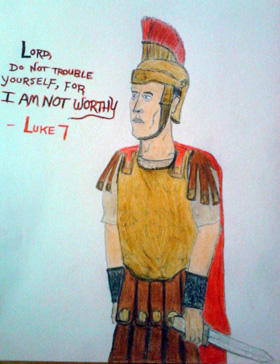 Grace.... This one word encompasses so many vital truths: Love, Mercy, Forgiveness, Propitiation, Redemption. In modern culture there is a widespread lack of humility and knowledge of our standing before a Just, Righteous, Longsuffering and Holy God.
In Chapter 7 of the Book of Luke we hear of a man who was favored among the Jews. He was not of them but he possessed a deep reverence and love for their God. He was a Roman Centurion and his belief and humility rightly offered unto the King of Kings and Lord of Lords infinitely surpassed anything the chosen people of that day could muster.
"And Jesus went with them. When he was not far from the house, the centurion sent friends, saying to him, "Lord, do not trouble yourself, for I am not worthy to have you come under my roof. Therefore I did not presume to come to you. But say the word, and let my servant be healed. For I too am a man set under authority, with soldiers under me: and I say to one, 'Go,' and he goes; and to another, 'Come,' and he comes; and to my servant, 'Do this,' and he does it."
The Roman Centurion deeply understood something that so many in his day and our day are completely blind and ignorant of. The most essential and favorable position we may ever experience is to be in a state of grace and humility before God (in which all our sins and miseries have been paid for by the shed blood of the precious Savior). His Righteousness must be imputed unto us.
All true rights and liberties are bestowed via a restoration only made possible by the greatest act of love in the history of mankind. To know and experience the saving grace of God is to be free from the bondage of sin. This is the divine justice, deliverance, and transcendence that surpasses all of mankind's feeble and futile attempts toward utopia.
Grace is the starting point and the full completion. Without grace human civilization will perpetually chase its tail until it wholly collapses once and for all.
"When Jesus heard these things, he marveled at him, and turning to the crowd that followed him, said, "I tell you, not even in Israel have I found such faith." And when those who had been sent returned to the house, they found the servant well."
* This essay was inspired by a sermon from former military chaplain Christopher H. Wisdom.
tinysa.com/sermon/322151148303
http://www.nj.com/warrenreporter/index.ssf/2015/03/special_worship_service_march.html
© A.J. Castellitto
---
The views expressed by RenewAmerica columnists are their own and do not necessarily reflect the position of RenewAmerica or its affiliates.
---