A.J. Castellitto
Blessed by Autism and sharing the love!

By
A.J. Castellitto
April 8, 2015
I am a 40 year old (going on 42) husband and father of five children, one with autism. Through trials and adversities my Christian faith has grown strong over the past 15 years. There was one particular event, however, that shook my foundation ever so vehemently. Only by the grace of God and his perfect wisdom was I able to reconcile it with my faith not only in tact but stronger than before.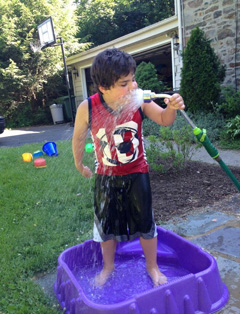 Our youngest son Ryan was diagnosed with Autism at two and a half. My wife started to notice subtle changes in Ryan's behavior and within a month's time his language and social interactions became severely diminished. A once friendly and social little boy, Ryan withdrew, became disinterested in toys and started engaging in various forms of self-simulation. The Ryan that we knew and loved dearly was gone. My wife and I were left to cope with a deep sense of loss. It was as if our Ryan had been taken away from us. He had become a shell of himself. There was no emotion, no expression; he was totally disconnected. Ryan remained fixed in his own world.
Even though my wife and I had prior experience with developmental disabilities, both personally and professionally, nothing could prepare us for what we were now facing. Not only was our faith in God put to the test, but also was our faith in ourselves and each other. But now was not the time to throw in the towel. Ryan needed us like never before and we needed each other; but most importantly we need God's preserving grace to face this steep mountain and find the strength to keep climbing.
Knowing that a complete recovery from this condition was uncommon, we prayed for understanding and acceptance. We eventually found a private school exclusively serving children with Autism. After six months, our son started exhibiting significant developmental progress. Many amazing people – teachers, therapists, and other parents who were facing similar adversities – were brought into our lives. We are truly grateful for them all!
As difficult as it was to accept, this unforeseen circumstance has brought our family closer together and enabled us to rally around our Ryan as he continues to progress a little each day, one step at a time. By concentrating our focus and efforts on intervention and progress, rather than the initial regression, we have been able to develop a healthy and spiritually sound perspective toward our child's condition. It's been part of the healing process, emotionally for our family and developmentally for our child. Thankfully, we have reached a place where even the smallest improvement in Ryan's development feels like the biggest blessing.
I firmly believe that God takes extra care of the most vulnerable among us. They are ripe for healing and are marked for Heaven......
Read More @ Upper Room:
http://devotional.upperroom.org/blog/2014/05/castellitto051414
Upper Room Devotional:
http://www.upperroom-digital.org/upperroom/may_jun_2014/m2/Page.action?folio=20
Progressive Democrats & Disabilities (A Future War on the Disabled???):
http://www.westernjournalism.com/krugman-death-panels-and-the-disabled/
© A.J. Castellitto
---
The views expressed by RenewAmerica columnists are their own and do not necessarily reflect the position of RenewAmerica or its affiliates.
---