A.J. Castellitto
They live we sleep

By
A.J. Castellitto
August 3, 2015
"They're targeting the kids and they're telling them how to think." – Roddy Piper
In the year 1988, a bizarre, low budget, sci-fi thriller burst onto the movie scene, landing at the top of the box office. A few weeks later, it disappeared...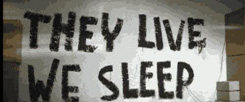 They Live
features the late Roddy Piper –
the former professional wrestler who died suddenly of a heart attack at the age of 61 just a few days ago
– as an unknown, unnamed drifter officially credited as one
'Nada.' They Live
is another one of those prophetic big screen offerings of the past (e.g. Rollerball http://www.westernjournalism.com/past-cinematic-glimpse-future-dystopia/ ) with an urgent message that resonates now more than ever.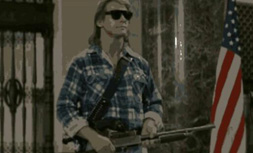 Vigilance and moral clarity are the biggest threats to those who seek to manipulate and agitate. Charges of insanity and conspiracy are a common tactic applied to divert and ultimately thwart a truth rebellion.
Like good secular automatons we are to Consume, Obey, Conform, Buy, Sleep and Watch...TV...lots of it.
Swallow their message and leave all independent thought, especially faith based reality, buried deep underground. Our docility, appeasement, and pliability is their agenda realized. Our ignorance is their gain.

So be sure to keep your questions and suspicions in check. We wouldn't want to challenge or disrupt the status quo. We must be content in our
land of make believe
. Utopia is at hand, and with each
OBEY
comes a greater command...
"Be not deceived; God is not mocked: for whatsoever a man soweth, that shall he also reap. For he that soweth to his flesh shall of the flesh reap corruption; but he that soweth to the Spirit shall of the Spirit reap life everlasting. And let us not be weary in well doing: for in due season we shall reap, if we faint not. As we have therefore opportunity, let us do good unto all men, especially unto them who are of the household of faith." – Galatians 6
© A.J. Castellitto
---
The views expressed by RenewAmerica columnists are their own and do not necessarily reflect the position of RenewAmerica or its affiliates.
---