A.J. Castellitto
We are all Kim Davis

By
A.J. Castellitto
September 8, 2015
"There is no alternative but that of theonomy and autonomy" – Cornelius Van Til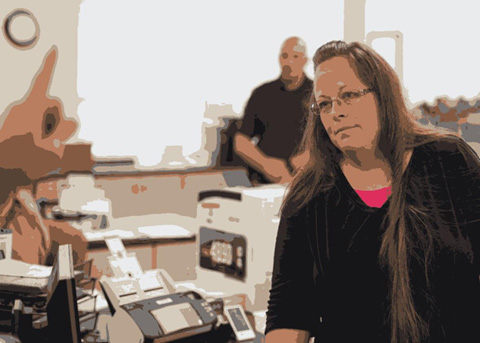 "If the high authority does not refrain from unjustly and forcibly persecuting not only the lives of their subjects but even more their rights under divine and natural law, and if the high authority does not desist from eradicating true doctrine and true worship of God, then the lower magistracy is required by God's divine command to attempt, together with their subjects, to stand up to such superiors as far as possible. The current persecution which we are suffering at the hands of our superiors is primarily persecution by which they attempt to suppress the true Christian religion and the true worship of God and to reestablish the Pope's lies and abominable idolatry. Thus the Council [of Magdeburg] and each and every Christian authority is obliged to protect themselves and their people against this." – The Lesser Magistrate Doctrine as stated in the preamble of the Magdeburg Confession
Our laws have been hijacked and our nation infiltrated. Romans 1 speaks of such rebellion against God, His authority and His natural order...
"For the wrath of God is revealed from heaven against all ungodliness and unrighteousness of men, who hold the truth in unrighteousness; Because that which may be known of God is manifest in them; for God hath shewed it unto them.

For the invisible things of him from the creation of the world are clearly seen, being understood by the things that are made, even his eternal power and Godhead; so that they are without excuse: Because that, when they knew God, they glorified him not as God, neither were thankful; but became vain in their imaginations, and their foolish heart was darkened.

Professing themselves to be wise, they became fools,

And changed the glory of the uncorruptible God into an image made like to corruptible man, and to birds, and fourfooted beasts, and creeping things.

Wherefore God also gave them up to uncleanness through the lusts of their own hearts, to dishonour their own bodies between themselves: Who changed the truth of God into a lie, and worshipped and served the creature more than the Creator, who is blessed for ever. Amen.

For this cause God gave them up unto vile affections: for even their women did change the natural use into that which is against nature: And likewise also the men, leaving the natural use of the woman, burned in their lust one toward another; men with men working that which is unseemly, and receiving in themselves that recompence of their error which was meet.

And even as they did not like to retain God in their knowledge, God gave them over to a reprobate mind, to do those things which are not convenient;

Being filled with all unrighteousness, fornication, wickedness, covetousness, maliciousness; full of envy, murder, debate, deceit, malignity; whisperers,

Backbiters, haters of God, despiteful, proud, boasters, inventors of evil things, disobedient to parents,

Without understanding, covenantbreakers, without natural affection, implacable, unmerciful:

Who knowing the judgment of God, that they which commit such things are worthy of death, not only do the same, but have pleasure in them that do them."
We must see the bigger picture and who is pulling the strings. We must expose and attack the root instead of merely swiping at the branches.
Our system has been confiscated, exploited and rotted by outside powers and forces. It's not the system itself that's the problem but the players and manipulators. It seems as if many of 'the just' have been placed on the outside. Our God-given Natural Rights as guaranteed by the Original Intent of the US Constitution have gone out the window.
The Supreme Court has acted outside of their authority. They have no authority to render an opinion on the right to kill as in abortion and the right to pretend SSM is a legitimate form of marriage.
The agenda is the undermining of the Godly standard and the normalization of homosexuality. The intentions are fundamental demonic transformation of the culture and eradication of the last remnants of Christian truth from mainstream society.
The willful ignorance and blindness of others does not negate our responsibility to do what is good, lawful and true.
We are (and must all be and become) Kim Davis...
http://www.lex18.com/story/29933844/kim-davis-releases-statement
© A.J. Castellitto
---
The views expressed by RenewAmerica columnists are their own and do not necessarily reflect the position of RenewAmerica or its affiliates.
---