A.J. Castellitto
Is more than half of America homophobic?

By
A.J. Castellitto
September 14, 2015
http://www.thegospelcoalition.org/blogs/justintaylor/2013/05/07/gay-marriage/
Basically, yeah...
According to the recent history of majority vote, a significant portion of America has been staunchly against redefining marriage. When done right, husband plus wife as licensed by the state equals the potential for stable and secure family growth. Without a secure and sound foundation society will fragment. It is then left to the government to try to pick up the pieces. And when things begin to get real broken the problem often gets 'fixed' with suppressive force.
If the government continues to grant itself more power – even in the name of equal rights – We the People will become powerless to stand against the whims and decrees of the ruling class. We will be forced to take our medicine, served on behalf of a greater good. But what if 'their' conception of good is actually pretty sick and twisted? What if their values are too far gone for us to even stomach?
This is where this debate ultimately leads. There are no bystanders. Once something is branded with the 'hate' label it becomes an enemy of the state. The unconformed church suddenly becomes the rogue church. We may feel safe inside but eventually they will come for us.
http://www.spectator.co.uk/australia/australia-features/9390702/gay-marriage-and-the-death-of-freedom/
There was a time when judicial tyranny did not trump the will of the people. Tragically, our day of media campaigns and judicial refrains seems to have put our voice permanently to rest...
http://www.americanthinker.com/articles/2015/07/gay_marriage_and_the_death_of_states_rights.html
*Popular vote results on state constitutional amendments that banned same-sex marriage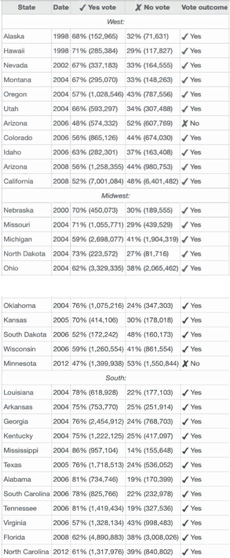 http://www.usnews.com/debate-club/should-same-sex-marriage-be-left-to-the-states/the-federal-government-has-the-right-to-define-marriage
It only takes a loaded deck to turn the tide. If you feel uneasy about how it's ultimately going to turn out, then welcome to the silenced majority. No fault divorce got the ball rolling and in many ways we've been reeling ever since...
https://ricochet.com/archives/why-is-government-in-the-marriage-business/
"Marriage is a socially arranged solution for the problem of getting people to stay together and care for children that the mere desire for children, and the sex that makes children possible, does not solve."
https://ricochet.com/archives/marriage-matters/
This isn't about hate; I certainly don't hate anyone. But when something is bullied and threatened into social and political acceptance, it's usually not a good sign. Just like how the taking of a life is twisted into a "war on women" or protection against election fraud becomes a matter of "voter's rights." Words matter. If we find them hard to swallow we probably should reject them outright.
I love my fellow man. We are all created in God's image. However, we wrestle against desires and inclinations that are an offense to our Maker.
We live in a world that's been tainted by sin. No amount of legal justification can absolve our guilt.
Our evil deeds cannot go unpunished. The time for awakening is now!
© A.J. Castellitto
---
The views expressed by RenewAmerica columnists are their own and do not necessarily reflect the position of RenewAmerica or its affiliates.
---