A.J. Castellitto
Civil ignorance and spiritual resolve (persevering in a day of low information and discernment)

By
A.J. Castellitto
November 4, 2016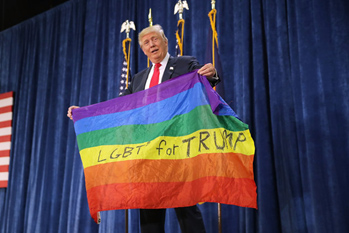 The widespread epidemic of low scriptural IQ in society and even the churches today is why I think apologetics is so important:
1. How were we created? I.e. our natural, purposeful, perfect design: Male and Female.
2. What happened?: Sin entered the equation and everything is lost and tainted.
3. What is the solution/who can restore our brokenness, fulfill the law, and pay for the sins of the contrite guilty sinner (
sin is not what we do but who we are)
?:
Jesus
If a majority of the population can't buy into these basic, fundamental principles
-not just religious principles but natural realities and consequences-
then the confusion and obstinance is not surprising. Trump buys us a little more time (very little) to make our public case that the spirit may work in the hearts of men. But the LGBT is dangerous in their spiritual/natural ignorance and utilization of civil authority/political force to crush the goodwill offer of Salvation.
https://audioboom.com/posts/5229715-the-separation-of-church-and-state
My eyes are open. I'm sober yet resolute. All these things must and will be set straight regardless of mankind's acceptance.
The Real Jesus is no friend of unrepentant sinners. He doesn't want to accept us, He wants to transform us!
© A.J. Castellitto
---
The views expressed by RenewAmerica columnists are their own and do not necessarily reflect the position of RenewAmerica or its affiliates.
---