A.J. Castellitto
Who truly runs this place?

By
A.J. Castellitto
February 18, 2017
Is it the president? The CIA? The global elite?
Or maybe it's none of the above?
Maybe Satan currently has the reigns? What if it's all God ordained?
Regardless, what happened to political reformer and newly appointed National Security Adviser Michael Flynn is quite telling and highly disturbing. Made even more interesting considering the righteously accusatory nature of some of his past tweets.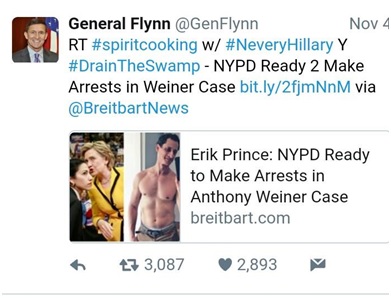 But the biggest concern remains, why did President Trump allow Flynn to be so recklessly railroaded right out the door? This is not the fearless and brash defender of facts and freedom we were sold.
Flynn is the kind of appointment this nation truly needed and one which most vividly reflected the platform that won Trump the presidency in the first place. So why did Trump back down at a time he most needed to stand firm?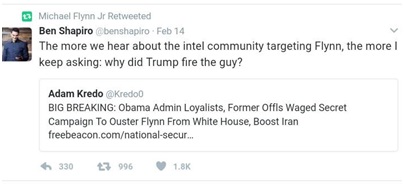 We know Hillary and her law defying cronies are certainly pleased.
http://www.nbcnews.com/politics/hillary-clinton/michael-flynn-resigns-hillary-clinton-delivers-wry-response-n720526
http://www.politico.com/story/2016/12/michael-flynn-conspiracy-pizzeria-trump-232227
Fake news our left foot, it's more like more of the same tired old song. The elite get a pass while the law abiding citizen continues to find himself on the short end of the stick.
I can't say I'm surprised. Thankfully, we remain secure in Christ!
© A.J. Castellitto
---
The views expressed by RenewAmerica columnists are their own and do not necessarily reflect the position of RenewAmerica or its affiliates.
---