A.J. Castellitto
Tim Keller's political agenda

By
A.J. Castellitto
October 3, 2018
"Christians should be committed to racial justice and the poor, but also to the understanding that sex is only for marriage and for nurturing family. One of those views seems liberal and the other looks oppressively conservative." – Tim Keller, The New York Times
https://www.nytimes.com/2018/09/29/opinion/sunday/christians-politics-belief.html
"Christians should be involved politically as a way of loving our neighbors, whether they believe as we do or not... Nevertheless, while believers can register under a party affiliation and be active in politics, they should not identify..with a political party as the only Christian one... most political positions are not matters of biblical command but of practical wisdom." – Timothy Keller, NYT
What's Tim Keller's deal? What exactly is his agenda? Who is he speaking to and for?
The Democrat Party has wholly disqualified itself in so many ways to the point that they rigged their own Presidential Primary. The GOP has also failed us in many ways, but maintains a handful of reasonably just and honest men that keeps me from bailing on the political system entirely.
The Democratic Party left the Bible believing Christian a while ago. The GOP is hanging on by a thread. And Tim Keller, like too many pastors, are completely in the dark when it comes to politics.
If Dr. Peter Jones* wrote an op-ed for a major news publication I would pay attention. He would put first things first, and begin with the fear of the Lord. His main point of emphasis would not be taking care of the poor, which we already do in this country.
Ultimately, if you truly fear the Lord, you won't be racist or oppressive to anyone, period. If you are a racist, you don't fear the Lord. If you oppress the weak and ignore the needs of those less fortunate than yourself when given the oppotunity to do something, you do not fear the Lord. This isn't that hard. Why must Tim Keller try to make it so?
"The fear of the Lord is the beginning of wisdom: and the knowledge of the holy is understanding." – Proverbs 9:10-12
*
https://truthxchange.com/2018/09/liberation-not-everybody/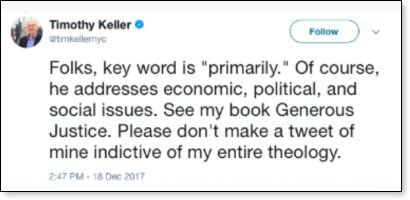 © A.J. Castellitto
---
The views expressed by RenewAmerica columnists are their own and do not necessarily reflect the position of RenewAmerica or its affiliates.
---