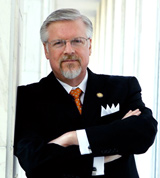 Rev. Mark H. Creech
Culture and church membership losses

By
Rev. Mark H. Creech
June 11, 2016
According to recent media reports, the Southern Baptist Convention experienced its ninth straight year of decline.
Denominational statistics reveal that membership in the largest Protestant denomination is currently 15.3 million, down from 15.5 million in 2014, signifying a loss of more than 200,000 members. Baptisms were also down by more than 10,000 in 2015.
These statistics are consistent with the research reported last year by the Pew Research Center, which stated the percentage of American adults over 18 who self-identify as Christian dropped by 8 points, 78.4% to 70.6%, from 2000 to 2014. During the same period, there was a concurrent rise in the percentage of adults who no longer associate with any religious faith by nearly 7 points, from 16.1% to 22.8%.
Ronnie Floyd, president of the Southern Baptist Convention and senior pastor of Cross Church in northwest Arkansas, responded to the denomination's losses by saying, "The key question for Southern Baptists is: Are we pushing back on lostness in America? I think we know the answer is no. We are losing our nation spiritually. It comes back to my theme for the last two years: The greatest need in America is the next Spiritual Awakening."
Floyd further contended that the report shows "our deep need for spiritual revival in our churches, but also reminds me of the imperative need to prioritize evangelism in our churches and convention."
I agree with Floyd that America needs another Great Awakening. I have been praying for it. Furthermore, I agree with the necessity of revival in our churches, and the requisite for a renewed commitment to evangelism. But sometimes I wonder if my Southern Baptists brethren (of which I am a long-standing member) understand the way cultural Christianity has worked to undergird these efforts in the past.
There is no question cultural Christianity has been losing ground and influence. We've become more secularistic as a nation. Cultural Christianity is something our churches have taken for granted. And whether we knew it or not, it provided reinforcing networks that assisted us in our outreach to the unsaved. The government, public education, the arts, the media, the press, and corporate businesses were mostly friendly to the positive impact of religious influences, particularly Christianity. Today, however, they work to stifle it.
These circumstances present us with an opportunity, I believe, to learn something about the broader meaning of the Gospel. The Gospel of Christ is not merely, trust Jesus for the forgiveness of your sins, receive the gift of eternal life, and grow in holiness. Truly, this is the heart of the message, but the Gospel is not one dimensional. The good news of the Gospel is about God's redemption for all of life. In other words, proclaiming the whole Gospel also includes working for the transformation of society.
I suggest this double dimension aspect of the Gospel is what Jesus was teaching when he said,
"
Go therefore and make disciples of all nations, baptizing them in the name of the Father and of the Son and the Holy Spirit,
teaching them to observe all that I have commanded you"
(Mt. 28:19-20).
The proclamation of God's salvation in Christ should have a two-pronged approach – reaching the inner man, while simultaneously working to impact his social institutions.
We should diligently teach what the Bible says about the institution of marriage and the family, what it says about education, what it says about government, what it says about the economy and business, and what it says about the various moral trends of the day. May I say as constructive criticism; Southern Baptists have not done so well in this regard in recent decades. Neither have other denominations. The results have been catastrophic for both the church and society.
We've failed to see that bringing people to Christ is not simply about getting them to heaven or onto our church rolls, but correspondingly training them to alter the culture for the sake of righteousness and justice. Reshaping society for Christ produces the best environment for more people to come to know the Lord. Because we have not seen how these two ought to work in tandem, now the one (culture) works against the other (evangelism).
Certainly there will be those who vigorously dispute these assertions, arguing such labors are only shining the brass on the world's sinking ship. Furthermore, no government, no society, no matter how despotic or hostile to Christ and his church, can stop the spread of God's kingdom, they will say.
Although it's true God's purposes can never ultimately be defeated, Wayne Grudem has offered an excellent counterpoint to this view. He writes:
"I think of the difference between North Korea and South Korea. Even if the dictatorial, oppressive government of North Korea has not completely halted the spread of God's Word, its severe persecution has hindered it so much that millions of North Koreans are born, live, and die without ever hearing of Jesus Christ, and North Korea sends out zero missionaries. By contrast, the church in South Korea, where the government has allowed freedom, is growing, thriving, and sending missionaries around the world. Or compare the relatively small, repressed church in Cuba, which is unable to send out missionaries anywhere, with the growing, thriving churches throughout many Latin American countries that have more freedom."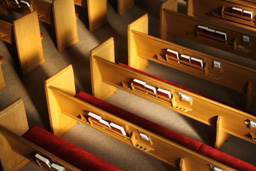 There should be no question cultural forces either inhibit or enable our ability to bring in the sheaves. Therefore, to overcome the decline we see in church membership, it won't serve the cause of Christ well to put all our eggs in the one basket of evangelism. We'll need to meet the challenge more comprehensively. If our energy to win people to Christ is to advance and not be relatively short-lived or circumvented, it must be combined with cultural impact.
I join with Ronnie Floyd in looking earnestly to God for the next Great Awakening. We beseech the Lord to send a much needed revival to his people, resulting in greater sanctification of life and a profound commitment to winning souls. Nevertheless, while we wait for God to send such showers of blessing, we must also do considerably more to nullify the hostile forces that would attempt to stop the movement at every stage should it begin.
© Rev. Mark H. Creech
---
The views expressed by RenewAmerica columnists are their own and do not necessarily reflect the position of RenewAmerica or its affiliates.
---