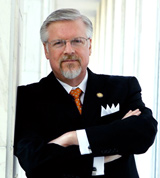 Rev. Mark H. Creech
Memorial Day: what we really need to remember

By
Rev. Mark H. Creech
May 26, 2017
War is a terrible thing. It's the feast of death.
Many years ago, the Duke of Wellington said, "Take my word for it, if you had seen but one day of war, you would pray to Almighty God that you might never see such a thing again."
War is horrific, yet sometimes necessary to defend something more precious than life itself.
Each Memorial Day we endeavor to remember that the great heritage of our nation has a price far greater than most can conceive. Since World War I, this day in the month of May calls upon us to honor our heroes – to laud the fallen dead of our wars. On this day, we try to live out the immortal words of our sixteenth president, Abraham Lincoln, who said in the Gettysburg address:
"[F]rom these honored dead we take increased devotion to that cause for which they gave the last full measure of devotion, that we here highly resolve that these dead shall not have died in vain...and that government of the people, by the people, and for the people, shall not perish from the earth."

Recently I was reading an interesting book, titled
The Fightin' Preacher.
It's the story of Colonel Logan E. Weston, U.S. Army (retired), a veteran of three wars: World War II, Korea, and Vietnam. Weston was a chaplain who also led his men in combat, which earned him a larger-than-life reputation and zealous devotion from them. Weston was also one of the most decorated soldiers in American history, receiving over 200 medals and awards, among them the Distinguished Service Cross, Silver Stars, Bronze Stars, Purple Hearts and Legion of Merit.
In one part of his book, Weston describes the losses he and his men suffered fighting the Japanese in Burma. His words express the very essence of his service and are most eloquent and stirring:
"As we went for the final mop-up of Myitkynia, we were exhausted. In our outfit alone, one hundred and eighty-six cases of typhus fever broke out, sixty of which were fatal. Malaria, dysentery, stomach trouble, and malnutrition left us in a very poor condition, to say nothing of the weather, the leeches that sucked our blood, and of course the hardship of the mission, in addition to enemy action.

"For years afterward, I reflected on the occasion where Lieutenants Smith and Hogan took over command of my platoon. [Smith and Hogan died on the same day after taking over for Weston.] I recall the dud grenade being lobbed right at me. I remember the close calls and enemy ambushes. I know that I had been saved only by the grace of God.

"I also realized that Christ had taken my place on the cross. It should have been me, for I had earned that place on Calvary by sinning against God, but Christ stepped in, paid my bill, and took care of my obligation. He who has the power to forgive also has the power to sustain. The Lord provides not only deliverance from sin, but also deliverance in the fields of battle, if that is where the pathway of life leads us.

"In addition, many of us are here because people, just plain people, have stepped in as our replacements at the expense of their own lives that we might continue to enjoy the privileges of life in a democratic society. It's so easy to get caught up in the trivial aspects of our day-to-day routines that we forget that fact.

"May God help us to make this life more simple for those who are confused by it; sweeter for those who might have contempt for it; happier for those who have tasted the bitterness of it; safer for those who are feeling the peril of it; friendlier for those who are feeling the loneliness of it; and holier for those whose lives seem to have lost all dignity, beauty, and meaning."

Weston also alludes to something else in his book, which I believe, is the answer to ending all war. He says that after one skirmish an enemy soldier was shot out of a tree. He was a sharpshooter who had set up his sniper's nest in hopes of taking out an American officer. While being interrogated, the prisoner noticed the chaplain's cross on Weston's Bible, which he carried in a cut-out canvas pouch on his ammunition belt.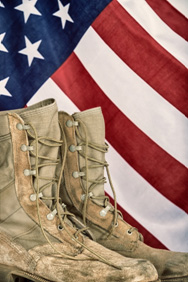 Startled the prisoner asked the interpreter to ask Weston if he was a Christian. Weston wrote:
"He said he pulled me into very short range, got a good sight picture on my head, and began to squeeze the trigger. Just then, the sun burst through a rift in the thick jungle canopy overhead. It hit the silver chaplain's cross on my Bible, and the cross zoomed out like a neon light, temporary blinding him. When he saw that big bright cross there in the jungle and realized what had happened, he could not shoot. He assumed I was a Christian, and he himself had been converted at a mission station in Japan just before being conscripted into the army."

What bridges the great divide between men and makes them brothers? It is the Gospel of Christ.
This is a time for remembering. Remember the ones who served and gave their lives to secure our liberty. Remember the One who suffered and gave his life on the cross to make us free internally. Remember the promise that a day is coming when the Lord will make all wrongs right, and mankind "shall beat their swords into plowshares, and their spears into pruninghooks: nation shall not lift up sword against nation, neither shall they learn war any more" (Isaiah 2:4).
© Rev. Mark H. Creech
---
The views expressed by RenewAmerica columnists are their own and do not necessarily reflect the position of RenewAmerica or its affiliates.
---