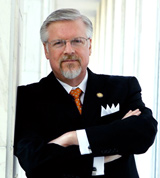 Rev. Mark H. Creech
Making sense of disaster

By
Rev. Mark H. Creech
September 10, 2017
Following close on the heels of the devastation brought about by Hurricane Harvey on the Gulf Coast is Hurricane Irma. Currently trekking its way as a category 5 storm across the Caribbean (the strongest ever recorded in the Atlantic), Irma is now seemingly headed for Florida with the prospect of moving North.
My wife, Kim, and I have been earnestly praying and asking God to send this terrible tempest out to sea, sparing life, injury, and property.
God is sovereign over the weather and natural causes. The Bible tells us in Luke chapter 8 that the disciples were in a boat with Jesus on the sea when a serious storm threatened them. Jesus then "rebuked the wind and the raging waters; the storm subsided, and all was calm" (Lk. 8:24).
We live in a fallen world, meaning that since human sin entered, all of nature was negatively impacted. Sometimes the laws of nature go awry and this will continue until God's redemption is finalized.
But this doesn't mean "that God has a hands-off policy when it comes to natural disasters," says Dr. Erwin Lutzer, formerly the pastor of the Moody Church, in Chicago, Illinois.
Lutzer continues: "Many people want to protect God from the clear teaching of the Bible, which shows He is involved in natural disasters. It is not that God causes them, but the very fact that He could prevent them shows that we need to face squarely the fact that natural disasters happen within God's providence."
Indeed they do, and Lutzer mentions a number of them found in the Bible. He writes, "Let me give you a few examples. During the time of the plagues in Egypt, clearly, God sent those plagues. Then you have the time of Noah; the flood obviously was sent by God. It says regarding Jonah, God hurled a storm into the sea. We must see God in natural disasters."
What then can we learn from these catastrophic events? I suggest we can learn the same lessons learned from any kind of suffering the Lord allows.
First, sometimes God is trying to get our attention by way of the storms, whether the storm is figurative or literal.
Rabbi Daniel Asore has wisely said natural disasters can be a warning, "like a father slapping the table in order to warn his children that they are doing something that angers him."
Is God trying to get America's attention?
I think we have every reason to believe that God is angry with our nation and warning us about our sins. We are being torn apart from within by conflicts demonstrative of our many trespasses, the worst being our elimination of God from the equation of life, and not just personal but public. From without, we have a rogue country, North Korea, with an apparently deranged dictator (Kim Jung-un) intent on using nuclear weapons against us. One major hurricane, Harvey, has devastated the state of Texas. And at the time if this writing, now another, Irma, is bearing down on Florida and possibly could move up through Georgia and into the Carolinas.
America seems to be facing both natural and possible man-made disasters.
The late Dr. D. James Kennedy once admonished: "God uses trouble to draw us closer to himself. We often fail to see the great purpose God has for us. He created us to have fellowship with him. Day in and day out he blesses us in so many ways, yet we often focus on the gift and overlook the giver. We become spiritually lethargic and forget about God. Some people, it seems, never look up until they are laid flat on their backs."
God can speak to us through disasters of various sorts, reminding us of who is in charge and our utter dependence upon him. He can sometimes be calling us to repentance, individually, corporately, as well as nationally.
We need to repent of our trespasses against God's laws, turn to Christ as our Great Redeemer, and walk in the ways of the Lord.
God can also use natural disasters to test our faith. Lutzer provides the following example:
"All of Job's 10 children died in a natural disaster. There was a wind storm that blew down the house. Job was confronted with the fact that because of a natural disaster, there are 10 fresh graves on the hilltop. So now what is he going to do?
"His wife says to curse God and die. But Job said, 'The Lord gave and the Lord has taken away. Blessed be the name of the Lord.' Job shows us it is possible to worship God even without explanations, even when we don't know all the reasons. Those who worship God under those conditions are especially blessed."
The storms of life can also provide a means of expressing grace, mercy, and compassion.
Have you ever thought about it? How is it Paul could write his comforting epistles, or David his Psalms of solace, or John his hopeful conclusion to the Apocalypse? It was from the lessons they learned from the fierce winds and rains of life that their pens moved.
The Scriptures say, "Blessed be the God and Father of our Lord Jesus Christ, the Father of compassion and the God of all comfort, who comforts us in all our troubles, so that we can comfort those in any trouble with the comfort we ourselves have received from God" ( 2 Cor. 1:4).
When disasters come we should weep with those who weep and seek out ways to console and assist them in their sufferings.
Moreover, isn't it interesting the way the storms can pull us together as nothing else can?
Someone has marvelously said, "One touch of nature, in the form of a sympathy arousing disaster, sweeps away, in a moment, all the barriers of conventionality and everyday mutual indifferences to others weal or woe."
My wife and I will keep praying for a quick end to Hurricane Irma. But maybe God doesn't intend to answer such a prayer because we have lessons to learn that are much more important than the losses we fear.
© Rev. Mark H. Creech
---
The views expressed by RenewAmerica columnists are their own and do not necessarily reflect the position of RenewAmerica or its affiliates.
---