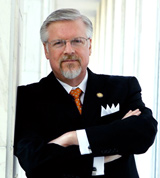 Rev. Mark H. Creech
Seventeen teens dead: 'There ain't nothing fastened down anymore'

By
Rev. Mark H. Creech
February 19, 2018
Seventeen teens dead from another school shooting. This one in Parkland, Florida on Wednesday – Valentine's Day – Ash Wednesday.
It's the kind of thing that shakes us to the core. Our peace, our faith, our worldview is sorely tried.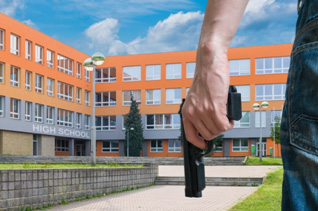 Some of us can still remember quite vividly when things were very different in this country. We now seem to be living in a time when everything has come unglued. We say to ourselves, "It ought not to be this way. It didn't used to be this way. The problem continues to escalate each year. What's happened to us?"
J. Wallace Hamilton, in his book,
Who Goes There?
shares a line from the 1930s African-American play,
Green Pastures,
in which Gabriel, the angel, is sent to earth to investigate the turmoil from Noah's flood. This is what Hamilton brilliantly writes:
"Returning to heaven, he [Gabriel] made his report. 'Lord there ain't nothing fastened down there anymore. Everythin' nailed down is comin' loose.'
"It does seem that everything is coming loose. The total effect of our swiftly changing time is to create in us the illusion that moral stability is an outworn idea, that nothing is fixed, nothing is permanent, nothing is certain except uncertainty and that you can be sure about nothing except that there is nothing about which you can be sure. You would be surprised how much the idea is being seriously taught right now that we have no absolutes; that everything is relative.
"Don't you believe it! Never believe that. The moral order has not come loose. The Ten Commandments and the Sermon on the Mount haven't budged an inch. The magnetic north is still there and the compass needle still points to it. Down underneath all the outward confusion and change is still the stability of the permanent; there are still some fixed, abiding realities which, like the everlastingness of God, go on from age to age, eternally the same."
There is an ancient story; actually, I believe it's a historical narrative about a man placed by God in a garden. It's found in the book of Genesis. In the account God instructs the man, Adam, to tend the garden. He is to dress, develop, and live off of its fruits. Then he forgets God and loses the paradise he once enjoyed. Even one of his sons, Cain, murders the other, Abel.
We can trace this same tragic situation throughout human history. God raises great cultures, civilizations, and societies. Then something happens within their souls. They start to abandon those things that are immovable and eternal, and moral rot, murder, and mayhem become the disorder of the day.
The murder of seventeen youngsters for the umpteenth time at a school is surely indicative of our nation's fall. We already know this is true. What more could it possibly take to make us admit it? What more will it take to make us go to our knees and sincerely acknowledge the One who is the source of all life? What will it take to make us see that we are like the angels who kept not their first estate, but deserted their proper place, only to be plunged into darkness and bondage? (Jude 1:6)
No legislation from Congress is enough to correct our course. The nucleus of our dilemma is spiritual. Consequently, our hope is spiritual.
"There is a kind of instinctive faith in man," Hamilton also writes, "and it is universal, that however much there is in the Divine nature we cannot fathom or understand, there is a rightness and justice and goodness there far beyond our notions of goodness, to which He [God] will be true, never failing us or falling below it. You can depend on it, put your whole trust in it and count on it forever."
The writer of the book of Hebrews stated it this way, "Jesus Christ the same yesterday, and today, and forever" (Hebrews 13:8).
While we earnestly pray for the comfort and help of the students, faculty, and families deeply affected by this horrific injustice, this moment should also engender national repentance.
Let us each pray the prayer of Daniel, which says:
"O Lord, great and awesome God, who keeps His Covenant and mercy with those who love Him and with those who keep His commandments, we have sinned and committed iniquity, we have done wickedly and rebelled, even departing from Your precepts and Your judgments. Neither have we heeded Your servants the prophets who spoke in Your Name...O Lord, to us belong shame of face, to our kings, our princes, and our fathers, because we have sinned against You...we have not obeyed the voice of the Lord our God, to walk in His Laws, which He set before us by His servants the prophets. [T]herefore the curse and the oath written in the Law of Moses, the servant of God, has been poured out on us, because we have sinned against Him...Let Your anger and Your fury be turned away...because for our sins, and for the iniquities of our fathers...are a reproach to all those around us...O Lord, hear! O Lord, forgive! O Lord, listen and act!..."
Daniel 9:4-19.
© Rev. Mark H. Creech
---
The views expressed by RenewAmerica columnists are their own and do not necessarily reflect the position of RenewAmerica or its affiliates.
---