Gabriel Garnica
Look who's asking for justice

By
Gabriel Garnica
August 6, 2013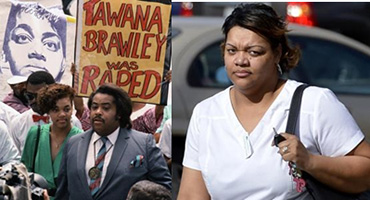 Live truth instead of professing it. ~Elbert Hubbard
I was going to write a piece detailing Al Sharpton's sordid history of race peddling, opportunism, manipulation, shakedowns, grandstanding, deception, and cooperation with injustice and racial discord, all in the name of....racial justice. Frankly, in view of the tons of evidence of this background available to anyone who cares for the truth, I decided to go in a much simpler and, ultimately, perhaps a clearer direction.
Twenty-five years ago, Tawana Brawley accused an innocent man of rape and destroyed his life to cover up her lies and avoid punishment by her stepfather. Her fabrication was used by three race peddlers, Alton H. Maddox, C. Vernon Mason, and Al Sharpton, to incite the flames of racial discord and division for their own political, financial, and personal benefit. Two of Sharpton's associates
quit
, claiming that Sharpton had known all along that the case was a hoax. After seven months of examining police and medical records and listening to the testimony of over one hundred witnesses, a grand jury determined that Tawana Brawley's charges
were false
and her condition when found had been self-inflicted.
That innocent man, Steve Pegones, filed and won judgments against the above trio, who had their judgment paid by celebrity benefactors, and Brawley, who recently starting paying for her lies after quarter of a century. Originally ordered to pay $ 190,000 at 9 percent annual interest, Brawley now owes a total of approximately $ 431,492, which she could be paying for the rest of her life, given that she just began paying with a mere $ 3,764.61, leaving hundreds of thousands to go.
A grand jury found that Brawley lied after reviewing tons of evidence and reading the testimony of over one hundred people. Despite that, to this day, Sharpton refuses to recant his slander or apologize for his participation in this despicable deception and injustice. One might ask how any movement, much less one pretending to care about justice for anybody, would allow itself to be led in any way for any period of time by someone who does not even have the decency to apologize for a wrong. One might ask, for that matter, how Al Sharpton has the audacity to call out anyone's conduct given his sordid past and his stubborn refusal to simply apologize and admit that he was, at least once, wrong.
According to pundits and observers, the mystery behind why anyone, much less a nation, ever listens to Al Sharpton at all, much less on his own show, is that he is the main preacher of the mainstream media's sacred message that America is nothing but a seething cauldron of racial injustice and hatred, to the exclusion of any inkling of racial unity and hope.
If that is the case, one has to question the intelligence and perception of a crusade that would use Sharpton as its messenger, given his past. Given recent national election results, I am not going to question the success rate of propping up a myth surrounded and protected by media spin and adoration. However, given the scores of outstanding, perceptive, honest, and selfless African American leaders, I wonder if the black community is not short changing itself by seeing Sharpton as the best driver they can find.
Unless there is a drastic change of direction and message, the movement which began with Rosa Parks sitting at the back of a bus could very well end up flying off a cliff with folks like Al Sharpton at the wheel, turning Martin Luther King's dream into a nightmare. There is something wrong with having a person who cannot even admit his participation in a grave injustice demanding justice for anyone, or anything else.
© Gabriel Garnica
---
The views expressed by RenewAmerica columnists are their own and do not necessarily reflect the position of RenewAmerica or its affiliates.
---