Gabriel Garnica
Oklahoma teen murder case shows who the true racists are

By
Gabriel Garnica
August 23, 2013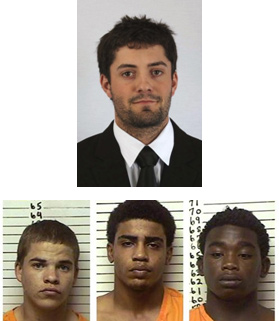 As a Latino, I have faced my share of racism over the years, and I think I know it when I see it. My current definition of racism is having a distorted, twisted view of the world based on race. While this warped way of looking at the world based on race may take many forms, the clearest illustration is found in a hypocritical, selective, inconsistent perception and evaluation of reality based on race.
It is obvious that people of color have faced racism throughout history, and that societies have not often treated them fairly. Our justice systems, as part of society, are no exception. Clearly, we must continue to do our best to root out such racism and injustice as best we can. However, we are not going to achieve that goal through our own hypocrisy, selective outrage, and double standards.
Anyone with two eyes, two ears, and/or a working brain witnessed the mainstream media's wall-to-wall coverage of the Trayvon Martin case, where an African-American teen was shot to death by a Latino allegedly in self-defense. The biased mainstream media, ever anxious to stoke the fires of racial discord, waved childhood photos of Martin; pretended that the Latino, George Zimmerman, was as white as snow; and painted the entire tragedy as steeped in racial overtones. By comparison, when a courageous and heroic African-American teen,
Temar Boggs
, saved a little white girl from a treacherous kidnapper, this same mainstream media paid much less attention. The obvious difference between the Martin and Boggs cases was that the Martin case had great potential to stir up racial tensions and unrest, spreading the notion that this nation was truly a nation divided by race, an image which the mainstream media loves to present. Conversely, the Boggs case seemingly contradicted the idea that this nation is awash with isolation and apathy dripping in racism, or the portrayals of people of color as 24/7 victims of an evil, racist society.
If the Boggs case presented a foil to the mainstream diatribe that America is nothing but a racist, divided nation with no hope of healing, then the recent case of three Oklahoma teens murdering an innocent white college baseball player in cold blood provides a powerful punctuation point to the divisive tripe so often sold by this despicable media and the race peddlers and clueless celebrities whose racist spews this same media uses to adorn their biased distortion of reality.
The mainstream media reported that the three teens murdered Australian baseball player Christopher Lane while he jogged because they were "bored" which at least one of them reported as being the reason. The media definitely downplayed the mug shots of the teens, which would have revealed that two of them were African-American, and emphasized the "bored" aspect of the murder which, while obviously appearing despicably callous, maintained the impression that this senseless act was more of a spontaneous, spur-of-the-moment brand of vile treachery. However, it has now been
revealed
that James Francis Edwards, Jr., the apparent ringleader, tweeted in April that "90% of white ppl are nasty. #HATE THEM." and "With my n***** when it's time to start taken life's" on August 13th, obliterating the notion that this vile act was simply some spontaneous, bored act and more likely a racial hate crime brewing in the mind of at least this twisted teen.
Do not expect the mainstream media to get off its "bored" slant or emphasize the racist tweets on this one. Neither should you hold your breath waiting for Al Sharpton, Benjamin Todd Jealous, Oprah, Beyonce, Spike Lee, Jamie Foxx, Roseanne Barr, Will Farrell, Mia Farrow, Star Jones, and any other mindless celebrities to demand justice for Mr. Lane and speak out against his death at the hands of anyone spewing such hate on twitter.
Imagine, for one moment, what would have happened had three white teens ambushed and shot an African-American jogger in the back alleging that they were "bored" after posting tweets like the ones Edwards posted, expressing hatred of black people and saying it is time to take lives. Imagine that one of these white teens had danced, as Edwards did, at the booking for the murder. Now you see where this country's true racism, true division lies.
You see, folks, racism is found whenever one's outrage, protests, and cries for justice are selectively applied depending on the color of the victim and the culprits. Race peddlers who peddle race are interested in fomenting racial discord by depicting only one race as victims and only one race as victimizers. Clueless celebrities who spew their ignorance and bias are as culpable as those peddlers in maintaining this explosive racial environment. Switch around the victims and the victimizers in this daily, tragic, senseless drama, and these racists are nowhere to be seen.
I admire great Americans like Martin Luther King and Booker T. Washington, who spoke against those who would foment racial discord for profit, fame, relevance, and personal gain. Unfortunately, we have few Kings and Washingtons with us today and far too many of those they spoke out against. It is one of this nation's greatest ironies that those given the greatest voices against racism by this despicable, hypocritical mainstream media are often as racist as the very people and institutions they target.
Justice and respect are due to all people, regardless of race. Similarly, outrage and protest should be raised equally against the evil done to all people, regardless of race. Those who cry racism only when racism is directed at their own are as racist, and often much more hypocritical, as the very racists they may speak against. The parasites who benefit from today's distorted racial discussion, be they celebrities, so-called social leaders, or politicians at the highest level, epitomize the age-old idea that those who protest loudest often protest precisely about that which they have in abundance.
The racist does not look to heal as much as wound. He does not look to unite as much as divide. She does not seek the truth as much as the spin that presents her own version of that truth. The racist speaks about justice but has no interest in truly finding that justice for all. He checks the race of those involved before passing an opinion sprayed as fact. She makes callous, sweeping statements irresponsible in content and inflammatory in tone. The racist demands that society be color blind while she only sees her own color. Tragically, it takes the dead silence following the Boggs and Oklahoma cases as compared to the rants following the Martin case to blast the utterly despicable and hypocritical double standard of this mainstream media and its gaggle of celebrity and political yappers.
© Gabriel Garnica
---
The views expressed by RenewAmerica columnists are their own and do not necessarily reflect the position of RenewAmerica or its affiliates.
---