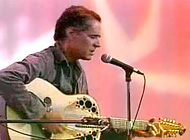 Neil Brian Goldberg
What would Winston Churchill say?

By
Neil Brian Goldberg
August 14, 2009
I have always admired Winston Churchill. He saw the coming threat, and the stark evils, of Nazism. He shouted out like a voice in the wilderness not to trust this Hitler, not to deal with him in any way.
Drummed off the political stage as a warmonger, only to return at England's darkest hour, with an unstoppable German invasion imminent, Churchill held his nation together by his bare hands and his iron will.
"We shall fight on beaches, landing grounds, in fields, in streets and on the hills. We shall never surrender...!"
He called forth and rallied every speck of courage, faith, and collective noble spirit of the English people to hold on with fierce determination. "We will never surrender!"
So what would a Churchill-like leader say today, seeing America about to be overrun by unconscionable corruption, disgusting treason in almost every high place, our revered Constitution being used as a doormat, and thugs at public meetings trying to intimidate citizens — wearing T-shirts with RED STARS on them — much like the T-shirt with the big red star on the front worn by William Ayers, the proud bomber whose most famous picture is that of him boldly and proudly standing on a large, beautiful American Flag.
What would an American Churchill say if he saw a so-called free press openly lying and distorting information to favor an agenda aimed at dissolving American sovereignty?
Seeing a Congress and a line of presidents refuse the shouts...and the votes of the people to seal their borders to stop the invasion by desperate encroachers, and...by armies of trained marauders from many countries, waiting for their signal to wreak havoc.
...and if he saw all of the beloved traditions and mores which had made this nation successful and strong being mocked and disassembled — aided again by a media flying false colors? Hearing about this and that piece of legislation with clauses declaring the right of special agents and committees undeniable entry into every home to inspect and question...and, of course, to intimidate.
What would a Churchill say, seeing our people assaulted from every direction by the insidious encroachment of forces not even of our nation. Seeing the treasury looted in broad daylight, under the guise of a contrived emergency. Seeing the Bill of Rights trashed, in writing, under the guise of safety and emergency. Seeing the election process perverted and corrupted. Seeing every manner of filth pushed at the nation's children in an obvious attempt to sexually confuse them at a tender age in the name of education, understanding, and goodness toward others.
What would a great man of iron will and total devotion like Churchill say, seeing all this and so much more trying to destroy his country forever?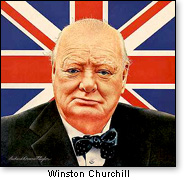 No doubt, his message would be:
"We will fight them at the registration tables. We will fight them at the polling places. We will fight them on the internet. We will fight them on the radio. We will fight them by mail. We will fight them by phone. We will fight them by continually telling our children, our neighbors, and our friends the truth. We will fight them in writing. We will fight them out loud. We will fight them on the corner, on the streets, and at the public meetings. We will fight their ideas. We will fight their money. We will fight their lies. And most of all — we will fight their aims and their purposes.
"We will never surrender. We will keep our republic. We will never accept less than freedom — ours, unalienable from God.
"We will fight them standing. We will fight them from our knees in fervent supplication to the Almighty God who inspired and founded this greatest nation. We will beg forgiveness for our turning away as individuals and as a people.
"We will beg for mercy and divine intervention that a way might be made to keep our freedom and our republic.
"We will arise from our prayers, and we will stand united against all foes, foreign and domestic, knowing that our faithful God of mercy, power, and truth will bless our struggle and will bring it back to its true purpose and greatness — the Land of the Free and the Home of the Brave."
Remember America — Fight for the Dream

Pray hard! Never Surrender!


© Neil Brian Goldberg
---
The views expressed by RenewAmerica columnists are their own and do not necessarily reflect the position of RenewAmerica or its affiliates.
---