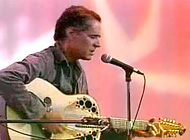 Neil Brian Goldberg
A man and a woman

By
Neil Brian Goldberg
November 1, 2009
Marriage is not necessarily a religious issue, because there are civil ceremonies. It is not a civil rights issue, because marriage is not a "right." It is a cherished and revered American tradition, as it has been in almost every culture since history began.
Marriage is not now being considered as a new invention or holiday. Should we make it this or make it that? Shall we include puppies, but not cats and parakeets, or should we make only for humans? Perhaps a human and a puppy, or perhaps ...???
No, marriage already is, and it already is what it is — a deep commitment and union between a man and a woman. It is a part of how we define ourselves as a people. It is, as they say, a pillar of our society. It is of great importance and power in shaping our values, our mores, and our behavior itself.
Marriage is a great and celebrated tradition, as is baseball. Baseball is a part of our culture. It serves to unify us, and provides the sense of stability — that we are a people and a culture with form and substance. It is a part of our identity.
Now, some folks come along and say, "We want to play baseball too. We ought to be able to play." So, the Spirit of America, of fairness and equality says, "Sure, you can play. Come by on Saturday, and we'll start up a team for you."
Saturday comes, and these folks show up with football helmets and hockey sticks. We say, "What's up?" They say, "We're ready to play baseball." We say, "Well we don't play that way. You see, we use bats and gloves, hard balls, etc."
They say, "Oh no, we play with football helmets and hockey sticks!" We say, "Nope, that's not baseball. If you want to play that way, go ahead up the road. Start your own league and call it 'hockey ball' or something, but you can't call it baseball, cause baseball already is. We love what it is, and we will not change what it already is for anyone."
"It's baseball, and it will never be 'hockey ball.' Go and play in peace somewhere else, but you can't bust into our league and say you have a right to change the game into something else."
The same applies to marriage. It already is what it is — between a man and a woman. If you want to play your way, go ahead. May God bless you. None of our business. But don't call it marriage, because marriage is a beloved, important, revered tradition, and it is — always has been — and always will be between a man and a woman.
They say, "WE ARE ENTITLED TO 'EQUAL' PROTECTION UNDER THE LAW!!"
We say, "That's right.
As individuals
, you are entitled to equal protection under the law, no matter what game you play.
And in your relationships,
you have certain additional rights. But it is not marriage that you are playing — and that fact cannot be changed, no matter what you call your behavior."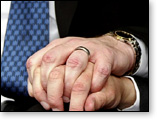 So have your "lifetime partnerships," or your "Eternal Unions," or whatever else you choose to call your commitment to each other, and society should honor — I for one do — the contracts you create with one another, under the law. But marriage is marriage, and everything else is everything else.
My sincere message to all who want society to sanction their same-sex lifestyle is, of this I am sure, God loves you — but if you truly want to find out the truth of the whole matter, get to know Him.
Beyond all pleasures and thrills, better and more precious than your next breath is the Love of God. Just accept it. How? By simply inviting it in, and you will find all the love and all the peace you have been searching for — everywhere, but within your own heart, where He waits for you and you alone.
GOLDBERG OVER BOXER CAMPAIGN
www.goldberg4senate.com
Be sure to see and hear Neil at his site. His campaign is coming alive. See why!!
© Neil Brian Goldberg
---
The views expressed by RenewAmerica columnists are their own and do not necessarily reflect the position of RenewAmerica or its affiliates.
---