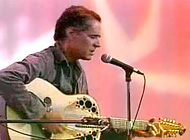 Neil Brian Goldberg
Fake to the left -- shoot to the right

By
Neil Brian Goldberg
November 18, 2009
Thought I would watch a little TV. A little football, a little news. Hmm, let's see what's up. The morning news — the News Hour, even Fox News, only one big story.
What about the decision to try the 9/11 terrorists in New York City?
NEW YORK CITY!! NEW YORK CITY?!! WHAAT?!


Are you waiting for yet another angle on how crazy and inexplicable this move is? Sorry, this column is about basketball. Fake to the left — fake way to the left — shoot to the right — three-pointer!! ...and then, maybe the bull-shooter realizes it was a mistake, and changes the trials back to military tribunals. Too late, whoosh. Fake out!
How does he do it? Well, son — he gets everyone to look one way, while he is really moving and then shooting the other way. It's called a "fake out."
No one is talking about the recent terror attack as much — maybe it really was not a terror attack — maybe the guy was just a normal, run-of-the-mill, disgruntled nut. Can't think about that right now 'cause —
NEW YORK CITYYY?!!


No one is talking about that CAP AND TRADE horror, which is about to tax you for passing gas more than once a day. If half of what I heard is true, it should be at the top of the list for screaming and cussing — well, maybe Cap and Trade won't be the end of freedom and all that — maybe it's just another half-baked government bill, but we can't talk about that right now 'cause —
NEEEW YOOORK CIITTYYY??! WHAT!!


I heard some aberration of the tyrannical Health Care Bull that just passed the House and is now quietly making its way through the Senate to perhaps become law. Maybe that issue is becoming over-debated. It used to be very important, it was all over the news for a while, but everything comes and goes in this strange political climate. It's really quite possible that no further discussion is needed on this Health Care bull. I think they sorted out some frivolous issues like Tort Reform, and they must have worked it all out by now — how important can it be, when we have major outrages like —
NEW YORK CITY! NEW YORK CITY??


Wait just one cotton-pickin' minute! Why??? Why — for what reason are they??? This is absolutely the end!
Excuse me, Why??? Good question. Why are we now not talking about the new climate and disarmament treaty about to be signed, which will bury us? Why are we not fighting Cap and Trade as if the survival of our Republic and the continuation of our constitutional rights depend on it?
For what reason? Yes, good question. For what reason would our president make such a totally explosive and controversial decision? Why would he fake totally to the left, when there is nothing there — and then shoot to kill to the right, where the basket he wants awaits? Why are we all now talking about:
NEW — YOOORK — CIITTYYYYY?


We're sure not talking about the missing trillions anymore, and I don't hear a peep about auditing the Fed ... or the cold-blooded murder of the dollar.
... and what was that? "This is the end?" Do you mean whoosh! — three pointer! Do you mean this is the end of all resistance to the Cap and Trade conquest of the American people?
When you say, "This is the end," does this mean, Whoosh!, whatever health care monstrosity the Marxists want will slide past with no focused opposition or clear debate?
Do you mean this is the end of America as we know it and love it? Or do you mean, WHOOOSH!, this is the END? I would like to ask you more, and tell you more, but I have no more time or space, there are much bigger stories.
NEW YORK CITY!!??

Whoosh

(A little bird says: What if it's a two-fer? All that, and bowing to the king of Saudi Arabia again, too — oh wow)


© Neil Brian Goldberg
---
The views expressed by RenewAmerica columnists are their own and do not necessarily reflect the position of RenewAmerica or its affiliates.
---