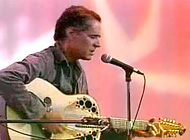 Neil Brian Goldberg
My dear countrymen and women, all is not well

By
Neil Brian Goldberg
November 29, 2009
I am here to tell you that the noose is already around your necks. The insidious and diabolical forces of global tyranny are moving toward the handle, which will soon, within two years, spring the trap door below your feet.
I am here to tell you that we are at war, and it is a serious war.
The prize is your freedom, your prosperity, your security, your peace of mind, and every expectation you have for your children's future and wellbeing — it is a subtle war in many forms.
It is a propaganda war. The enemy does not want you to know, to realize that we are under attack. They (the global entities) own much of the media, and they constantly control your thoughts and your beliefs, as they move forward with their plan to break the spirit of the American people.
It is also a fighting war, with our cities under periodic attacks, and with the ever-present threat (coupled with official statements) that more will occur.
It is an economic war. Your nation has suffered a calculated, well-planned (from within and from without) economic attack.
All of us have witnessed the looting, the sacking, of our nation's wealth, just as if we were watching a movie of a city being attacked, overrun, and plundered.
But this time, it was done on an almost invisible level.
We were lied to.
We were tricked.
And we were pillaged, looted, plundered, and economically defeated!
It is also a metaphysical war.
Our mass media, movies, music, despicable excuses for art — all serving to assault our senses of decency, propriety, and every good quality necessary for a nation to remain strong and to endure.
God is mocked.
Chastity is mocked.
Purity is mocked.
Marriage is demeaned and made to look ridiculous, with two men kissing at an alter and two brides.
Precious, divine mothers who give their all to bear and raise children are increasingly referred to as "Breeders" by the "No-Breeds" — those incapable of producing a child, those pretending to be the norm.
Morality has been reduced to something being wrong only if one gets caught.
We have been moved away from knowing and loving the God who took a hand in founding this free nation.
I am here to tell you that we are indeed already at war for our very survival as a free people . . .
. . . and that most of all — and especially at this point — most of all, it is a metaphysical, a spiritual war.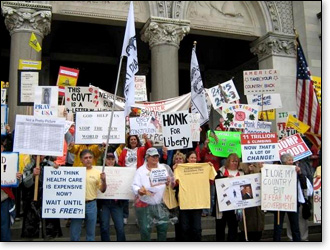 So what are we to do?
The hour is late, and we are not winning.
What to do?
I am here to tell you that each of us must become a soldier in this metaphysical war.
Our enemies pray six times a day, cursing us, while America stumbles like a giant in the dark, not even knowing that such a war exists.
What to do?
First, we must each become fit to fight the tremendous battles ahead.
How?
First, if you hear the call, if you feel the truth of my words, if you will simply look all around you and admit that your country is being conquered day by day — ever so quietly — on subtle levels and with loud infusions of misinformation, false guilt, contrived fear-mongering, incessant defeatism, and magical, blinding deceit —
Once you face this imminent horror, you can then ask, "What can I do? How can we still win?"
Well, there is nothing you can do, and you cannot win — not in your present state.
If you want to save your country, you will have to become a great warrior, within and without. You will have to immediately change your habits and your ways of thinking and believing. Getting crazy will not work. That will defeat you. It is an obvious part of the enemy's plan.
Here's what it will take: REMEMBER AMERICA!
REMEMBER THE SPIRIT OF AMERICA!
SET YOUR MIND THAT YOU WILL NEVER SURRENDER YOUR COUNTRY.
REMEMBER YOUR INNER STRENGTH AND ALL THAT HAS MADE US THE GREATEST NATION EVER.
HOW?
HOW TO COME OUT OF THE STUPOR OF TOO MUCH PLEASURE, TOO MUCH FOOD, TOO MUCH IMMORALITY, TOO MUCH SELFISHNESS, AND NOT ENOUGH GOD.
Are you willing to break all addictions?
Are you willing to bring forth all of your will power and vow to yourself that you are going to fight for your freedom — because this is what the battle really is.
IT IS INSIDE YOU.
ARE YOU WILLING TO DO WHAT IT TAKES?
IT'S EASY TO TALK BIG.
IT'S EASY TO THINK OF YOUR WEAPONS AND YOUR BIG FOUR-WHEEL DRIVE.
BUT THAT WILL NOT WORK IN THIS CASE. NOT AT THIS TIME.
THIS TIME, THIS HOUR DEMANDS
INNER STRENGTH
FIRST.
BREAK YOUR ADDICTIONS.
CLEAN UP YOUR LIFE.
DO ALL THE GOOD YOU CAN.
CLEAR YOUR MIND.
EAT BETTER.
EXERCISE MORE.
GO BACK TO CHURCH.
GO BACK OR STAY WITH YOUR FAMILY.
LET GO OF ALL SELFISH PLEASURES.
WE ARE AT WAR — AND NOTHING LESS THAN A TOTAL EFFORT WILL DO!
Feed your spirit — turn to higher things — strengthen your will power, because you are going to need it to resist the disguised surrender which will be presented to you.
The obvious plan is to break your will to seduce you with fear, poverty, attacks, and propaganda. Watch for the buzz word "BROKEN."
At some point, you will be told that "America is broken." Then, in the midst of the devastation — which they have created right before your eyes — they will try to sell you the disguised surrender in the form of the One World corporation — i.e., One World Government.
You must resist — you must keep your republic at any cost.
They will try to scare you out.
They will try to starve you out.
They will try to trick you out.
. . . into believing that America is no longer working right (they are working against it),
That our Constitution is "'old fashioned," no longer relevant. They hate it — it is the biggest thing in their way.
Just as they tell you "Our immigration policy is broken," that is a liar speaking.
Whenever you hear those words, "Our immigration policy is broken," you know that is a liar and a traitor speaking.
The immigration policy is not broken.
THE TRUST IS BROKEN — THE OATHS OF OFFICES ARE BROKEN — THE INTEGRITY IS BROKEN.
BECAUSE THEY REFUSE TO ENFORCE THE ADEQUATE LAWS AND RULES ALREADY IN PLACE.
They want you overrun by people who do not know freedom, who will not assimilate, and who are happy just for an extra crust of bread.
The hour is late, and your country needs immediate saving.
What can save us?
The
Spirit of America
itself will save America.
That same power from on high that first inspired and established these amazing documents and this mighty bastion of freedom liberty and hope — this shinning light of prosperity and goodness for this troubled world.
Remember your higher self — remember the Spirit of America — The Spirit of Freedom — and then — then you will be able to remember your God — the only hope for us now.
Turn back, America — turn back to higher things.
To your prayers — to higher books — higher music — live a virtuous life — DO ALL THE GOOD YOU CAN — reject the sinister, evil, and un-American attempts to fan the flames of racism and class envy!
REMEMBER — THE SPIRIT OF AMERICA — THE SPIRIT OF GOODNESS — OF CHARITY — OF DECENCY AND BROTHERLY LOVE.
Because, I assure you, the next phase of the ongoing plan to bring down YOUR country will be to create and encourage racial and class strife. To leave the bankrupt Land of The Free in flames and tearing itself apart. It is plain to see that the groundwork has already begun.
Then all that would be left would be the formation of a new nation, and a new constitution — all assured by the world army graciously brought in to "Save America from itself."
CALL OUT WITH ALL YOUR HEART —
Lord God, save us. We need you. Give us strength and clarity. Give us courage. Stand us back on our feet as individuals and as a people. Stand us up, Lord, and send your angels to surround us. Strengthen our hearts and our will, that we may resist all efforts toward disguised surrender.
Help us, God, to fix our hearts and our minds that we will keep our sovereignty. That we will not fear any enemy. Help us to cling to you, to remember you, to depend on you, and to fight any fight necessary with courage and faith, that the most high God is again with His America.
www.GoldbergForSenate.com
© Neil Brian Goldberg
---
The views expressed by RenewAmerica columnists are their own and do not necessarily reflect the position of RenewAmerica or its affiliates.
---