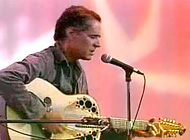 Neil Brian Goldberg
Say Merry Christmas!

By
Neil Brian Goldberg
December 8, 2009
Been a tough year. Money's tight. What will it matter if you skip the Christmas lights this time?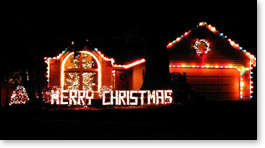 When you go to a store, you see the clerk — a pretty young woman with a Santa hat on — who's been instructed only to say, "Happy Holidays."
Pleasant holiday music fills the big store, but it's not much about the Lord. It's about "Christmas" and snow and warm chestnuts. It's all good, but a bit sterile. Something is missing. We buy and buy. We eat and eat. But still we are searching for something to give us that old feeling.
Trouble lurks in every newscast and every paper's headline. We want to feel better, to feel the hope we've always had that things can get better, but the shopping and shopping, the eating and eating, all the parties and all the temporary thrills just end — like a good movie. And we take nothing away but the hope that the after-effects won't last too long. Still, we want something more.
Remember why it's time to be merry
Say Merry Christmas!
Put up those lights and go get that tree. Decorate it with splendor, and remember the One it is meant to adore. Remember His faithful love, His eternal promise.
Say Merry Christmas at every counter. Give the poor clerk an opportunity to say it out loud. Say Merry Christmas every chance you have, from the heart — remember why it is a time to be merry.
It is a time to recall the greatest sacrifice. The perfect love of the Son of God, when he allowed Himself to be tortured and murdered, when He knew that no matter how hard you tried, this world would box you in and make you fall, and that there would be no way to escape the immutable laws of nature and God — except that He take your place. He suffered every pain, every infirmity, and every mental and emotional affliction — even to being separated from His Father, for Him the worst torture of all.
Lost, crying out in hopeless pain and confusion, hung between two common criminals, Lord Jesus died a pathetic death. Mocked and scorned like the lowest no-account, He finally said, "It is finished."
. . . and when the negative force of human nature took this perfect man, it lost its power over all who accept His simple offer — "Just let me love you."
. . . and when He conquered death, death bowed, and must continue to bow every time one of His is approached. Death can still eventually claim the body, but when Death sees the Christ-light blazing, he cannot touch that soul.
The gift of God's Son
The world is not meant to be easy. It will continue to spin under the fickle whims of fate. It will never be fair. It will never allow you to keep what you get from it all. It will raise you to taste success and glory, and it will crash you to taste agony and defeat. Nature will show you the sky and the depths of despair. It will show you immortal youth, learning — later, crippled by old age.
It will show you love and hate — pleasure and pain — poverty and wealth. In the end, even the richest and the best of us are left with nothing but one last breath. So what do we ever really have but one everlasting thing? —
the never-failing love of the Most High God,
who gave us His son Jesus to remind us of His Father's wonderful love, and to make a sure way back to Him. "Just let me love you." "Just open the door of your heart, and I will enter and break bread with you."
Say Merry Christmas and smile, because you are loved. Yes, He knows all about the mistakes you cannot bear to think of. He knew about them before you were born.
The accuser comes with the bill that is due — with the sentence that has you already convicted — a terrible place with the condemned is waiting. But then, the one who was "given all power" says, "You have no claim here. It has been answered. It has been paid."
"What do you mean it has been paid?", they ask. "We have these debts. We have this data." "The doctor said, the lawyer said, the immutable laws of the universe say, the LAW OF GOD says!" . . .
"Jesus, Son of God" is all that need be said, and the accuser knows he must leave. He has no argument — no further claim. He lost it when he whipped Jesus. He lost it when he falsely accused Him. He lost you, your cancer, and your insurmountable problems, when he falsely sentenced the innocent Son of the Most High to die — and most of all, death lost your soul when Jesus rose from the dead and proclaimed everlasting life.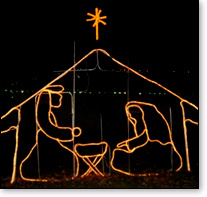 It's true. You don't deserve it, nor do I. That's why I love Him. That's why I feel happy and safe when I think of Him. Because Jesus is indeed the Good Shepherd, who will not leave His sheep. We can't be good enough, we can't be smart enough, or rich enough, or run fast enough, or be beautiful enough, or be tough and dangerous enough. We can't sing or dance great enough. We cannot have "Gifts of the Spirit" enough, or know enough clever tricks of this world. There is no way to take it — to grab it — or even to deserve it.
You are loved, and there is nothing whatsoever to fear. Death cannot touch who and what you really are, because you are His — if you allow Him to just love you.
Speak out and be heard!
Say Merry Christmas and smile for the One who conquered all of nature for you. Say Merry Christmas and remember America, the nation which honors Jesus and His Father. Say Merry Christmas when you answer the phone, say it to all you meet. Hang the lights, dress the tree, play the real music, give gifts, no matter how humble, with love. Invite somebody, help somebody, lift somebody, forgive somebody, love somebody — and say for Him, Merry Christmas!
Say Merry Christmas! . . . and remember that we can again be a nation under the protection of God, with the blessings of God.
Say Merry Christmas! . . . and remember America, the nation that honors God on its public buildings, and at the beginnings of the Senate and the Supreme Court sessions.
Remember the America blessed by God — once with the greatest crops, the greatest prosperity, and the most respected military. Once loved by the world more than any other — the nation that gave so much.
Say Merry Christmas, and remember why we were great and what made us strong. We
ourselves
were not great — we were
blessed!
. . . and the blessings made us great!
Turn back to the higher things. Turn back to God in your heart. Turn back to Christmas — and welcome those who turn back to Chanukah.
Turn back to the temples and the churches. Turn back, America.
Say Merry Christmas. Say Merry Christmas. Sing Merry Christmas. Write Merry Christmas. Keep it alive — this year more than ever. Remember the goodness of America by remembering Christmas and remembering God.
God bless America
THE SPIRIT OF AMERICA MUST AWAKEN AND ARISE. OUR GIANT RESERVOIR OF LOVE AND DEVOTION FOR THE MOST HIGH GOD MUST NOW FLOOD THIS LAND.
The ideals of giving, of being kind, of being decent, of wishing well, of basic goodness must be recalled. Of lending a hand and rooting for the underdog, dealing honestly, living clean, and always having a moment or two to respect God. That is the true greatness and Spirit of America.
Do not buy the lies and the stories that your country is bad. We have had bad leaders, as all nations have, and all nations have done evil things, but all the nations combined have not done the good that America has done.
So remember the
true
America — blessed by God.
Because we are a Judeo-Christian nation, the American people intend to be good. We intend for America to be what it is written down and promised to be. We are decent people, eager to help, eager to give, slow to anger, and quick to forgive. We believe in the power of goodness, and we know there is something more — and that it is good. Say Merry Christmas and strive to be sweet, because Jesus truly was and
is
exactly that. There can be nothing sweeter than his grace and mercy.
Say Merry Christmas, and remember the gifts of God with devotion in your heart and with love for others.
NOW IS THE TIME WHEN THE SPIRIT OF AMERICA MUST RISE AND UNIFY.
Do all the good you can. Do not take part in destructive negativity. Do not do things that create more negativity. Pray for your country.
As you decorate, and with every card you write, and every present you wrap, don't see it as an unpleasant chore that takes you from your fleeting pleasures. Be glad and grateful that you have this time to remember the only thing you can keep in this world — the love you give and the love you accept.
Say Merry Christmas, and let each decoration and each occasion be a silent prayer and a happy smile for the One who loves you forever.
Merry Christmas, America — Jesus still loves you . . . no doubt. Obey His commandments. Say Merry Christmas, and "Love each other."
© Neil Brian Goldberg
---
The views expressed by RenewAmerica columnists are their own and do not necessarily reflect the position of RenewAmerica or its affiliates.
---