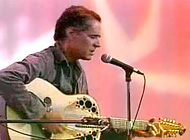 Neil Brian Goldberg
Two victims

By
Neil Brian Goldberg
April 3, 2012
I say there were two victims in the Trayvon Martin/George Zimmerman tragedy, each contributing to their own demise.
One taking part in an innocent fad... to appear dangerous. Youthful lack of life experience could not see the...potential danger.
The other was looking for danger, with some kind of mindset to stop or destroy it, in ignorance, denying the outright danger looming.
One, having done no wrong, lost his life, The other, deluded and determined to do something brave and good, will surely lose his freedom...as he must.
Zimmerman messed up and he will have to pay a price; but this case is intentionally being used to foment racism.
Younger pics of the victim are constantly being used, why?...and many discussions are premised on the false proposition that Zimmerman stalked Trayvon, with the intent to murder a black kid.
I do not believe that. I believe Zimmerman was stupid, wanted some glory, and got in over his head.
Zimmerman created the dangerous situation that frightened the young man AND BROUGHT ABOUT HIS DEATH, perhaps even causing the boy to turn and attack.
INTERESTING QUESTIONS:
Were there any recent attacks or break-ins in that community? Was Zimmerman or any of his family recently attacked?
If yes, it helps explain his behavior toward an appearance of possible danger.
If no, we remain with an unprofessional vigilante with a gun, and with what mental attitude?
There was ignorance, stupidity, fear, and bad luck. There was even stereotyping (because most boys of all races want to look tough). Trayvon chose to wear the costume of hoods and thugs, but he had a right to.
We see arrogant and dangerous gang members on TV with hood jackets. We see captured killers and home invaders in similar outfits.
Zimmerman, perhaps weak-minded, or afraid, fell for the intended appearance...and now the proper law must be applied...not as a racist murderer, but as an unfortunate dummy, lacking foresight and self control, who stumbled into an encounter he could not handle.
The obvious attempts to portray this tragedy as a racist lynching is, in itself, an actual racist lynching in the making.
America is better than this. Sharpton, Jackson, and other wolves in sheep's clothing are not.
© Neil Brian Goldberg
---
The views expressed by RenewAmerica columnists are their own and do not necessarily reflect the position of RenewAmerica or its affiliates.
---