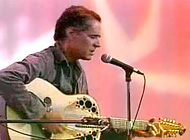 Neil Brian Goldberg
'Mother'

By
Neil Brian Goldberg
September 16, 2020
Nancy Pelosi recently stated that Mother Earth is angry because of climate change, avoiding the million-pound gorilla. "Mother Nature" would not be angry about the slaughtering of her precious unborn, and now even the newborn, would she?
When the new legislation allowing the killing of healthy, alive and kicking newborns in California and several other states took effect, it became obvious to me that "Mother Nature" would answer in terrible ways. I posted this prediction on Facebook and in several messages to media people.
"Mother" is angry for a far more obvious and profound reason than climate change. Selective agendas, always steering away from the sacred cash cow of abortion, do not point to the million-pound demon in the room.
Infanticide is as bloody and cruel as human behavior can become, and yes, can allow. Why do "good" people also have to suffer? Because our silence, our business as usual attitude—going about our daily chores, ignoring the silent screams, which secretly haunt every human heart—includes us in the present wrath, and the worse which must come.
Turn back, America—there is still a little time, but who will listen?
Not the know-it-all New Age and so-called Spiritual people, who believe in everything but God.
Not the busy pleasure seekers, who live only to party and feel good now, oblivious to the growing pain within.
Not the ever busy, half-drunk and drugged entertainment business leaders, sampling their latest prostitutes and pleasure-enhancing substances. Contaminating the minds of our young to justify their depravities, within the sick society they have done so much to bring about. Having their way with the pathetic celebrities, desperate for the attention which they control, walking around in stupors, telling Americans what is right, and how to live. Ignoring the cosmic balance sheet, and the total due, soon to placed on the table before them.
Not the religious leaders, many of whom are too distracted by new schemes to amass more wealth and power, and certainly not most of the politicians, too busy sacrificing anything and everything necessary to retain their good life and power.
Only a few stand out as having a sense of what really matters, and therefore, feel compelled to stand strong, declaring the truth, come what may, with faith in the Source of all Life, all grace and healing, risking the almost inevitable shunning, loss of work and income. These are the brave, remember them well.
Head and shoulders above all stands our Freedom Warrior President, Donald J. Trump, besieged from all sides—slandered, mocked, blocked at every turn, with all the good he does or tries to do called bad.
Forced, because of his devotion and love of Country, to watch his beautiful family attacked, threatened, slandered, and embarrassed by the "lovers of peace and justice," who will beat you to the ground with their "No Hate" signs, if you wear the wrong hat—here in America!
Perfected, bald-faced hypocrisy. New useful idiots, captured by group-think herd mentality, possessing mountains of memorized knowledge, which is their blindness.
Why? Because, most of all, abortion is the issue—equated with women's rights, and versions of the "Divine Mother," to somehow escape the realization of what they have actually been duped into supporting, and doing, desperately trying to declare and make what is wrong and hellish right. But truth is not a popularity contest. Truth is not decided by any majority, no matter how large or how loud. Truth is its own source. It is Eternal.
Why? Because they must run, in ignorance, from any idea of the Eternal God, and the true Divine Mother, who does not want Her little ones killed.
This leaves them helpless, and fearful of damnation—forced to march and fight for what is wrong and evil, driven from and not knowing the great and merciful God, who loves them still, waiting to forgive them and the wonderful nation they are throwing away.
...but there are none so blind, as those who won't see.
© Neil Brian Goldberg
---
The views expressed by RenewAmerica columnists are their own and do not necessarily reflect the position of RenewAmerica or its affiliates.
---