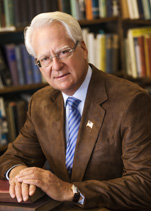 Larry Klayman
Open your heart to Him this Christmas!

By
Larry Klayman
December 25, 2010
My role in life, as it has come to pass, is to be a provocateur, a revolutionary who will not accept things they way they are. While I was never a fan of Bobby Kennedy — the brother of President John F. Kennedy who in some ways I did admire as a young boy — his famous quote sums it up: "There are those who look at things the way they are, and ask why. I dream things that never were and ask why not?"
Six months ago, I had a near-fatal automobile accident. While driving to work a week later in a rental car — as my car had been "totaled" — I passed by the exit off the highway where I had nearly been killed. I was thinking about some personal issues that I have had to deal with over the last five years in particular, and the plight of one of my clients, Elham Sataki, a television anchor who had been destroyed by a pro-Iranian regime managing editor of the Persian News Network of Voice of America, and the failure of the court and political system to come to her defense. An ultra leftist, pro-Clinton and ethically corrupt federal judge — Colleen Kolar-Kotelly — had just dishonestly denied, without factual or legal bases, my request for Elham to be put back to work at the Los Angeles office of VOA, as she rehabilitated from the harm done to her. I knew that the decision by this judge would inflict even greater pain on Elham, whom I had also come to care about as a friend. I was in a very sad and angry mood and I also thought about my life as a revolutionary, which has not been easy. As I discuss in my recent book, "Whores: Why and How I Came to Fight the Establishment," I have paid a personal price for my crusading lifestyle.
For a reason that would soon become clear, my thoughts that morning then moved to Jesus, who was the ultimate revolutionary and paid a price much greater than my own or Elham's. I took solace that the son of God was, in a much bigger way, also a provocateur, who would not accept and fought against the corrupt ways of the Jewish high rabbinate, and the evil Roman Empire, which then governed the Holy Land. And, just as I was dreaming of Jesus, and taking pride in him as the greatest Jew there ever was, I was engulfed by a tremendous warmth and adulation, which overtook my entire body and soul. At first I thought that I had, in my sadness and anger, self induced the feeling, so I slowed the car and pulled to the side of the road. But despite my efforts to "regain my composure," the great warmth heightened and continued to grow and grow over the next 30 to 45 seconds. I then heard Jesus talking to me; not in words but in thoughts. "Larry, " he communicated, "from today forward I want you to clear your head, get rid of your anger, put the past behind you, and be yourself. You are a revolutionary just like I am. While you are not the son of God, you will pay a price like I did. But I am with you and from now on you are 'working for me,' so snap out of this angry sadness and lack of focus and get on with the reason I put you here on earth." That is the message I got from "Him."
Many years earlier, while standing on Christmas Day in a Catholic church, "My Lady of Victory," on MacArthur Boulevard in Georgetown with my then wife and two young children, Jesus had first spoken to me and told me to accept him. I had always intellectually believed that He was the Son of God, but as a Jew, who did not want to forsake the heritage of my people, I could never bring myself to convert to Christianity. During that time, I was also going through a tough period in my travails in fighting the corrupt ways of the Clinton administration and the extreme sadness over death of my grandmother, Yetta, and the circumstances that surrounded it. Jesus' coming to me on Christmas ultimately brought me totally to Him. From that day forward, I was a proud Jewish Christian!
I am indeed very fortunate. Not many people have experienced the Lord speaking directly to them — although a lot more people would if they open their hearts to Him.
With each passing day after Jesus recently spoke to me again, my faith deepens. There is a happiness and serenity that I never fully had before. And, I feel as if I am married to "Him."
And, since that morning when Jesus spoke to me directly for the second time, there are some extraordinary people who have miraculously come into my life who help reinforce these deep feelings of the Love of the Lord and the path he has put me on in His name.
This Christmas, I feel a "special feeling" about the birth of our Messiah. I feel reborn and while I do not know exactly where He is leading me, I do know that whatever happens it is in His name, and I thank Him for that.
We all do our little part in this world. I make no pretense that I am a "savior." I am hardly that. But I do know, as I feel it in my heart, that in some small way I am meant to help this nation and others during this period of deep crisis. How do I know this? Because Jesus told me! Open your heart this Christmas, and He will speak to you too.
© Larry Klayman
---
The views expressed by RenewAmerica columnists are their own and do not necessarily reflect the position of RenewAmerica or its affiliates.
---