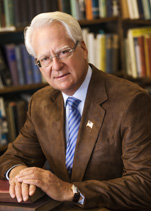 Larry Klayman
From black to white: The government stinks!

By
Larry Klayman
July 10, 2011
On Oct. 3, 1995, a predominantly black jury acquitted O.J. Simpson of murder. Fast forward to July 5, 2011–16 years later — a predominantly white jury acquits Casey Anthony, whose 2-year-old daughter Caylee was found dead with duct tape over her mouth, of murder. The reason for both "unforeseen" verdicts: the juries rebelled against what they perceived to be dishonest government prosecutors who in part cooked the evidence to suit their ends. The result: two guilty murderers go free.
Television lawyers and political pundits alike excoriated the Casey Anthony jury this week for its verdict. While this may make for good television and high network ratings, the Tampa jury that acquitted Anthony was simply doing its job. The politically motivated Florida prosecutors (and all are politically motivated to further their careers) and their collaborators, had simply failed, through credible evidence, to link Casey to the murder of her daughter. And, in this nation, where our Founding Fathers crafted a system to try to prevent even one innocent defendant from being railroaded into prison, or fried in an electric chair, the beyond-a-reasonable-doubt standard was designed to allow 100 murderers go free at the expense of saving one innocent accused.
This is not to say that I am praising our legal system — which in my 35 years of experience has morphed and degenerated from the noble vision of the Founding Fathers into one of the most corrupt in the world. But in the case of Simpson — where detectives likely enhanced the evidence against him by spreading his samples of blood at the scene of the crime to make sure he would be nailed — and the Anthony case — where prosecutors tried to stretch and overplay incompetently gathered evidence to convict Casey — a black and white jury, respectively, turned against a government they inherently saw as actually and intellectually dishonest. To highlight this, O.J. was acquitted within less than three hours of jury deliberation, and in "Casey's case," only about 11 hours were needed. This is lightning speed for capital one murder cases — where life hangs in the balance — and where the defendants were so obviously guilty.
These jury verdicts confirm where the country has been and is headed. We the People — whether we are black or white — have developed such a distrust, disdain and in many quarters hatred for our government that juries composed of ordinary citizens would allow two murderers to go free. In short, the masses have come to believe that the government, and in these cases its prosecutors, simply stink from the odor of corruption — and in the O.J., Anthony and other judicial venues, We the People are merely giving the government the middle finger!
As we enter the 2012 election period, with no prospect of a political messiah in the mold of George Washington, Abraham Lincoln or Ronald Reagan to save our nation from its rapid decline if not extinction, the Anthony verdict — coming in the wake of more bad economic news and turmoil in the oil-rich Middle East — reminds us that indeed we have entered into a revolutionary period. In the words of the late comedian Rodney Dangerfield, "the government ain't got no respect." And, that is essentially because it deserves no respect!
We the People have been lied to by our political elite over and over again, our brave military men and women often asked to sacrifice their bodies and souls for the good of our presidents' re-election chances, and government regulations, policies and laws are implemented and enforced repeatedly that further the interests primarily of the establishment — those elitists who put our corrupt politicians, judges and other government workers into power to feather the establishment nest.
So here we have it. I have nothing more to say in this column, but instead am preparing for the revolution that has come. The American people have had it, plain and simple, and now even a white jury — one that historically and logically ordinarily would feel less persecution than a black one — has seen fit to let a murderer go free, just to "stick it to" this government to show that we are tired of its dishonesty, heavy-handedness and corruption.
© Larry Klayman
---
The views expressed by RenewAmerica columnists are their own and do not necessarily reflect the position of RenewAmerica or its affiliates.
---