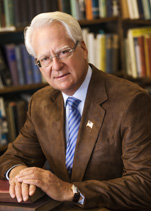 Larry Klayman
Netanyahu: Time for action, not just words!

By
Larry Klayman
September 17, 2011
I like Israeli Prime Minister Netanyahu. He is articulate, and, while not a determinant factor, he speaks English like an American. Indeed, he grew up in large part in Cheltenham, a Philadelphia suburb where my cousins used to live. The ability to articulate his thoughts in "our native tongue," makes him a great advocate if not salesman for his beloved nation, Israel.
God only knows, Israel needs real salesmen these days, as President Barack Hussein Obama and the self-loathing, leftist, socialist Jews he surrounds himself with for cover with Jewish political donors and voters are bent on cleverly destroying the Jewish state by isolating it in an increasingly hostile Arab/Muslim Middle East. By now, almost three years since he won the presidency in 2008, it is clear that even if Obama is not a professed Muslim, he sympathizes with them — indeed his Kenyan father was one — and the so-called plight of the Palestinians. To put it bluntly, we effectively elected a Muslim president in 2008 in a thoughtless, politically violent, knee-jerk reaction to eight years of a largely compromised if not incompetent Bush presidency that ended with near economic disaster. What we then got was even worse!
And that takes us to next week, when the U.N. General Assembly will take up the issue of Palestinian statehood on the West Bank. The West Bank, as you know, is not only an integral part of the Holy Land and the site of sacred Jewish and Christian shrines like the places where Jesus was born, crucified and resurrected, and where the famous and religiously important Wailing Wall remains from King Solomon's Temple, but it is of strategic importance to Israel and Western security interests in the Middle East. Because if the West Bank becomes a Palestinian state, lying geographically smack dab in the heart of Israel, one quick advance by a Palestinian, Arabic or Iranian-backed army could cut the state in two. That could mark the beginning of the end of Israel and jeopardize U.S. national security in this oil-rich region.
Prime Minister Netanyahu spoke eloquently of the right of Israel to exist and defend itself when he addressed a joint session of Congress earlier this year, and we can expect another dynamic performance when he speaks before the U.N. General Assembly next week. Here, he plans to lay out the case why a Palestinian state should not be imposed on Israel by the U.N., but instead result from direct negotiation with the Palestinians. But there is a fatal flaw in the prime minister's approach; simply put, he is in favor of eventually creating a Palestinian state on the West Bank, only with certain conditions. But, a Palestinian state should never be allowed to exist there. The nation of Jordan, where the overwhelming majority of its populace are Palestinian, is the logical place. Separated from Israel by the Jordan River, it would be the ideal locale given the centuries-old hatred of Jews and Christians by these Arabs. They should not be permitted, if only for security reasons, to have a separate country inside of Israel. I have sometimes joked, somewhat seriously, that Israel and the West should buy each Palestinian a condo and a Cadillac and give them a great incentive to "relocate" to the Hashimite kingdom. It's cheaper than waging continuing war with this hostile terrorist dominated culture.
So Netanyahu, while seeming strong in comparison to our "Muslim" president, does not seem that way to many Israelis. And, his recent non-actions, even to some supportive Americans, seem to reinforce this growing concern.
As you know from a prior column and press reports, a few weeks ago I traveled to Israel to be with Glenn Beck and his Restoring Courage event. The purpose of this endeavor was to unite Christians and Jews in support of Israel. I had earlier proposed a somewhat analogous concept to Glenn and others, to occur on American soil, since it was clear to me that the American people needed to go over the head of Obama and his comrades to try to coerce our government to take a stronger stand to protect Israel during these dire times in the Middle East, when radical Islamic groups are taking over one Arab governments one after another. Indeed, just in the last few days even the generally leftist and anti-Israel New York Times was forced to concede that now even Libya is likely to fall into the hands of these hostile Muslim interests. This comes on the heels of a march to Islamic extremism in Egypt, where, despite a peace treaty, just last week the Israeli Embassy was attacked as Egyptian police stood by and did little to nothing. The Israeli ambassador and his staff were forced to flee. It is now clear that Obama's support of the so-called "Arab Spring" — where he helped undermine former President Mubarak in Egypt and now Gadhafi in Libya — has cleverly resulted in the advancement of radical Islam in crucial countries that threaten Israel's existence. Soon, Syria will follow. Lebanon has already been for some time in the hands of Iranian proxies and terrorist groups, like Hezbollah. And, this is just the beginning of the radical Muslim revolution our president apparently supports, in not only the Middle East, but worldwide.
It was telling that Prime Minister Netanyahu chose not to attend Glenn Beck's Restoring Courage event; I and others were deeply disappointed if not offended. Not only do the Jewish people need the support of Christians — who are their brothers — but I have learned over the years that one should always stand with friends. But Netanyahu was obviously concerned that, given Beck's general criticism of Obama, showing his face would offend the "mullah in chief," right before the U.N. vote next week on Palestinian statehood.
But why worry about offending a hypocritical opportunist like our president? Obama has no choice, if he wants any Jewish money and votes for his re-election effort in 2012, to veto any U.N. resolution. And, it does not speak well that the prime minister did not show his support for Christians who stand by his side.
I hope that Netanyahu will not just talk a good game, but will walk the walk. A Palestinian state cannot be permitted on the West Bank, and the prime minister must learn quickly who his friends are, for the benefit of Israel and all Christians and Jews across the globe.
Yes, I like the prime minister, but at this crucial time, he needs to act with more courage and not just talk a "good game."
© Larry Klayman
---
The views expressed by RenewAmerica columnists are their own and do not necessarily reflect the position of RenewAmerica or its affiliates.
---